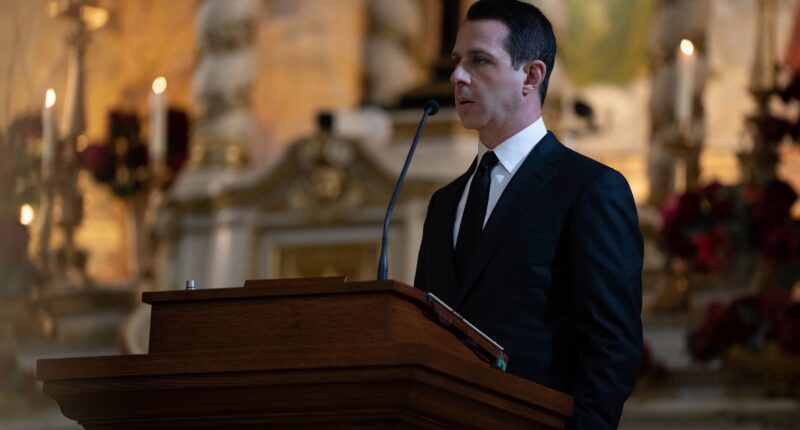 In fact, the Daily Mail UK took photos of the filming back in January, and Sarah Snook and Matthew Macfadyen were the only actors not present. We now know that both of their characters, Shiv and Tom, are still alive, although Tom didn't attend the funeral because he was too busy sorting through the chaos of ATN's election coverage from the previous night. Perhaps this was creator Jesse Armstrong's way of keeping the events of the funeral from the photographers and onlookers. 
Redditors also spread this fun fact about Brian Cox's attendance during filming that day, replete with pictures of the Scottish actor in costume as Logan. 
This is just one of the many little details that shows you how brilliant the people behind the camera are on this show. The entirety of the funeral and eulogy scenes were much more difficult to film than fans might originally imagine watching from home. A post-episode interview with director Mark Mylod and creator Jesse Armstrong addressed the way the episode was often shot like a multi-camera sketch comedy, with one camera on the person giving the speech, one camera on the audience, and one camera on each of the children making a reaction to what the speaker was saying. 
The acting is often the most acclaimed aspect of this series. Jeremy Strong has garnered comparisons to some of the great performers in the history of the medium. Matthew Macfadyen is considered the best supporting actor currently on TV, demonstrated by the Emmy on his mantle from 2022. And while the people on the screen are fully deserving of their praise, these fascinating behind-the-scenes ingredients are just as worthy of admiration. 
Succession has some of the best camera work in the industry, alongside a massive budget for filming scenic locales such as during the fifth episode of the season in which the Roys took a trip to visit Lukas Mattson (Alexander Skarsgård) in Northern Europe. The directors being so aware of where, when, what, and how the world might react to something that's happening on camera, while also crafting a perfect story simultaneously, is almost impossible to conceive of. With only one episode left to enjoy, don't take Succession for granted. It's truly one for the TV pantheon!