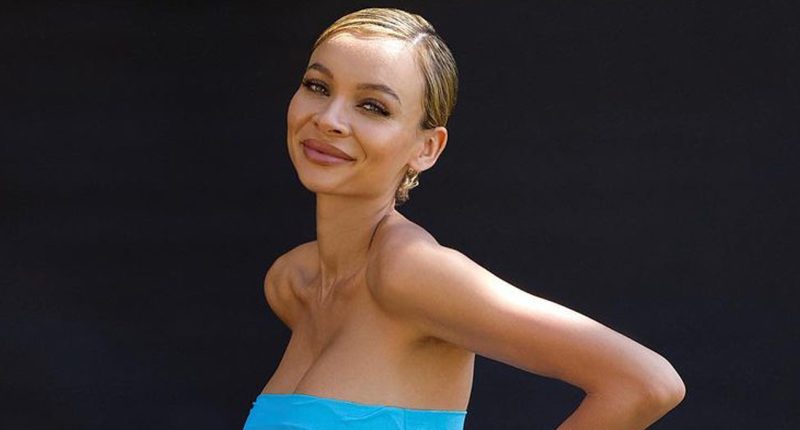 Alyssa Scott is getting candid with her fans about the important aspects of her life!
The model, best known for appearing on the reality show "Wild 'N Out," made headlines in 2021 when she revealed that she was pregnant with Nick Cannon's child. Although they lost their son Zen to brain cancer five months after his birth, they welcomed a daughter in 2022. Since then, she has kept a relatively low profile but recently opened up and shared some thoughts concerning her personal life
Alyssa Scott Opens Up About Future Plans
Although she enjoys parenting her two daughters, Zeela and Halo, the star had a surprising answer for a fan who asked about her thoughts on more kids. It all started when she did a question-and-answer session on her Instagram story. As expected, her followers could not pass up the opportunity to get some intimate details about her life. 
One of the questions asked was if she ever wanted to get married, which prompted her to reveal her thoughts on marriage. In the video she used to respond, the actress began by saying, "I like this question. I am not opposed to marriage. I have watched my parents have a successful marriage for about 33-plus years now." 
Scott further stated that she respects and admires the idea of a union and two people committing to each other no matter what, adding, "So yeah, I can't sit here and rule it out. Who knows." 
The following clip was of her humorously answering a question that read, "Do you want more kids." The TV star, first of all, laughed before saying, "More kids? What are you guys trying to do to me?." 
She noted that having more children was not something she had in mind for the nearest future, in her own words, "not for another ten years." Scott added that she would maybe after turning forty, but for now, she was good.
Her choosing to wait would be valid, seeing as she just got back her impressive figure just two months after birthing her baby girl in December. The Blast noted that she posted a series of photos on Instagram that flaunted her remarkable postpartum recovery. 
The 29-year-old model proudly showed off her flawless curves as she stood on well-manicured grass in front of a large mirror, wearing a two-shaded dress with yellow on top and orange at the bottom.
The dress was held together by two strings underneath her ample bust, revealing a cutout that showed off her toned abs. Scott's dress complemented her curves, and she wore minimal makeup while leaving her blonde hair down. 
She wrote in the caption, "Gonna live in this dress it makes me happy ☀️," while the next slide showed her kneeling on a white blanket, cradling her newborn in a collapsible crib.
Halo had on an adorable onesie with a floral headband. In another slide, she displayed her enviable physique in a form-fitting black dress with a very low neck showing off her ample cleavage.
Alyssa Scott Throws Beach-Themed Party For Daughter Zeela's Birthday
The TV personality is dedicated to creating joyful moments with her children and giving them the best life possible despite dealing with the pain of losing her son Zen to brain cancer. The Blast shared that the mother-of-two took to social media to celebrate her eldest daughter Zeela's birthday in a special way. 
Scott shared a series of cute photos on Instagram of a beach day out with her daughter, where they enjoyed a picnic and the ocean breeze. The heartwarming snapshot showed Scot and her daughters posing on blankets and pillows on the sand, with a beautifully decorated picnic table in front of them. 
The table was adorned with candles, flowers, and plates of delicious food, making for the perfect setup for a memorable day. The newly turned 5-year-old looked adorable in a white layered dress, a pink sweater, and heart-shaped glasses while the proud mom held her newborn baby girl wrapped in a white covering. 
The blond beauty looked stunning in a fitted, long-sleeved white dress and sunglasses, as Zeela looked to be having a great time playing with her baby sister, eating donuts, and enjoying the beautiful view. She gushed in the caption, "MY GIRLS 💕 happy birthday, Zeela🧜🏼‍♀️."


Post source: The blast