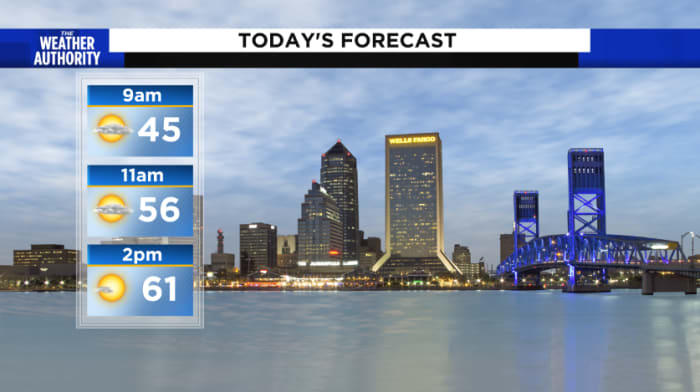 JACKSONVILLE, Fla. — – It's a cold start to the day, and below-average temps are likely throughout Saturday. We'll see a few clouds moving in later today, with highs only in the low 60s.
Later tonight some warmer air will be pushing into the region. Expect increasing clouds and lows in the mid 40s.
Changes are ahead for Sunday. We will see plenty of cloud cover with rain developing late in the day heading into Sunday night. Highs for Sunday will be in the mid 70s.
Some unsettled weather is likely for much of next week. Showers will be likely early Monday with improving conditions as the day progresses. Temps will be in the upper 70s.
Slight rain chances will continue midweek, with highs holding in the mid-to-upper 70s.
A higher rain and storm chance moves in late next week with temps in the mid 70s.
Copyright 2023 by WJXT News4JAX – All rights reserved.
Post source: News 4jax