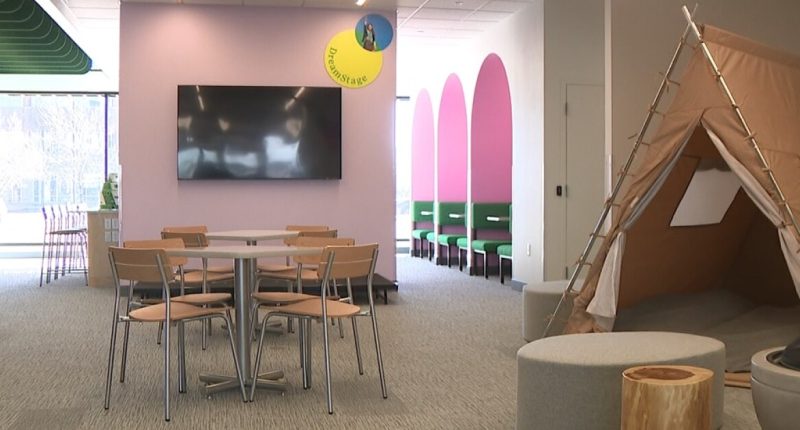 DENVER – This week, Girl Scouts of Colorado opened the first Girl Scout DreamLab in the country in Denver's Lowry neighborhood.
The new center provides space for STEM projects, podcasting, stage performances, and rock climbing.
"When you look around, it's bright, it's modern, it's very high tech," Girl Scouts of Colorado CEO Leanna Clark said.
Clark said the DreamLab has been in the making for 18 months and will help girls explore new activities.
"Digging into STEM, developing their leadership skills, all right here in one place," Clark said. "This neighborhood specifically, is in direct access within 10 miles of 17% of our current girl scout membership and has access to about 80,000 girls who aren't girl scouts."
Clark said girls who are not members will also be able to use the DreamLab.
Fourteen-year-old Girl Scout Senior Alison Estrada said she plans to use the space in several ways.
"I definitely am interested in reserving this for the conference booths, because I'm a Girl Scout national delegate," Estrada said. "Something I'm interested in as well is the podcast booth."
Estrada said the STEM elements are also appealing.
"I was thinking of getting into like, theoretical physics or quantum physics," Estrada said.
But aside from activities, Girl Scouts of America Vice President of Property Strategy Anne Smith said the DreamLab serves a practical purpose as well, meeting space.
"After COVID, we really found that we were not as accessible to the spaces where we had typically had our troop meetings. We used to meet in church basements, and school libraries," Smith said.
Two other DreamLabs are slated to open this summer in Louisiana and New Jersey, and at least five more DreamLabs are in the works in other parts of the nation.
---
The Follow Up
What do you want Denver7 to follow up on? Is there a story, topic or issue you want us to revisit? Let us know with the contact form below.