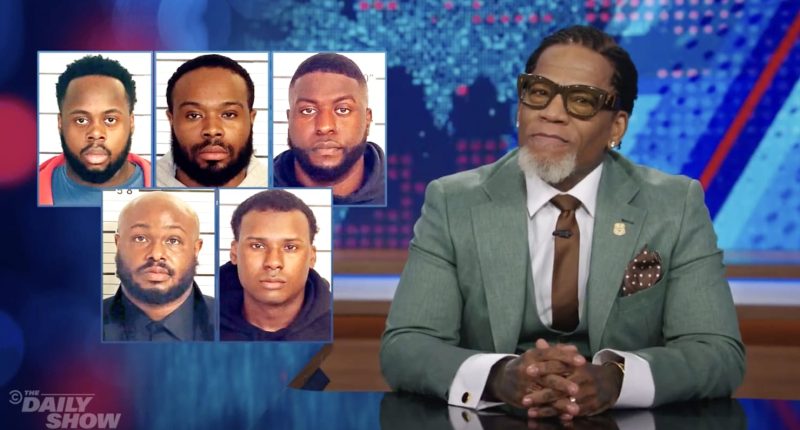 Following Trevor Noah's departure last month, The Daily Show has welcomed a series of guest hosts over these first few weeks of 2023 including Leslie Jones who took on a bizarrely erotic statue of Dr. Martin Luther King Jr. and Wanda Sykes who went after Donald Trump over his particularly unhinged eulogy for Diamond of MAGA duo Diamond and Silk.
But as hilarious as both women managed to be during their weeks behind the desk, neither faced the challenge that comedian D.L. Hughley was met with when he took the reins Monday night.
"I'm sure many of you have heard by now that a young Black man in Memphis was pulled over by the police and we all saw how it went down," Hughley said before cutting to clips from the video, released Friday, of five officers beating Tyre Nichols that talking heads on cable news called "shocking."
"You know who wasn't shocked by that? Black people," the host responded. "The only people who were shocked by that are people that haven't been paying attention. But for us, that's just like a flashback." His first real joke of the show came when he compared it "watching a porno and going, 'He's going to stick that where?!'"
The only thing Hughley said he did find "shocking" was "how fast those cops got arrested," adding, "They got arrested so fast they didn't even give us time to riot!" As the faces of the five Black cops appeared on the screen beside him, he added, "I've gotta wonder why. There's something about them that looks fast-arrest worthy. I can't put my finger on it, but I want to arrest them myself."
Later, Hughley was joined by Daily Show correspondent Roy Wood Jr., who sounded off on the "elite unit" known as the Scorpions that carried out the violent beating. "How about police form an elite unit that's specifically trained to not kill Black people?" he asked.
For more, listen to Roy Wood Jr. on The Last Laugh podcast.
Post source: TDB