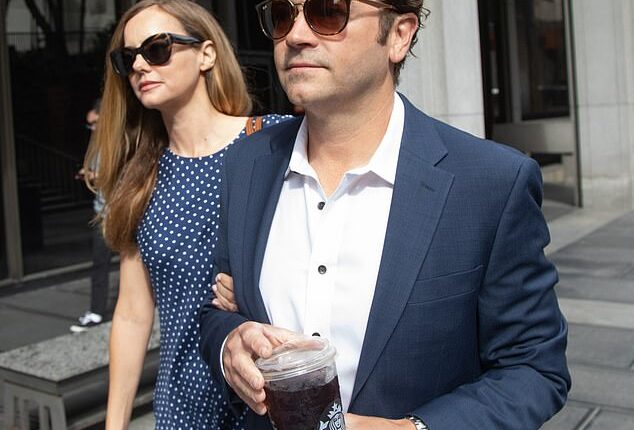 Actor Danny Masterson has been found guilty of drugging and raping two women at the end of his second trial, after a jury was left impossibly deadlocked in December. 
The 47-year-old Scientologist looked stunned as jurors delivered their unanimous verdicts on two of the three charges, and he was handcuffed and taken to the cells.
The jurors were deadlocked on the third count. 
Masterson, star of That 70s Show, could get 30 years in prison when he is sentenced. The judge on Wednesday ordered he be held in jail until that hearing. 
A group of about 10 Scientology friends and family – including actor Billy Baldwin, who is married to Bijou's half-sister, singer Chynna Phillips – watched in shock as he was led away to the cells. 
Scientology was front and center during both criminal trials. 
All three women testified that the reason they took so long to report him to the police was their fear of retribution from the Church of Scientology. They are also suing the actor and the Church of Scientology in civil court, claiming that they've been harassed and intimidated since reporting him to police.
A jury found Danny Masterson guilty on two of three rape counts on Wednesday. He's seen entering court Wednesday with wife Bijou Phillips 
The Scientologist, 47, was on trial for rape for a second time after his first ended in a mistrial in December, with a jury deadlocked on all counts 
Masterson played wise-cracking Steven Hyde on That '70s Show from 1998 to 2006
His wife, actress Bijou Phillips – who had been at his side throughout the four-week trial at criminal court in downtown Los Angeles – burst out in tears as the jury of seven women and eight men gave their verdicts. 
She was asked by Judge Charlaine Olmedo to 'maintain her composure' or go outside. 
The judge ordered Masterson – who had been free on $3.3 million bail since his arrest three years ago – to be taken into custody, and scheduled a hearing for August 4, where his attorneys will argue for bail to be reinstated.
Immediately after Judge Olmedo announced she was remanding the actor, a sheriff's bailiff pulled his arms behind his back and handcuffed him.
Bijou Phillips is seen leaving court today after the verdict was read out. She burst out in tears as the jury of seven women and eight men gave their verdicts and was asked by Judge Charlaine Olmedo to 'maintain her composure' or go outside
The actor – wearing a dark blue suit and white, open-neck shirt – faces up to 30 years in prison on the rape convictions: 15 for each one. 
He will also have to register as a sex offender. 
The verdicts on Wednesday came on the eighth day of jury deliberations. Jurors found him guilty of raping victims Jane Doe One and Jane Doe Two. 
On the third charge of raping Jane Doe Three, the jury was 'hopelessly deadlocked' at eight in favor of guilty and four in favor of not guilty.
A judge ordered he be taken into custody and scheduled a hearing for August 4. Bijou was wearing a dark blue dress with white polka dots as she arrived to court with her husband 
Masterson's attorney, Philip Cohen, argued that his client should be allowed to remain on bail, wearing an electronic monitor and being kept on 24-hour house arrest.
But Judge Olmedo rejected his plea saying Masterson's offenses were 'serious and violent felonies' and called him a 'potential flight risk.' 
Reinhold Mueller, the deputy district attorney, told the court that he agreed with Judge Olmedo's decision to revoke Masterson's bail, echoing her comment and saying: 'These were serious and violent offenses.' 
On the charge of raping Jane Doe 3 – which jurors remained hung on – the judge asked 'if there is any reasonable possibility of arriving at a verdict.' 
The female jury foreperson answered 'No,' adding that the panel voted five times without being able to come up with a unanimous decision. 
Los Angeles County District Attorney George Gascón said in a statement after the verdict: 'In April 2003, Masterson raped a 28-year-old woman and sometime between October and December of that year he sexually assaulted a 23-year-old woman who he had invited to his Hollywood Hills home. 
'We want to express our gratitude to the three women who came forward and bravely shared their experiences. Their courage and strength have been an inspiration to us all.
'While we are disappointed that the jury did not convict on all counts, we respect their decision. The verdicts handed down by the jury in this case were undoubtedly a difficult one to reach and we thank the jurors for their service.'
Masterson – who played smart-mouthed Steven Hyde on That '70s Show – was accused of raping the three women at his Hollywood Hills home between 2001 and 2003.
He pleaded not guilty to all the charges and he was looking at a sentence of 45 years to life in prison if he had been convicted on all three. 
His accusers, who DailyMail.com is identifying only as Jane Does 1 through 3 – are all former Scientologists. In their civil case they claim that they've been harassed and intimidated since reporting him to police. 
A status hearing on that case is scheduled for June 28.
They said that church officials warned them not to use the word rape; that turning in a fellow Scientologist to law enforcement was considered a 'high crime'; and if they disobeyed that doctrine, they could be declared a 'suppressive person' – cast out by the church and left alone, cut off from family and friends.
In the second trial, prosecutors put much more emphasis than they did in the first on their claims that Masterson drugged his alleged victims by spiking drinks he gave them before raping them.
Calling Masterson a 'predator', Deputy District Attorney Ariel Anson said in her closing argument: 'It all starts with a drink. This is his playbook.
'The defendant drugged his victims to be in control. When he drugs them, he is completely able to control them. And he does it over and over again.'
Her prosecuting partner, Mueller, added – as he pointed at Masterson – 'After they were drugged, they were raped by this man over here.
'It's beyond reasonable doubt that this man drugged these women and raped them. It's time to hold Mr Masterson accountable for what he's done.'
Masterson's lawyer, Philip Cohen, objected Wednesday to the prosecution's frequent referrals to his client drugging his alleged victims before raping them and called for a mistrial, saying, 'drugging does not constitute forcible rape.'
Leah Remini and Danny Masterson pictured at a benefit dinner and concert for Project Restart and the New York Rescue Workers Detoxification Project, November 3, 2007 in Las Vegas
Actress Leah Remini is pictured in court during Danny Masterson's rape trial, on April 24
But Judge Olmedo denied his mistrial motion, telling him that when considering drugging and use of force in a rape case, 'one does not necessarily preclude the other.'
Cohen, pointed out that there are no toxicology reports to back up the 20-year-old drugging allegations against his client – who has always maintained that the sex with the three Jane Does was 'consensual.'
Another difference between the two trials was the addition in the second of testimony from another 'victim' – a woman who claimed Masterson raped her in Toronto in 2000, though he was never charged with the alleged assault.
Prosecutors added her to the witness list to establish a pattern of 'prior bad acts' by Masterson. 
But Cohen dismissed the move, saying the new accuser was brought in for the retrial to 'save the case' for the DA.
Of the three women whose rape Masterson was charged with, Jane Doe 1 had told the court in the first trial that in April 2003 she was at the actor's house where he gave her a fruity red drink with vodka that made her feel woozy.
She said he then threw her in his Jacuzzi and carried her upstairs where she passed out, and woke up to find him raping her
She fought back, pushed a pillow into his face, she told the jury. 
But he pushed it back into her face, smothering her and she blacked out again.
When she woke, she said, Masterson opened a bedside drawer and pulled out a gun which he brandished, telling her: 'Don't f**king move.'
Jane Doe 3 – who lived with Masterson for six years – was only 17 when she met him and he persuaded her to become a Scientologist, the court heard.
About a year into their relationship he became very controlling and very aggressive sexually. She said she would often wake up at night and he would be on top of her, having sex with her.
In one such incident in November 2001, when she woke up to find him having sex with her, she told him no and tried to push him off, the court heard.
When that didn't work, she pulled his hair. But he retaliated by hitting her across the face and calling her 'white trash,' said prosecutors.
Scientology was front and center during both criminal trials. All three women testified that the reason they took so long to report him to the police was their fear of retribution from the Church of Scientology 
Jane Doe 2 met Masterson at a bar in 2003 and gave him her phone number. 
He called her and invited her to his home. She went, and, the court heard, after having a drink and a stint in his Jacuzzi, she found herself in his bathroom shower with him where he 'suddenly shoved his penis into her vagina.
'She said no, I told you no sex.'
They ended up in Masterson's bed where, despite her protests, he flipped her over and started pounding her from behind 'like a jackhammer,' she testified, adding that she felt 'like a limp rag doll.'
Masterson's attorney, Cohen, challenged 'inconsistencies' in the women's testimony and statements to police, accusing them of 'blatant fabrications.'
And he asserted that the three had 'colluded,' choreographing and 'tweaking' their rape stories to help get Masterson convicted – which in turn could help them win a big cash payout in the civil lawsuit they have brought against him and the Church of Scientology.
Before the judge turned the case over to the jury just before 10am on May 17, Mueller countered Cohen's 'inconsistencies' argument, telling jurors: 'Don't be fooled – he (Cohen) is trying to get you to think there is a grand conspiracy.
'Each of these victims spoke individually about what happened to them before they spoke to each other. So how is that a conspiracy?
'There is no conspiracy. There was no tweaking. He's guilty.
'It's not reasonable to believe any of these victims were lying.'