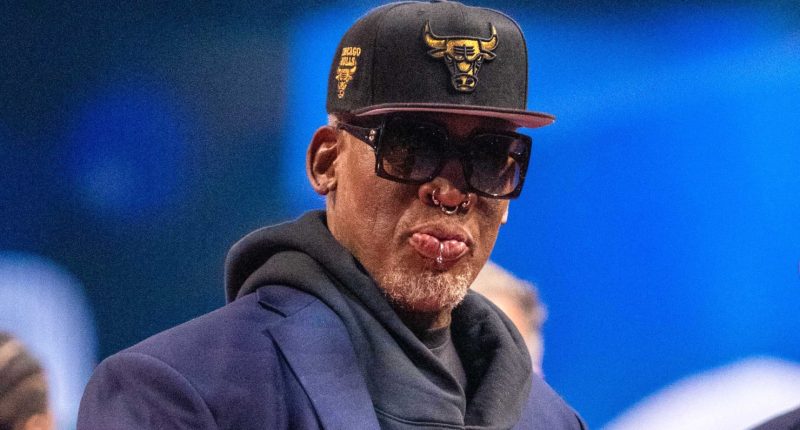 Kylie Jenner's on-and-off-again paramour Travis Scott tends to be a controversial character in the celebrity universe—he's recently, for instance, been accused of assaulting a sound engineer and of hitting a fan in the head with a cell phone, both of which Scott has denied. Now, the Houston rapper is being called out by Chicago Bulls legend Dennis Rodman over a sneaker design.
Back in 1994, Rodman debuted a pair of white and aqua shoes, the Nike Air Darwins, which had the distinctive design quirk of featuring a backwards version of the brand's iconic logo. In 2019, Scott collaborated with the brand to release the brown and white AJ1 Retro High OG sneakers, which also happened to feature a backwards Nike swoosh.
In a video from the Got Sole sneaker convention in Chicago this week, Rodman holds up a pair of Scott's shoes to the camera, pointing out the similarities and claiming his own Air Darwins were the first to carry the logo.
"Travis Scott has copied my shoe," Rodman says in the clip, which you can see below. "Come on Travis, give me some credit, you know? You copied my shit. This ain't new, brother. Either way, congratulations."
Scott has yet to respond to the public call-out, probably because he's got his hands full with those aforementioned assault allegations, his son's name change saga, and who knows what else.
Post source: TDB