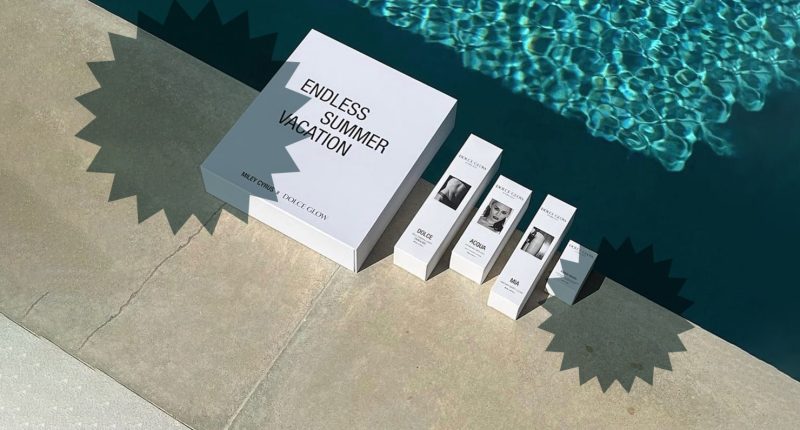 Scouted selects products independently. If you purchase something from our posts, we may earn a small commission.
Summer is just around the corner, and if you're like me, you're itching to get outside and enjoy the sun—and a sunkissed glow. We all know how bad the sun's UV rays are for our skin—especially without sunscreen, but fortunately, self-tanners can give you the same effects sans sun damage. My favorite self-tanner of all time is from Dolce Glow, by celebrity self-tanning guru Isabela Alysa.
Dolce Glow just dropped its latest collection with Miley Cyrus, Endless Summer Vacation, which includes a self-tanning mist, self-tanning water, instant body glow, and a kabuki brush for effortless application. According to the brand, Miley has been a fan of Dolce Glow for over three years, which is why she decided to invest and collaborate with the brand for this collection. Since Miley always seems to have an enviable sunkissed glow, I had to get my hands on the collection and see just how well Dolce Glow really works on a non-celeb. Spoiler alert: it worked amazingly, and I'm officially addicted.
Dolce Glow Miley's Glow Limited Edition Endless Summer Set
Before I applied any products, Dolce Glow recommended scrubbing down and exfoliating my skin to ensure a smooth, streak-free application. But unlike other self-tanners that I've used, I didn't have to apply lotion before the self-tanner since their formulas are already packed with hydrating ingredients to keep the skin moisturized and extend the life of the pigment.
Dolce Glow Exfoliation Mitt
Dolce's Self-Tanning Mist in the shade Medium-Dark left my skin looking sunkissed and soft after leaving it to soak in overnight, thanks to its Australian Macadamia Oil, Rose Oil, and Jojoba Seed Oil ingredients that hydrate and nourish skin while bronzing. As someone with very dry skin, it helped keep my skin soft. It was incredibly easy to apply, too—I undressed and sprayed in a continuous circular motion all over and only waited a few minutes for it to dry before I could get redressed. I left my application on overnight for the darkest result, but the brand recommends four to six hours for a medium tan and two to four hours for a light tan.
Dolce Glow Self-Tanning Spray Mist
My other favorite included in the Endless Summer Vacation set is the Mia Instant Body Glow, which is a shimmery "topper" lotion that offers a bronzed look that washes off easily with water. This unique, commitment-free formula is infused with caffeine, which helps reduce puffiness and cellulite while giving the skin a revitalized glow. The Body Glow was even easier to apply to the skin than the tanner since it is a quick-drying, lightweight lotion. I coated my skin in the body bronzer wherever I wanted to glow, and glow I did. If you're looking to shimmer all day on the beach or during a night out, the Instant Body Glow from Dolce has you covered.
Dolce Glow Mia Shimmer Topper Lotion
MORE FROM SCOUTED:
Don't forget to check out our coupon site to find more beauty deals, including Sephora coupons, Ulta coupons, Nordstrom coupons, and Macy's coupons.
Post source: TDB