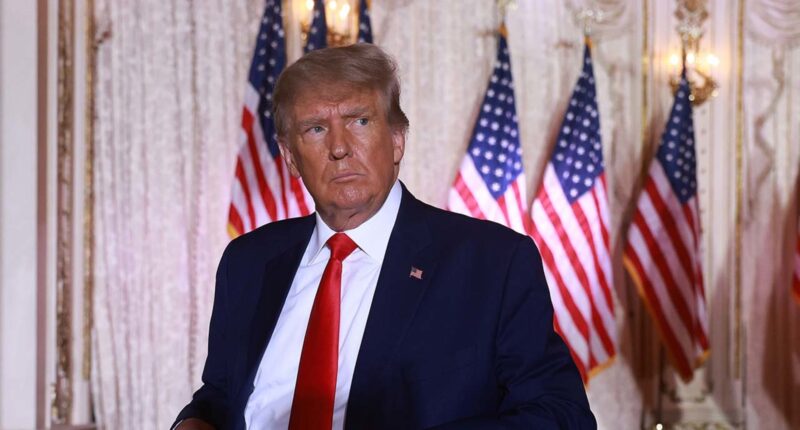 Former President Donald Trump has been indicted for a second time, this time on at least seven federal charges in relation to his handling of classified information while out of office, sources familiar confirm to ABC News.
He has been issued a summons to appear in federal court in Miami on Tuesday at 3 p.m. ET, sources said.
"We're learning from our sources that there appears to be at least seven counts here. This ranges from everything from the willful retention of national defense information to conspiracy to a scheme to conceal to false statements and representations," ABC News' Katherine Faulders reported on during a special report on the network.
In a statement on social media, Trump wrote that he had been told of the indictment and insisted the case was a "hoax." He has repeatedly denied wrongdoing.
He wrote that he is "INNOCENT" and it was a "DARK DAY" for the U.S.
Spokespeople for the Justice Department and special counsel Jack Smith's office declined to comment on Trump's statement.
The unprecedented federal indictment of a former president — who already faces a criminal case in New York City that he denies and who is the current front-runner for the Republican Party's nomination for the White House in 2024 — further underlines what are potentially the most consequential prosecutions in U.S. history, with implications both global and domestic.
Experts say that a current U.S. government criminally prosecuting its former leader and current leading opposition party candidate upends long-held norms and could test the nation's democratic system in a manner that stretches far beyond the merits of the case itself.
This is a developing story. Please come back for more updates.
The federal probe has been led by Smith, who was tapped by Attorney General Merrick Garland in November to oversee the Department of Justice's investigation into Trump's handling of classified documents when his presidency ended.
Smith is also overseeing the investigation into Trump's efforts to overturn the 2020 election results.
Attorney General Merrick Garland appointed Smith to the probe in November, days after Trump announced he was running for president in 2024, creating a conflict of interest, triggering the appointment of a special counsel, according to the DOJ special counsel guidelines.
RELATED | Timeline: DOJ's criminal inquiry into Trump taking classified documents to Mar-a-Lago
Central to Smith's efforts in the classified documents probe is determining whether lawyers who represented the former president falsely certified in response to a grand jury subpoena that Trump had returned all classified records to the government, or whether Trump himself sought to conceal records that he might have unlawfully retained.
As ABC News previously reported, prosecutors in the special counsel's office have presented compelling preliminary evidence that Trump knowingly and deliberately misled his own attorneys about his retention of classified material after leaving office in early 2021, according to sources who described the contents of a sealed filing from a top federal judge.
In early 2022, sources told ABC News, National Archives officials asked the Justice Department to investigate Trump's handling of White House records after the National Archives in January retrieved 15 boxes of records from Trump's Mar-a-Lago resort in Florida that had been improperly taken in violation of the Presidential Records Act.
The DOJ probe hit a critical point on Aug. 8, 2022, when Trump's Mar-a-Lago estate in Florida was searched by FBI agents.
Federal investigators seized more than 100 documents with classified markings during the search, according to an unsealed detailed inventory list. From Trump's office alone, there were 43 empty folders seized with classified banners.
The property inventory list also showed that agents gathered more than 11,000 documents or photographs without classification markings, all of which were described as property of the U.S. government.
Since the August search, Trump and his legal team have found additional classified documents and have received additional subpoenas for information that the government believes could still be in Trump's possession.
The former president, who in April pleaded not guilty to unrelated criminal charges that he falsified business records in connection with a hush money payment made in the days before the 2016 election, has said that he will stay in the 2024 presidential race despite any indictments.
In addition to Smith's probes, Trump is also under investigation in Georgia over his efforts to overturn the 2020 presidential election in that state.
Trump is separately charged in New York City with 34 counts of falsifying business records related to hush money paid made to adult film actress Stormy Daniels in the final days of the 2016 presidential race.
He pleaded not guilty in that case.


Post source: Abc7chicago