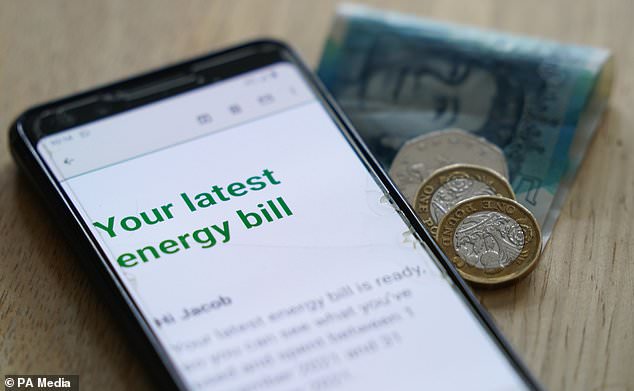 Households are set to save almost £450 on their energy bills after Ofgem lowers its price cap to just more than £2,000 a year this July, experts have said.
Energy consultancy firm Cornwall Insight predicts the price cap will fall by £446 to £2,054 a year, based on falling wholesale energy prices.
However, campaigners warned households are not set to feel relief for another seven years, with energy bills set to remain high until 2030 at the earliest. 
'We do not currently expect bills to return to pre-2020 levels before the end of the decade at the earliest,' Cornwall Insight said.
Fuel poverty charity National Energy Action (NEA) added that, for many, bills will remain 'unaffordable' due to the Government's decision to cut its winter support packages. 
Ofgem is expected to drop to its energy price cap from £2,500 to £2,054 this July
The calls come after the Government in March cut its scheme to give £400 in support to households, to help them pay for energy bills. 
Campaigners said the lower cap is unlikely to provide much relief to households that already struggled to pay their bills over the winter because the Government's support schemes have come to an end. 
Ofgem's price cap has rocketed from £1,162 a year for a typical household in August 2021 to its current level of £3,280. 
Energy costs briefly surged to heights of £4,279 in January this year, after the pandemic and Russia's war in Ukraine pushed up wholesale prices. 
However, customers have been partly shielded from the most recent rise by the Government's Energy Price Guarantee, which limits annual energy costs to £2,500 for the average household – below Ofgem's price cap. 
This will change in July, with Ofgem expected to cut the price cap by £446 to £2,054. The regulator is also set to hike the threshold for the guarantee up to £3,000.
Notably, Ofgem's price cap does not set put maximum sum on the amounts of money a household will pay for their energy.
The price cap instead limits the sums of money providers are allowed charge their customers per unit of gas or electricity, meaning those who use more energy pay more.
The Government ended its £400 winter discount scheme in March, meaning many households will face bills that are comparable to those experienced last year
The Government's £400 winter discount, which was paid in six instalments to every household, ended in March.
Now, only those in receipt of means-tested benefits, pensioners and those with disabilities are set to receive further help with their energy bills, amounting to £900, £300 and £150 respectively.
Fuel poverty charity National Energy Action (NEA) warned that while a cut to the price cap 'might seem like good news', bills in July would be comparable to last winter because of the end to the Government's support. 
NEA chief executive Adam Scorer said: 'Coming out of winter, most people will welcome any respite from record high prices, but it still leaves prices more than 80% higher than the start of the energy crisis and two million more households trapped in fuel poverty.
'More than two and a half million low income and vulnerable households are no longer receiving any Government support for unaffordable bills. For them, the energy crisis is far from over.'
The standing charge – the roughly £300 paid each year by households just to access gas and electricity – is also unlikely to fall.
Energy regulator Ofgem has upped its price cap from £1,162 a year in August 2021 to £3,280 now
Nonetheless, Cornwall Insight said the return of fixed-rate energy deals, could help households make savings. 
Suppliers pulled their low-cost fixed-rate deals after energy prices began to surge in October 2021. 
This left customers with no choice but to take up variable rate tariffs, that were previously reserved for those who had reached the end of their low-cost fixed tariffs and failed to switch. 
Cornwall Insight said: 'We hope to see the reappearance of more competitive fixed-rate energy tariffs as prices begin to stabilise, providing consumers with additional options to manage their energy costs.' 
Energy is regulated separately in Northern Ireland, where bills will be held at £1,950 per year for an average household.