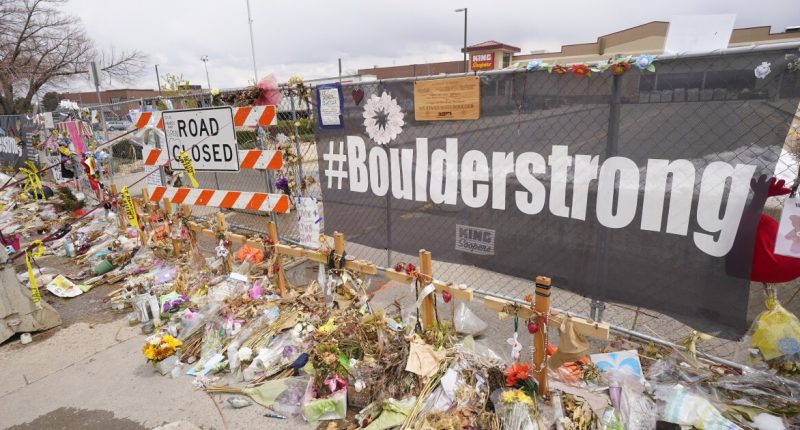 DENVER — For victims, family members and survivors of the Table Mesa King Soopers mass shooting, justice has moved painfully slow.
The accused shooter faces more than 100 charges, but on this 2nd anniversary of the tragedy, the case still hasn't gone to trial.
Suspect Ahmad Al Aliwi Alissa, 23, has been deemed mentally incompetent several times and in December 2021 he was sent to the state mental hospital for treatment.
Earlier in March, prosecutors asked the court to bring in their own expert, but that request was denied.
Police arrested the alleged shooter at the scene, who was captured on video walking out of the store, shirtless and covered in blood.
Over the summer in 2021, more charges were filed against the alleged gunman and preliminary hearings were held leading to October when the suspect was ruled incompetent to stand trial. Immediately, prosecutors asked for a second evaluation.
Court documents In that first ruling revealed the suspect appeared to have an understanding of the charges against him, his potential sentences and the workings of the court. But doctors "concluded that their 'provisional' mental health diagnosis of Defendant 'limits his ability to meaningfully converse with others.'"
Robert Olds, who lost his niece, Rikki, in the shooting told Denver7 in 2021 of the pain the delays are having on him and his family. "That beautiful young woman right there won't get a chance at life because of what he did." Olds said.
The long road to justice 2 years since the Boulder King Soopers shooting
"He was pretty competent when he went and bought a gun, pretty competent when he drove to King Soopers, pretty competent when he surrendered to the police. So how does that change?" said Olds.
Now, a year-and-a half later, on this second anniversary of the shooting, not much has changed in the case.
This month, prosecutors asked a judge to bring in their own neuropsychologist to evaluate the accused gunman. They hoped an outside expert could determine if he is really mentally incompetent, but the judge ruled 'the people lack the authority' and those decisions rest solely with the Colorado Mental Health Institute of Pueblo.
The defense has said the accused shooter suffers from Schizophrenia but prosecutors have raised concerns he is choosing not to participate in his recovery.
---
The Follow Up
What do you want Denver7 to follow up on? Is there a story, topic or issue you want us to revisit? Let us know with the contact form below.
xfbml : true, version : 'v2.9' }); }; (function(d, s, id){ var js, fjs = d.getElementsByTagName(s)[0]; if (d.getElementById(id)) {return;} js = d.createElement(s); js.id = id; js.src = "https://connect.facebook.net/en_US/sdk.js"; js.async = true; fjs.parentNode.insertBefore(js, fjs); }(document, 'script', 'facebook-jssdk'));