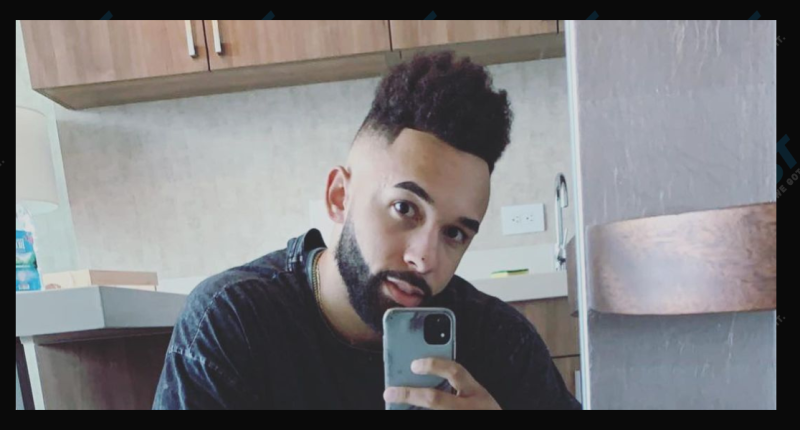 Bartise Bowden wants to ensure future "Love Is Blind" contestants don't follow in his footsteps!
Bowden, 27, rose to reality TV fame as a cast member of the Netflix series' third season. He had his sights set on Nancy Rodriguez for the majority of the season, and the now-former couple's relationship had been a hot topic in the "Love Is Blind" universe on social media.
Bowden knows viewers felt quite sour about his behavior on the series- he and Rodriguez ultimately did not get married-, and it seems he is channeling that knowledge into his TikToks, sprinkling a little humor into his accountability process.
The Blast has reported quite a bit on Bowden's "Love Is Blind" experience; let's look back at his backstory and a few revelations!
Bowden Has No Regrets About His Time On 'Love Is Blind'
Some may say Bowden's experience on "Love Is Blind" was a little blurry.
Last November, we looked at some of his thoughts ahead of the third season finale! Bowden sat down for an interview with People Magazine and told the outlet despite having no regrets about his experience, he does feel embarrassed about certain things he said in season three.
Bowden expressed feeling "ashamed" about some remarks he had made toward Rodriguez. On the upside, however, he does feel he's been able to learn from his mistakes.
"I love my journey with Nancy, because, especially watching it back and watching myself, kind of feeling embarrassed to have watched myself say some of the stuff that I said and ashamed of myself," Bowden proclaimed.
Bowden's 'pod era' relationship with Raven Ross had a major impact on his thoughts and feelings. He later expressed to Rodriguez he had felt more physically attracted to the pilates instructor. Ross eventually got engaged to SK Alagbada, said 'I don't,' tried to date off-camera, and… "Love Is Blind" fans likely know what came next.
Bowden also told People, "I learned that I need to be more sensitive to my partner's emotions and not speak my mind to the fullest at all times, which I put my foot in my mouth." (via The Blast, per People)
Speaking his mind to 'the fullest' has caused a lot of strife between Bowden and viewers on social media. He repeatedly caught a lot of heat across his social media platforms as fans made their way through binging the season.
Rodriguez, however, felt quite 'blind' to what was ahead for their relationship.
Rodriguez Faced The Aftermath Of Their Wedding That Wasn't
Shortly after Bowden's statements about his behavior on-screen, viewers watched the season finale to learn the couple did not go through with their wedding. Rodriguez's family was furious with Bowden's decision; Rodriguez's brother had expressed his apprehension over his sister's relationship in a previous episode.
The real estate investor also took time to sit down with People to share her post-finale thoughts.
"Right after the wedding, we took some time apart," she explained. "I think for me, you saw me, I was like, 'It's black and white. You said no. I'm out.' "I had to that to protect myself, because at that point, I was so blindsided that I needed to process how did this happen?" Rodriguez continued.
Bowden later hoped the former couple would be able to give their relationship another try after their ill-fated wedding. It was a hard 'no' for Rodriguez.
She and Bowden attempted to clear the air right after their debacle at the altar; Rodriguez proclaimed she "wasn't going to backtrack" into a stagnant relationship. Bowden also told her in their conversation he hadn't made up his mind prior to their wedding day.
Rodriguez suggested there could be a potential for a friendship once Bowden entered his thirties; he is currently 27.
"…I would hope Bartise and I could be friends at some point and later on in life, maybe in his 30s, we could be friends. But I don't see the benefit of us being friends at this point," she continued.
Bowden Wants Future 'Love Is Blind' Contestants Not To Repeat His Mistakes
Months after season three's finale, Bowden continues to take accountability for his actions. This time, he's taking to TikTok.
Bowden is seen texting a long message over drinks, and he captioned the TikTok, "Texting 'Love Is Blind' contestants a THOROUGH list of what NOT to do when they move in together after Mexico vacations."
He also advised, "live and learn fellas."
Bowden appeared on Netflix's "The Perfect Match" earlier this year, striking a connection with Izzy Fairthorne. The duo are reportedly no longer together. (per StyleCaster)


Post source: The blast