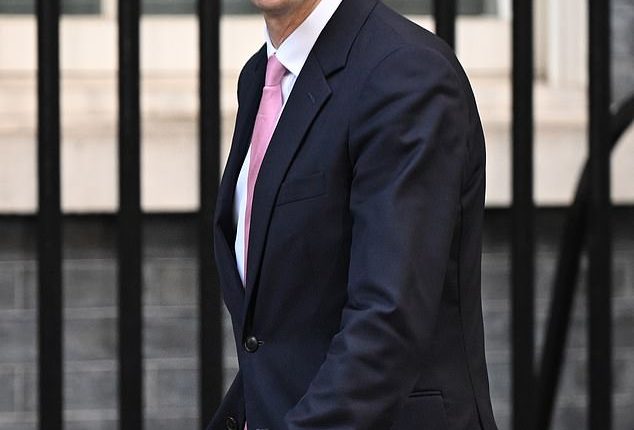 Not laughing anymore: Ministers eye up tough new legislation to prosecute revellers with 'hippy crack' in crackdown
Sale and possession of 'hippy crack' expected to be made illegal under new law 
It comes after growing concern over the litter and behaviour caused by the gas 
Ministers are preparing to fast-track new restrictions on laughing gas as a recreational drug as part of a crackdown on anti-social behaviour, it was confirmed last night.
Sale and possession of nitrous oxide, also known as 'hippy crack', is expected to be made illegal.
Only those with a 'legitimate excuse' for possessing the drug would avoid prosecution under the Home Office proposals.
It comes amid growing concern over littering connected with the habit, as well as the activities of users who are 'high' on the gas.
Policing minister Chris Philp reportedly wants a review on nitrous oxide to be fast-tracked to April so the government can act more quickly on the drug
Concerns have grown over the use of so-called 'hippy crack' and the litter and anti-social behaviour associated with it
Nitrous oxide has been widely sold in small silver canisters, which are commonly littered in public places.
But in the last year much larger cans containing hundreds of litres of gas have gained popularity.
The clear-up after Notting Hill Carnival in London over the August bank holiday last year filled four skips with the larger-size canisters.
'There is a clear view that we have to act,' a source told The Times.
'There is a clear link between the use of nitrous oxide and anti-social behaviour, and this is a top priority for the Government.'
Amid mounting concerns, the Government's Advisory Council on the Misuse of Drugs (ACMD) was asked to review the harm caused by the drug in 2021.
However, it has yet to report its findings to the Home Office.
Policing minister Chris Philp reportedly wants the review to be fast-tracked to April as the government cannot make changes on the drug until it is published. 
Cartridges containing nitrous oxide are typically used to inflate a party balloon, from which the gas is inhaled. It leads to euphoria and hallucinations, and can cause fits of giggles.
Nitrous oxide leads to euphoria and hallucinations, and can cause fits of giggles when used
The canisters are legally available for use in catering equipment such as whipped cream machines, and the drug is also used legitimately for pain relief.
The 2016 Psychoactive Substances Act made it illegal to supply laughing gas for recreational use but it is thought new measures would strengthen the law and make it easier to bring charges for possession.
The planned moves come despite latest drugs figures showing a fall in the use of nitrous oxide.
Home Office data covering the year to June reported a fall in nitrous oxide use for adults aged 16 to 69 to 1.3 per cent, from 2.4 per cent.
Among 16- to 24-year-olds usage was higher at 3.9 per cent, but was also down year-on-year from 8.7 per cent.
In November a report warned of dangers posed by larger cylinders of laughing gas, which are being marketed online to the young.
The large aerosols promote 'more regular and heavier use', the European Monitoring Centre for Drugs and Drug Addiction said, and have 'led to an increase in frostbite and lung injuries'.
The experts also warned that vegans and vegetarians may be at greater risk when abusing laughing gas as a recreational drug.
People on a meat- and dairy-free diet could be at risk of chronic illness from taking nitrous oxide because they are already deficient in vitamin B12, the European Union drug agency said.
Advertisement