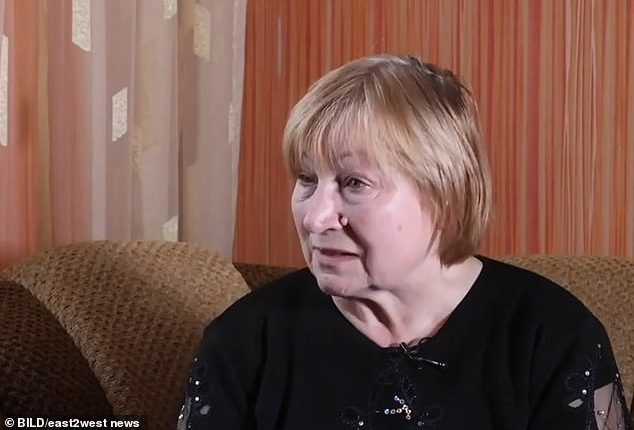 The mother of a decorated Ukrainian prisoner of war who was killed by his Russian captors has revealed the 'soul-crushing' heartbreak of identifying her son in a video showing his execution.
Praskovya Demchuk, 67, told of her distress and horror at seeing the footage of Russians gunning down her son as he declared 'glory to Ukraine' to his captors.
She said her grandson, the soldier's child, was hysterical, screaming as he identified 'our daddy' in the video.
The cold-blooded shooting of electrician Oleksandr 'Sasha' Matsiyevsky, 42, by Russian invaders is now the subject of a war crimes investigation.
Matsiyevsky's body was returned to Ukraine after he was killed in the wake of losing contact with his comrades on 30 December.
Identified as the prisoner of war who stood tall, seen standing in a shallow trench, smoking, and declaring 'glory to Ukraine' as he was shot, Matsiyevsky has been posthumously honoured with the country's highest title, the Hero of Ukraine.
Praskovya Demchuk, 67, mother of Oleksandr Sasha' Matsiyevsky reveals her agony as she watched footage of her Hero PoW son being shot in cold blood for saying 'Glory to Ukraine'.
Zelensky awarded PoW electrician Oleksandr Matsievsky, pictured, his country's highest honour after he was shot in cold blood by Russian killers after declaring 'Glory to Ukraine'
Matsiyevsky and four colleagues were reportedly engaged in combat with a larger Russian contingent near Soledar on 30 December 2022 when he was captured.
His comrades are still missing in action.
Matsiyevsky's mother, Praskovya, identified her son from a video that appeared on social media on 6 March 2023.
The video shows the moment the man identified as Matsiyevsky is shot multiple times by Russian captors.
He is seen standing in a trench, smoking. Somebody out of the shot says 'film it'. The man smoking says 'glory to Ukraine' and is shot several times.
An earlier preliminary investigation by the army had suggested another Ukrainian soldier, Timofiy Shadura, 41, who had been missing since early February, was the hero.
The SBU secret service then identified the body of Matsiyevsky as the man in the video. 
His mother had also identified his body – before the way he was killed was known.
'It was in the evening. I opened my phone, Facebook, and I looked at Sasha [short for Oleksandr],' she told German newspaper Bild, and Bild in Russian.
'This is the worst shot, this is a shooting. And I…I look and I understand, it's my son.
'And I screamed "Sasha!" It was a shock – "Sasha!"…
'I look at it again and again. I stare… "Sasha! I look, it's Sasha, it's my Sasha."
'And I call Yulia, my daughter-in-law. I sent this to her on Viber. She looked and said, "yes that's our Sasha".
'Mishka [his son] confirmed it as well. That's our dad' – he was hysterical. That's our daddy, grandma it's daddy. The way he smokes, the way he stands.
'It was a terrible tantrum, it was… it was soul-crushing,' she said.
'He was crying, crying hard, just crying, sobbing into the phone….
'[Sasha] was not going to surrender, he could not take revenge on them. He had no submachine gun, no flak jacket, he was as if naked, you understand?…
'These were the last minutes of his life. What else could he do? "Glory to Ukraine!"'
Praskovya Demchuk told of how she had 'loved' Russia during the period Ukraine was a part of the Soviet Union.
Matsiyevsky was posthumously awarded the top honour for his service, the Hero of Ukraine
'I went to Russia many times….my son was working in Russia… It is very painful that people, Russian people, did this.
'And I don't know how much grief they brought to our people, so many children were left without parents, without fathers.
'It is a great sorrow. I do not know if we can forgive or not…
'They are hitting cities, houses where peaceful people sleep, and in an instant nothing is there.'
She told Suspilne media in Ukraine that the last time she saw her son, he 'crossed the house, himself, and said goodbye'.
He told her: 'Mum, thank you for life.'
An electrician before the war, Oleksandr was a fighter of the 163rd battalion of the 119th separate brigade of the territorial defence of Chernihiv region. 
Andriy Yermak, Volodymyr Zelensky's chief of staff, insisted: 'There will be retribution for every such war crime. No-one can hide… We will find everyone.'
Foreign minister Dmytro Kuleba demanded that the International Criminal Court should launch an immediate investigation into the footage.
Praskovya Demchuck, 67, mother of Sasha Matsiyevsky, spoke of the moment she identified her son
Electrician Oleksandr Matsievskyi, 42, was identified as the man shot by Russian captors in December in a video that circulated online last week
Zelensky confers the highest honour upon Oleksandr 'Sasha' Matsiyevsky in his nightly address
President Zelensky said in his evening address that he had posthumously decorated the soldier.
'Today I conferred the title of Hero of Ukraine upon Oleksandr Matsiyevsky, a soldier,' he said in his nightly address.
'A man whom all Ukrainians will know.
'A man who will be remembered forever.
'For his bravery, for his confidence in Ukraine and for his 'Glory to Ukraine!'
'Glory to the Hero, Glory to the Heroes, Glory to Ukraine.'