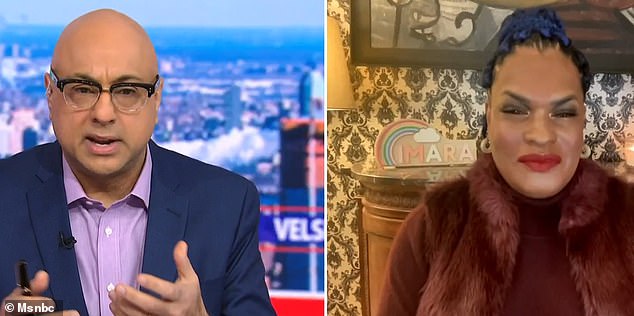 MSNBC host Ali Velshi agreed with his show guest's characterization of recently proposed legislation in Florida as a 'road test for authoritarianism' in the vein of the Nazi party in 1930s Germany.
Velshi, a host on the left-leaning network, was joined by transgender activist and journalist Imara Jones to discuss a series of bills that he described as 'aimed at limiting the rights of transgender Americans across the country.'
The host zeroed in on a bill currently pending in the Florida state senate that pertains to child custody under some conditions, like when a child's parents disagree about 'gender-affirming care.'
Velshi asked Jones of the bill, 'What exactly are we talking about here in this Florida bill?'
'What I get confused by is why people don't see that that's what's happening and don't understand that in some ways that we are — This is a prototype, just like the early 1930s were in Germany,' said Jones, invoking Hitler's Germany as a comparison for modern Florida,' said Jones.
Online, backlash against the segment came expeditiously.
Conservative talk radio host Jason Rantz said: 'Dimwits Ali Velshi and Imara Jones compare being trans in Florida with being a Jew in Nazi Germany because they're historically ignorant and mentally unfit to be in front of a microphone and camera.'
'For them to make comparison [sic] between the two proves they have absolutely no perspective. At all,' responded Terry Lee Straub on Twitter. 
A third Twitter user called Clay Ruppenthal wrote: 'Lmao! MSNBC = propaganda for people who are completely illiterate in history and who worship the progressive fascist political religion.'
Another Twitter user with the handle FLoridaDawg20 simply wrote, 'Embarrassing.' 
Jones said that the bill is 'the predicate to separate parents from their children' and offered that it is not surprising to see the bill proposed in Florida.
'Usually, where we see one action work when it comes to anti-trans and other Christian nationalist legislation, it becomes the model for things to happen across the country,' said Jones.
As the conversation progressed, Jones referred to the legislation as a 'road test' for what's to come.
'I think that what we're seeing across the board right now is a road test for authoritarianism in the United States. How can you sort of separate, demonize, stigmatize an entire group of people in order to build the type of society that religious zealots want,' said Jones, who identifies as a woman.
'They're trying this. And eerily, what I get confused by is why people don't see that that's what's happening and don't understand that in some ways that we are — This is a prototype, just like the early 1930s were in Germany.
'I'm not saying that this is an equivalent period in terms of what is ultimately going to happen,' she continued.
Velshi then jumped in to shore up the claim: 'But they did road test everything in 1930S Germany, right? 
MSNBC host Ali Velshi (left) and trans activist and journalist Imara Jones (right) discussed on Sunday the new Florida legislation, comparing it to Hitler's policy in 1930
Earlier this month, DeSantis' state Senate proposed a bill that could grant emergency custody of a child in danger of being given 'sex reassignment prescriptions or procedures' to the disapproving parent
'They went after trans and gay people first and they and they and they tried that out. And society was like, well, I don't really understand them and it doesn't really matter to me,' he said.
'That's exactly right. And the same thing is happening here,' replied Jones.
The bill, introduced earlier this month by state Senator Clay Yarborough, would allow parents to take 'emergency jurisdiction' over their minor children if the minor in question is 'at risk of' receiving so-called gender-affirming medical care.
Custody may also be reassigned if the minor's custodial parent received medical care in service of a trans identity.
The objecting parent could take temporary custody of a child or children if 'it is necessary in an emergency to protect the child because the child, or a sibling or parent of the child' is 'at risk of or is being subjected to the provision of sex reassignment prescriptions or procedures.'