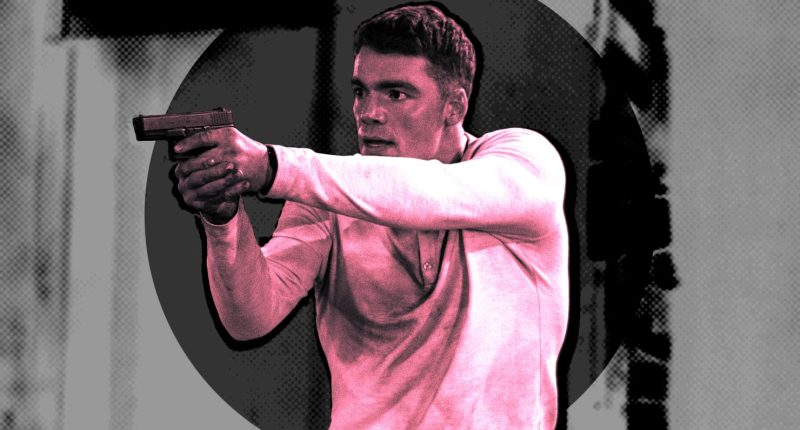 In case you might have been unable to ascertain from its title, The Night Agent is about an agent. The twist? He works at night. Now, that is not inherently special. McDonald's employees work at night too, and they have to battle drunk college students stumbling in five minutes before closing, demanding McFlurrys through a cloud of Jaegerbomb haze. But the titular night agent in Netflix's The Night Agent is an agent, who works at night, and—get this—is waiting for a phone call!
For all of the ridiculously named shows and movies out there right now, The Night Agent might just be a pretty solid entry into the canon, despite its silly title. And to be fair, it is named after Matthew Quirk's 2019 novel of the same name; one of those giant-cover-font, John Grisham-esque novels that jump out at you from the Barnes and Noble sale rack. Your dad has probably read it, and he'll probably be thrilled when you tell him that there's a new Netflix series adapted from it, streaming today on the platform.
The Night Agent follows the titular night agent, Peter Sutherland (Gabriel Basso), a low-level FBI employee whose security clearance is so bottom-rung that he can't even be trusted to work during the day. Peter toils away for an equally amusingly titled government program called "Night Action," which serves as a liaison for undercover agents to call a phone in the White House basement. From there, Peter patches their distress calls through to the appropriate channels.
Typically, the phone doesn't even ring. Peter's never even so much as had a crank call come through the line—shocking, as I get at least two spam voicemails a day telling me that my car insurance is past due, when I don't even own a car. But one night, a call comes through the Night Action line from Rose Larkin (Luciane Buchanan), an oblivious tech guru who has just witnessed her aunt and uncle being murdered in their own home. Rose's call to Night Action unravels a wealth of government conspiracies, terrorist threats, and national security coverups that, at the very least, should be enough to get poor Peter a hefty raise and a better schedule.
The series is a lofty production, even for a streamer like Netflix. That's likely because the show is produced by Sony Pictures Television, which would explain The Night Agent's cinematic pacing. While that big budget and all of those big ideas work in the series' favor half the time, they spend the other half hindering it with too many unspooling threads and superfluous character arcs. Though fans of the political thriller genre will certainly find it engaging, it's hard to shake The Night Agent's slovenly detours to have enough consistent fun.
This isn't to say that you should count out The Night Agent completely, though you may be tempted to by its hokey opening sequence. A year prior to the events of the series, Peter—forever the standup do-gooder—spots a bomb being planted on a Washington D.C. metro train, and halts the metro to get everybody off before it detonates. Only one person was killed and countless were saved, but that hasn't stopped online conspiracy theorists from asserting that Peter was actually in on the attack. It would only make sense, given that Peter's father was a former intelligence agent as well, accused of being a defector, but who died in a car crash before he ever had a chance to clear his name.
Despite his family's history, Peter is invited into the Night Action program by Diane Farr (Hong Chau, fresh off an Oscar-nominated year), the president's chief of staff. Diane believes in Peter's integrity, and a year later, is seemingly the only person that he can trust when Rose calls into the Night Action line. After that point, an invisible time clock starts ticking, and Peter, Rose, and Diane have to figure out how to stop an intricate series of national attacks, somehow connected to the metro bombing.
The Night Agent works best when it's in full action mode, delivering thrilling chase and shootout sequences on par with any major theatrical release. Basso might not even be 30 years old, but as Peter, he already carries the confidence of a seasoned action star. But when he's not swerving between oncoming traffic at high speeds, his emotional resonance leaves a bit to be desired. Buchanan seems equally lost in these quieter moments, trying to strike the right balance between a fearful civilian and a sharp securities expert.
Unsurprisingly, the series' grounding presence is Chau as Diane Farr. Surprisingly, Chau remains as mesmerizing as ever in the worst wig to hit television since The Staircase. Chau is cursed with an unnecessary long bob, inexplicably colored gray, as if Diane has been prematurely aged by her high-stress position. It's a wildly baffling decision that threatened to pull me out of the moment in each episode. Luckily, Chau is such an engaged performer that it doesn't matter. Even with her suspicious wig and off-kilter, deepened Virginia accent, Chau knows how to command a camera. Where other actors would surely go over the top, she remains steadfast and in control.
But even a fabulously studied actor like Chau can't quite hold The Night Agent together, especially when she's offscreen. The series functions like its writers were called to fill time. Here is another classic case of needlessly lengthy episodes, ostensibly pushing an hour's runtime just because they can. Some of these side quests—like a fabulously stone-faced guest appearance by character actor Gabrielle Rose in episode four—serve the plot well. Others meander along a winding road in the woods, and will certainly lose viewers with a short attention span.
I'm not above being strung along by a political thriller's vague threat to national security. Even when The Night Agent rambled, I was eventually involved again when the pacing picked back up or a new, outrageous twist revealed itself. That still doesn't excuse poor dialogue ("It crashed and burned, and when I looked around, I was the only one not wearing a parachute")—or some glaring plot holes and intentional vagueness that allow the show to avoid explaining itself. But, it'll likely be enough for genre fans to be satisfied. That is, if they can avoid falling prey to pausing during a dull plot excursion and never picking the episode back up.
It may not have the efficiency of the most memorable political mysteries, but The Night Agent is still a solid return to a genre that seems to be dying out of cinemas. Though, despite being occasionally absorbing, the series can't quite achieve the balance between thriller and drama needed to strike a steady tone. No doubt this could easily be cleaned up and trimmed into a two-and-a-half-hour movie in the right hands. But in Netflix's boundless arena, The Night Agent is a slog slowly into the dark of the evening, never quite living up to its title's gloriously silly potential.
Liked this review? Sign up to get our weekly See Skip newsletter every Tuesday and find out what new shows and movies are worth watching, and which aren't.
Post source: TDB