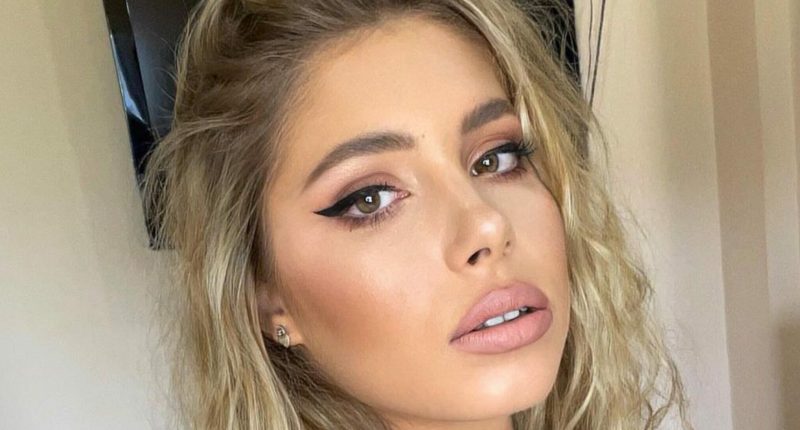 Andreea Dragoi proudly showed off her bikini body in a stunning new photo taken during a trip to the beach!
The San Jose State University swimmer dubbed as the "Next Olivia Dunne" made her Instagram followers happy with a sizzling bikini snap. As per the geotag, Dragoi spent time at Nuba Beach Club, soaking up some sun in a two-piece that showcased her insane figure.
Flaunting Her Sun-Kissed Body
The 19-year-old looked smoking hot as she worked the camera in a skimpy electric blue bikini that complemented her gorgeous tan. Her two-piece included a bandeau-style top that fell low on her chest, offering her audience a peek at her toned arms and shoulders. It fit snugly around her chest and featured a sexy cut-out design between its ruched cups that teased a glimpse of her cleavage. The style gave her look even more of a seductive vibe.
On her lower half, the athlete rocked a pair of matching bikini bottoms. The number covered up only what was necessary, leaving her sculpted thighs and curvy hips well on display for her online audience to admire. It also had a thin, stringy waistband tied in dainty bows high up on her hips, drawing attention to her trim waist, flat midsection, and abs.
A Total Smokeshow
Dragoi completed her sexy attire with a thin necklace with small teardrop-shaped pendants and a bracelet. She also had sunglasses worn on top of her head. Her blonde locks, parted in the center, were damp and hanging over her shoulder and down her back.
Living The Life
The image saw Dragoi kneeling on a light blue towel spread across the gray cushioned sun bed. She parted her legs, leaned forward, and placed her hands on her thighs. While looking straight into the lens, the swimmer tilted her head to the side.
"Live the bikini kinda life.💙," Dragoi wrote in the caption.
Fans Praise Andreea Dragoi
The sizzling snapshot received a lot of attention from her fans and accumulated plenty of likes since going live on her account. Furthermore, dozens of followers took to the comments section to vocalize their admiration for Dragoi.
"Mmmm I always knew that bikini life was for me. Thank you for the encouragement," one wrote.
"Absolutely gorgeous and insanely hot!" gushed another admirer.
Winning Pageants
Apart from being a model and an internet sensation, Dragoi is also a beauty queen.
In August 2022, the swimmer made headlines for winning the 2022 Miss California US Nation Pageant. The sophomore also won the Miss San Jose US Nation Pageant the same year.
"I am grateful for all the people I have in my life that make me happy and support me. And I am thankful that I now can have a say and influence the stereotypes and stigmas in the pageant and modeling world," Dragoi said.
She added, "This accomplishment means a better version of myself as I learn many new things from every pageant, every girl, every different culture, and lastly a new experience."
Post source: The blast