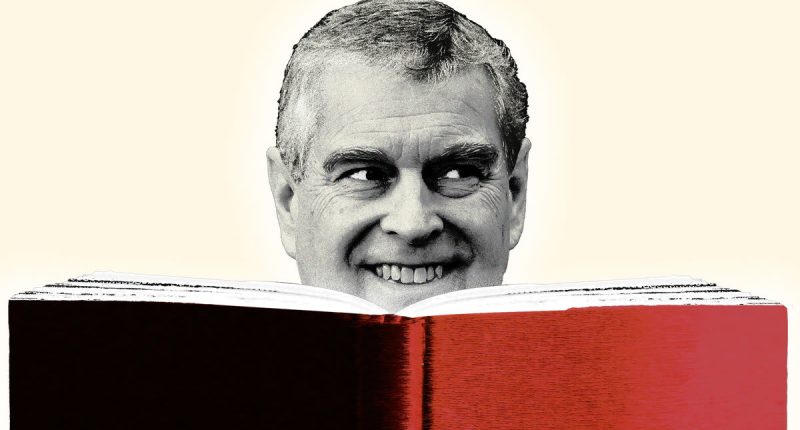 Royalist is The Daily Beast's newsletter for all things royal and Royal Family. Subscribe here to get it in your inbox every Sunday.
Prince Andrew "may have to write a memoir" in order to bolster his ailing finances, a friend of the prince has told The Daily Beast, following reports that he was left out of the queen's will, and her entire estate passed to King Charles.
The friend said, "He has done everything he has been asked to do. He settled the lawsuit, he kept a low profile, he hasn't complained. His mother always valued his loyalty. She would be aghast at his allowance being reduced. He may have to write a memoir."
Asked if writing a memoir was a serious prospect that Andrew has actually talked about, the friend said: "It's being talked about regularly. Sarah has had real success with her books and has great publishing contacts. Harry's book has proved that there is no shortage of appetite for stories about the royal family. Why shouldn't Andrew tell his side of the story now his mother is gone?"
Sarah's books are published by the romantic imprint Mills and Boon, which is part of Harper Collins. An email to Harper Collins's non-fiction division, asking about the possibility of publishing an Andrew memoir, went unanswered. Several other publishers approached by The Daily Beast declined to comment, which hints at just how controversial publishing his memoir would be, especially if it took aim at his sex abuse accuser, Virginia Giuffre.
Given the toxicity of Andrew's reputation it seems likely that mainstream publishers would not want be seen giving him a huge payday.
"I wouldn't touch it with a barge pole."
— Independent publisher
He may face an uphill struggle to secure a lucrative deal with a reputable publisher; one independent publisher told The Daily Beast: "I wouldn't touch it with a barge pole."
However, another literary agent told The Daily Beast that any book by Andrew, while not in the same commercial league as writings by Harry or Meghan, could fetch "several million" dollars.
Asked if reports that Virginia Giuffre is contemplating publishing a book were contributing to Andrew's thought processes around doing a memoir of his own, the friend of Andrew's said they didn't believe it was "a major factor."
The simple fact is that a decent wedge of cash might be more than enough of a temptation for a broke Andrew to put pen to paper. He has reportedly been left "bewildered" by the failure of his mother to bequeath him a substantial inheritance, and is being pressured to move out of his 30-room home, Royal Lodge, by his brother. He has reportedly been offered the cheaper-to-run former home of Harry and Meghan, Frogmore Cottage, instead.
Writing a memoir would almost result in total excommunication from the royal fold, but given that his brother has made it very clear there is no path back to public life for him, even going so far as to ponder banning him from wearing a special ceremonial velvet costume at the coronation in May, and that there will be no significant annual stipend in the years to come, he might be persuaded that he doesn't have a great deal to lose.
Andrew's potential for making money via other avenues is also severely limited; no mainstream, family-friendly brand in the west would partner with him and he would be ill-advised to travel to the United States, where he is still wanted for questioning by the FBI over his involvement with Jeffrey Epstein.
However, Andrew still has close contacts (and supporters) in parts of the Middle East; last year he went on a private jaunt to Bahrain to stay with the royal family there in great luxury. He allegedly travelled on a private jet belonging to a Swiss billionaire.
Neither Buckingham Palace, nor Andrew's legal representative responded to requests for comment made by The Daily Beast.
Andrew Lownie, a historian and author of royal books including Traitor King, The Scandalous Exile of the Duke & Duchess of Windsor who also has a long and storied career as a literary agent, said that while there was no doubt a book by Andrew would sell, if it "washed dirty linen in public" he said he thought it would only "make matters worse" for Andrew himself.
Lownie, who is working on a new biography of the prince, entitled Prince Andrew: A Prince of the Blood to be published next year said: "The lesson of the Newsnight interview is that the less he says the better. His story is not very edifying. Who would believe what he wrote, anyway? He has been shown to be a liar and a book would only make matters worse.
"There have been rumors circulating for a while that he is planning an interview or a book or to try and overturn the settlement. But I very much doubt it is all anything more than a negotiating tactic [to get a better settlement from Charles]. He is a great supporter of the monarchy, and I think he is actually more supportive of his brother than is sometimes portrayed."
"The British upper classes fear death duties more than death itself"
— Friend of King Charles
The threat of Andrew dabbling in the literary world is unlikely to trouble the king too much, a friend of Charles told The Daily Beast.
"Harry's book seems to have only damaged Harry," said the friend. "Of course a book by Andrew would be unwelcome but it would only harm Andrew in the long run."
Asked if the reports in the Sun on Sunday this weekend that Andrew had been left out of the queen's will were true, thus enabling the estate, worth an estimated $780 million, to benefit from a "monarch-to-monarch" exemption to inheritance tax, the friend said: "I'm sure the queen passed on her estate in the most tax-efficient way possible. Charles is the boss now and she clearly trusted Charles to do the right thing. I can't believe any of this would have come as a surprise to Andrew. The British upper classes fear death duties more than death itself, so it wouldn't surprise me at all."
Post source: TDB