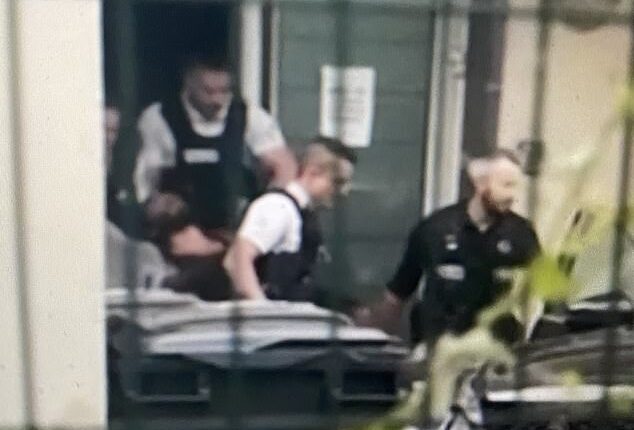 A British three-year-old girl who was stabbed in a French knife attack will be released from hospital within days it has emerged, as her alleged assailant was charged with attempted murder and rebellion with a weapon.
Self-styled Syrian-Christian Abdelmasih Hanoun, 31, was on Saturday morning heavily sedated as he was presented before two examining judges at the Palais de Justice in Annecy.
Among those injured in the attack, was three-year-old British girl Ettie Turner. She is expected to be released from hospital within days. 
He did not speak during his appearance behind closed doors, after being carried to a court room on a medical chair.
'He was placed under formal criminal examination for attempted murder and rebellion with a weapon,' said Annecy Prosecutor Line Bonnet-Mathis.
'The suspect did not wish to speak when he was presented before judges. He will be remanded in custody.'
Self-styled Syrian-Christian Abdelmasih Hanoun, 31, was on Saturday morning taken from a secure police station in Annecy to the city's Palais de Justice
He was carried on a medical chair after he was shot by French Police during his arrest
Abdelmasih Hanoun, 31, pictured, is accused of attacking four children and two adults 
Attempted murder is punishable with life in prison, which is 30 years in France, and rebellion with a weapon comes with a five-year sentence.
Hanoun was himself wounded by police following the attack, when video footage caught him saying the words 'In the name of Jesus Christ' as he repeatedly plunged a knife into four children and two adults.
They included British girl Ettie Turner, aged three, and three younger children, as well as two adults.
All were 'stable' on Saturday, and making a good recovery, with Ettie well enough to watch television.
Also targeted were two French cousins named as Ennio and Alba, both two, and Peter, a 22-month-old Dutch boy.
The two adults who were attacked were Manuel, 70, and Yusuf, 78, who was also hit by a police bullet in error.
Tributes have been left at the scene where the attack took place including a balloon which said Love For the Children
Line Bonnet-Mathis, the Annecy Prosecutor who is leading the investigation into the crimes, confirmed that Hanoun 'will appear before a judge on Saturday'
Despite being a failed asylum seeker who faced deportation, Hanoun was left to sleep rough in Annecy.
A source who works on a lake pontoon by Lake Annecy said that he saw Hanoun 'every day for the two months preceding the attack.
The source said: 'He was dressed in black – black backpack, dark glasses, bearded, and he wore a headdress to protect him from the sun – it could be a t-shirt, this wasn't a religious sign'.
The divorced father of a three-year-old girl is a Syrian Army deserter who was refused asylum in France six days ago and faced being deported.
Despite this, there were no immediate attempts to remove him from the country, or to monitor his movements.
Gérald Darmanin, France's Interior Minister, said this was a 'troubling coincidence', adding: 'For reasons not well explained he had sought asylum in Switzerland, Italy and France.'
Hanoun arrived in Sweden 10 years ago, having served in the army during the country's ongoing civil war.
He married a Swedish woman he had met in Turkey, and they went on to have a daughter, now aged three, before the couple separated around eight months ago.
Hanoun was twice refused Swedish citizenship, and this is thought to have motivated him to move to France alone.
The multiple stabbings follow a series of similar crimes in France dating back to 2015, most of them linked to Islamist terrorism.
Ms Bonnet-Mathis says there was nothing linking Hanoun's alleged crimes with terrorism.