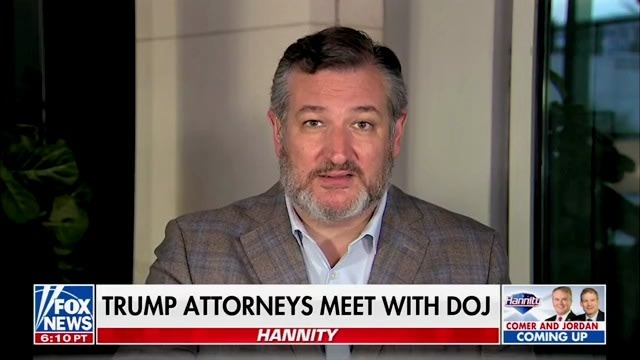 No charges have been filed as a result of the Justice Department's investigation into former President Donald Trump potentially mishandling classified documents while out of office, but that didn't stop Sen. Ted Cruz (R-TX) from trying to frame a potential indictment around Attorney General Merrick Garland being bitter that he's not on the Supreme Court.
On Monday, Trump's lawyers met with top Justice Department officials in Washington, D.C. to ask that they not indict their client—a move indicating that a charging decision may be near. Garland was not present at the meeting, The Washington Post reported.
After Trump himself asked in an all-caps, grammatically challenged Truth Social post how he could "possibly" be charged, Cruz predicted it would happen.
"Mark my words: I believe Merrick Garland will indict Donald Trump," Cruz told Fox News host Sean Hannity after smearing the nation's top law enforcement officer as partisan and corrupt.
"He wants to indict Donald Trump because he hates Donald Trump. He hates him. He's angry," insisted Cruz. "Merick Garland is angry that he wasn't confirmed to the Supreme Court. He wants to indict him."
Of course, it was Sen. Mitch McConnell in 2016 who refused, as Senate Majority Leader, to consider then-President Barack Obama's nomination of Garland to the high court more than seven months before that year's presidential election. (Four years later, McConnell rushed to confirm Trump nominee Amy Coney Barrett on October 26—eight days before Americans voted Trump out of office.)
Additionally, it is the federal grand jury hearing testimony in Washington, D.C. that will vote on an indictment. The investigation is also being led by special counsel Jack Smith, whom Garland appointed after Trump declared his candidacy for president in November.
Cruz clarified that he believes Trump will be indicted for "obstruction of justice for hiding the classified documents," which he later characterized dubiously as "a crime about a non-crime."
Post source: TDB