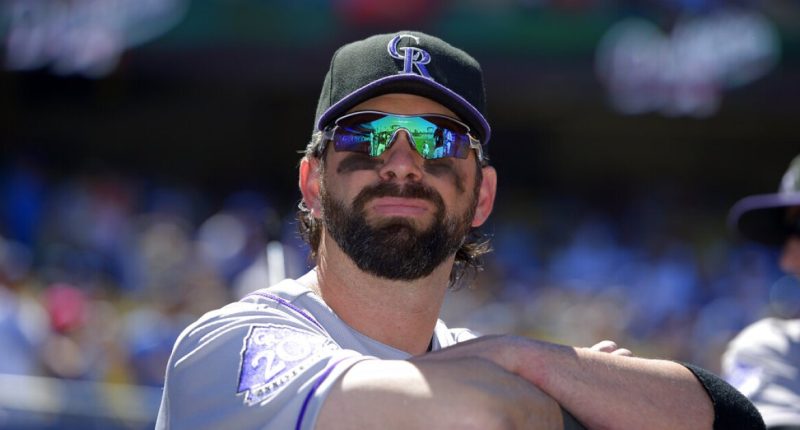 DENVER — Todd Helton stepped into the box, waved the bat, stared down the pitcher, leaving us all to wonder what would happen next?
He always seemed in control, capable of spoiling pitches, getting into favorable counts and directing a line drive as if his bat were a laser pointer. That's what makes Tuesday so difficult, if not exciting.
Helton could become just the second Rockies player elected to baseball's Hall of Fame. The five-time All-Star, who retired after the 2013 season, ranks as a top contender in this year's Baseball Writers' Association of American vote that will be announced at 4 p.m.
"I am a little nervous," Helton told Denver7.
It's understandable. For the first time since he appeared on the ballot, Helton has a legitimate chance to receive 75 percent of the vote required for entrance.
According to Ryan Thibodaux's Hall of Fame Ballot Tracker, Helton was trending at 80.1 percent on Tuesday morning, leaving him within striking distance along with former St. Louis Cardinals third baseman Scott Rolen and Astros reliever Billy Wagner when the votes are revealed. There is typically a 5-to-10 percent drop when the private ballots are cast.
Helton, 49, aims to join outfielder Larry Walker as the only other Rockie in Cooperstown. Walker received 76.6 percent of the vote in his 10th year on the ballot in 2020. Like with Walker, voters have warmed to Helton. He received 16.5 percent in 2018, his first year, and has steadily climbed from 29.2 percent to 44.9 and 52.0 last January. Full disclosure, I am Hall of Fame voter and have voted for Helton each year he has appeared on the ballot.
Helton played his entire 17-year career with the Rockies, finally retiring after years of dealing with back, hip and knee surgeries. Helton reached the playoffs twice in his career, serving as the catalyst to the 2007 magical run to the World Series with a walk-off home run against the Dodgers as part of Colorado's 21-1 sprint to the Fall Classic.
"Love him. I just love who he is and the personality that made him great as a player," former Rockies outfielder Ryan Spilborghs told Denver7. "The Saito walk-off homer is my favorite baseball memory in my career. I've done some cool things personally, but him hitting the homer, after watching him and getting to know Todd, that is my favorite memory by far."
Helton is forever captured in the photo when he caught the final out in the Rockies' National League Championship Series sweep of the Arizona Diamondbacks.
"That is the obvious one I remember. Us going to the World Series and him putting his hands in the air and jumping up and down like a little kid," former Rockies all-star shortstop Troy Tulowitzki told Denver7.
The Rockies selected Helton out of Tennessee with the eighth overall pick in the 1995 draft, and he made his major-league debut on Aug. 2. 1997. Over the next 17 seasons, he grew up before our eyes. He morphed from a player with questions about his power and defense into a five-time all-star and three-time Gold Glove winner.
For many fans and teammates, when they think of the Rockies, they can't help but think of Helton.
Helton was happy when he was comfortably miserable. It is ironic given his statistics. He finished with a lifetime .316 average, .414 on-base percentage, 369 home runs, 592 doubles and scored 1,401 runs. Taking over for the popular Andres Galarraga, Helton burst onto the scene in 1998, batting .315 with 25 home runs and 97 RBIs, finishing second to Chicago Cubs pitcher Kerry Wood for National League rookie of the year honors.
During his prime, from 1998 to 2005, he averaged 33 home runs and 114 RBIs. His best season came in 2000, when he won a batting title, hit 42 home runs and flirted with becoming the first player to hit .400 since Ted Williams in 1941.
Helton owns almost every meaningful Rockies' offensive statistic, was the master of the scoop and bunt defense, and for more than a decade ranked as one of the toughest outs in baseball.
It has left him on the doorstep of immortality.
"It would be really cool (if he got in)," Tulowitzki said.
appId : '283504728416642',
xfbml : true, version : 'v2.9' }); }; (function(d, s, id){ var js, fjs = d.getElementsByTagName(s)[0]; if (d.getElementById(id)) {return;} js = d.createElement(s); js.id = id; js.src = "https://connect.facebook.net/en_US/sdk.js"; js.async = true; fjs.parentNode.insertBefore(js, fjs); }(document, 'script', 'facebook-jssdk'));