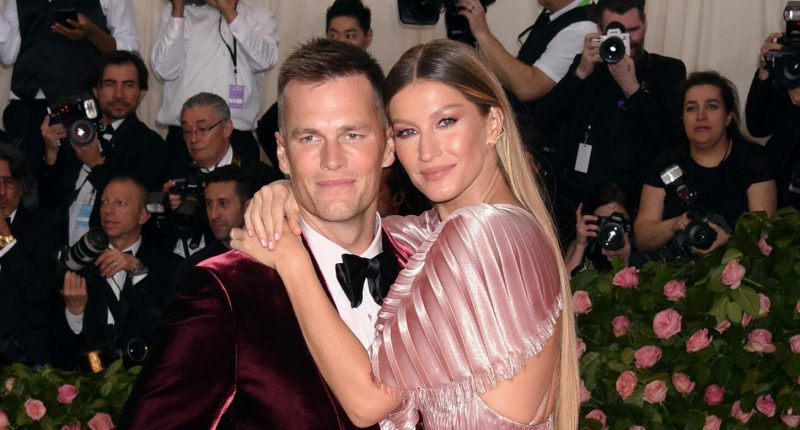 Tom Brady is seemingly stirring the pot with his post of a cryptic quote on Instagram about the "betrayal of false friends." His post went up shortly after ex-wife Gisele Bündchen released her tell-all cover story interview with Vanity Fair.
In the interview, Bündchen addressed rumors that she'd given Brady an ultimatum about his retirement. The supermodel said she only wants the best for Brady and even commented on her relationship with Bridget Moynahan.
Bündchen has recently been at the center of multiple romance rumors, especially with billionaire Jeffrey Soffer. She denied all the rumors and was upset that people disregarded her $400 million net worth to plant false stories. 
Read on to find out more.
Tom Brady Shares Cryptic Quote On Instagram
Hours after Gisele Bündchen's tell-all cover story interview with Vanity Fair was released, Tom Brady took to Instagram to stir the pot with a cryptic post. The former NFL Quarterback shared a quote from famed essayist Ralph Waldo Emerson on his Instagram Stories.
Emerson's quote was about the real meaning of success, and it read, "What is success? To laugh often and much; To win the respect of intelligent people and the affection of children; to earn the appreciation of honest critics and endure the betrayal of false friends."
The quote further explained that success is always finding the "best in others" and deliberately "leaving the world a bit better, whether by a healthy child, a garden patch or esteemed social condition; To know even one life has breathed easier because you have lived. This is to have succeeded!" Brady simply captioned the post with three red heart emojis.
Gisele Bündchen Addresses Rumors Surrounding Divorce From Tom Brady
Bündchen's new interview with Vanity Fair contained the supermodel's thoughts and truths about multiple rumors she's been associated with recently. The supermodel addressed the viral stories about how she'd given Brady an ultimatum about retiring from his professional football career.
On those rumors, 42-year-old Bündchen said the notion of her doing such was "very hurtful" and "the craziest thing [she's] ever heard." She said, "If there's one person I want to be the happiest in the world, it's him, believe me. I want him to achieve and to conquer. I want all his dreams to come true."
Bündchen also clarified that politics was "never" a factor she considered when she decided to end their 13-year marriage. She explained that when she "was 26 years old and he was 29 years old," they wanted several things, but now they've realized they want "different things."
She Addressed Her Relationship With Bridget Moynahan
During the Vanity Fair interview, Bündchenalso spoke candidly about her "challenging" relationship with Bridget Moynahan, with whom Brady has a 15-year-old son Jack. Bündchen said she and Moynahan have a "great relationship" but noted that "everything in life comes with work."
She also subtly referred to Moynahan giving birth to Jack a few months after she and Brady started dating by saying, "You have to go through the roller coaster." Bündchen added, "You have moments where you get to the sticky points and you've gotta overcome it."
However, the supermodel stated that embracing baby Jack as her "bonus child" helped her and Brady in planning for their own kids. She said, "Jack came into our lives and I felt so blessed, and it kind of awakened in me this desire of being a mom."
Gisele Bündchen Slams Jeffrey Soffer Romance Rumors
As the interview went on, Bündchen also addressed the multitude of rumors that have recently come up about her love life since the divorce. She officially clarified that she and billionaire Jeffrey Soffer have no romantic relationship, especially because "He's Tom's friend, not my friend."
To emphasize her point about not ever being with Soffer, Bündchen added, "I wouldn't be with this guy. I mean, puh-leeze." The 42-year-old was also upset that people would assume she'd be swayed by Soffer's money, especially with her own $400 million net worth. Soffer is worth about $2.2 billion.
Bündchen shared with Vanity Fair that she thinks the romance stories with Soffer were planted but didn't point any fingers. She said, "Who benefits from this? Why would somebody plant something like this? There's only one reason. They want to make me look like something I'm not."


Post source: The blast