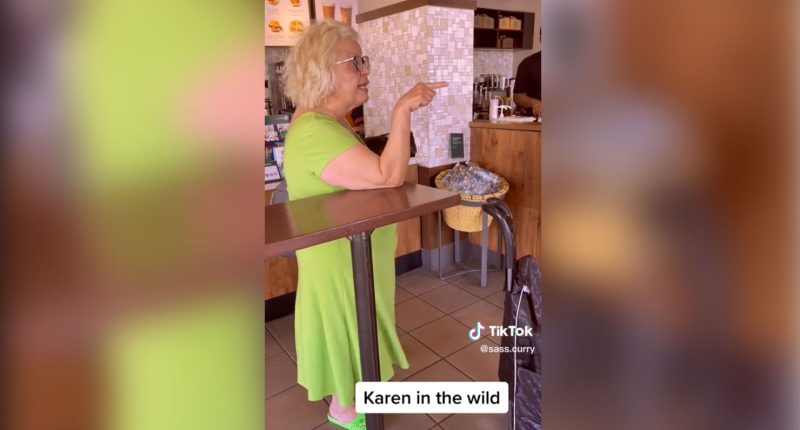 A Starbucks customer has gone viral for going on a homophobic rant and accusing a lesbian couple at the Florida coffee shop of grooming children, causing staff and other patrons to condemn the hateful speech.
The cringe-worthy clip gained major traction on TikTok after it was posted by Cassie Urry on Sunday, garnering nearly 7 million views by Tuesday.
In an interview with The Daily Beast, Urry said she and her girlfriend, Lorrin Skrbec, had traveled from Toledo to Miami for a cruise to the Bahamas. Ahead of boarding on March 6, the couple stopped at a Starbucks in Coral Gables. Urry said the environment of the store "felt off," and it took her a bit to realize that everyone in the coffee shop was staring at one customer.
"We saw [a] woman saying, like, a lot of racist things and a lot of racial slurs," Urry said. "There [were] Asian customers there. And she had said to them that they were creations of the devil, and that everybody in the Starbucks was sitting in the presence of the devil and not doing anything about it."
Urry said the woman, who has not been identified, then started to spew anti-Asian sentiments related to COVID-19. At that point, Skrbec verbally intervened and Urry decided to take out her phone and begin recording.
In the video captioned "Karen in the wild," the blonde woman—who's wearing glasses and a lime green dress—stares in the direction of the camera.
"Is lesbianism OK?" the woman asks. "No, it isn't because you touch children. You rape children. Yes, because you're evil."
Staff members and customers behind the woman stop what they're doing and denounce her wild allegations. But the woman doesn't budge. She goes on to taunt the couple for recording her and then jokes that they don't know who she is.
"You ought to be ashamed of yourself," the woman says.
The clip ends after the store's manager confronts the woman and takes her to the side.
Urry, 22, said she and her girlfriend were taken aback by the incident.
"We were both in shock a little bit. It was weird," she said. "I didn't quite know how to respond. I was feeling angry and feeling a lot of emotions, but I think just I knew realistically that escalating the situation wasn't going to get us anywhere. And you just can't reason with some people. So we just had to keep our cool."
Urry added that Starbucks employees made sure to check on them after their interaction with the woman.
A spokesperson for Starbucks said the company does not "tolerate any form of discrimination in [its] stores."
"We take a lot of pride in in creating a warm and welcoming environment, and we we expect both our…employees…as well as customers in our store to uphold those values," spokesperson Sam Jefferies said. "Obviously, when you've seen the video, the way that customer behaved was unacceptable, and she's no longer welcome in our store."
Thankfully, the couple managed to still enjoy their cruise to the Bahamas.
"We didn't really want to think about [the incident] or deal with it while we were on vacation," Urry said. "We just had to forget about it during the time-being and enjoy our trip and focus on each other."
Post source: TDB