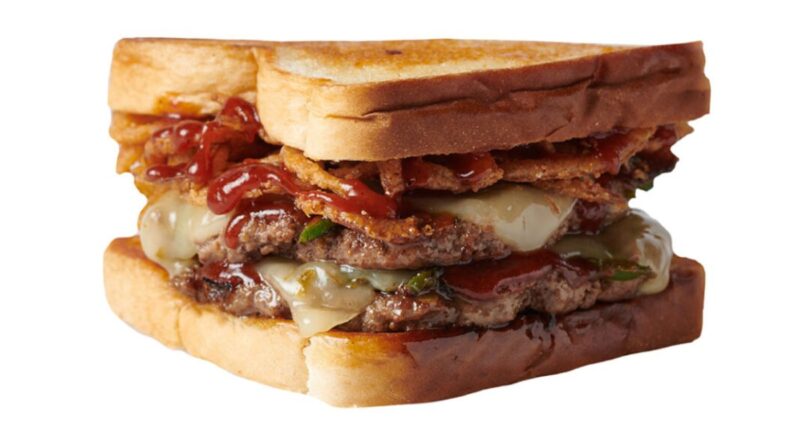 Fast-food restaurants have evolved past the stereotypical menu of just hamburgers, french fries, and shakes—all three of which were served at the first McDonald's, Burger King, and Wendy's. Nowadays, it is not hard to find burger chains with hot dogs, chicken sandwiches, tacos, and other creations. The standard hamburger has also grown over the years, with each creative innovation adding more and more layers of beef, sauces, cheeses, and other toppings. But if you really want to shake things up and try something that is not quite a cheeseburger but has many of its popular traits, order the understated patty melt.
What is a patty melt, and what makes it different than a regular cheeseburger? The most noticeable difference is in the bread. Whereas a burger is sandwiched between two buns, a patty melt uses slices of bread. A traditional patty melt will also have caramelized onions in addition to its burger patty and melted cheese. The use of bread instead of a fluffy bun results in the exterior turning caramelized and crispy, like a grilled cheese, adding a delicious crunch to the sandwich.
Invented in the 1940s by a restauranteur in California, there are several fast-food restaurants that stick to the core elements: burger patties, cheese, onion, and sandwich bread. If you have never tried a patty melt and are wondering how it stacks up against a cheeseburger, here are eight fast-food restaurants that serve the best.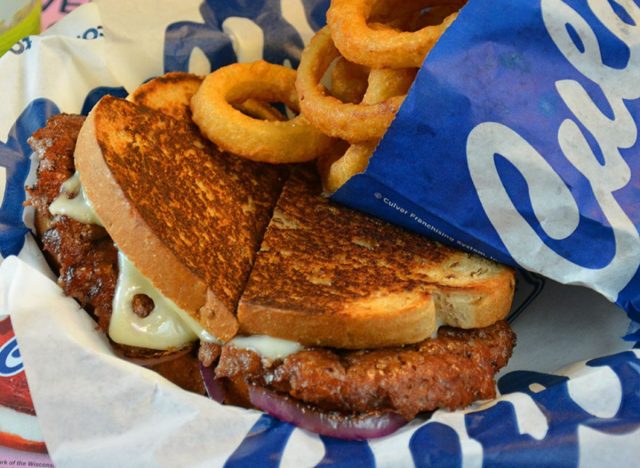 Culver's delivers big time on many of its menu items, from its signature ButterBurger to its frozen custard, made fresh in-store throughout the day. Like its burgers, Culver's Patty Melt is made with never-frozen beef, cooked to order. The butter on the sandwich bread is the same on its ButterBurger buns, so customers can look forward to that same savory flavor. Culver's also serves a few variations of the patty melt on its menu, including the Wisconsin Swiss Melt with Swiss cheese and rye bread and the Sourdough Melt with cheddar cheese and toasted sourdough bread.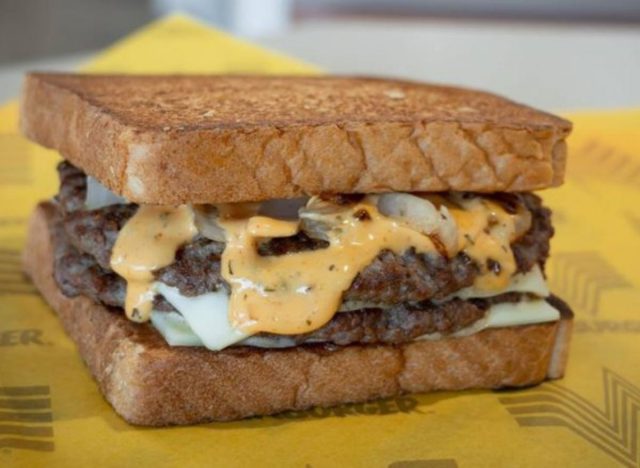 Texas-based burger chain Whataburger has a few unique menu items you don't typically see at fast-food restaurants, including the Patty Melt. Found on its All-Time Favorites menu, the Patty Melt is a Whataburger Staple, served with a beef patty, Monterey Jack cheese, grilled onions, and a creamy pepper sauce, all between two slices of Texas toast. It is very customizable, too, so feel free to build the Patty Melt to your liking with your preferred cheese, sauce, or other toppings.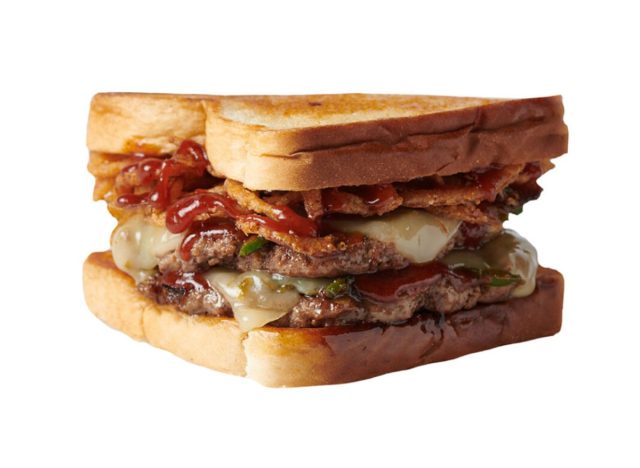 BurgerFi is a growing fast-food chain with a steadfast commitment to serving up the highest-quality ingredients in its sandwiches. Its menu now features a traditional Patty Melt with all-natural Angus beef, American cheese, caramelized onions, and Fi sauce between two slices of Texas toast. For something a little different, BurgerFi also offers a BBQ Rodeo Melt with the same Angus beef patty, charred jalapeños, Pepper Jack cheese, crispy onions, and Memphis sweet BBQ sauce on Texas toast.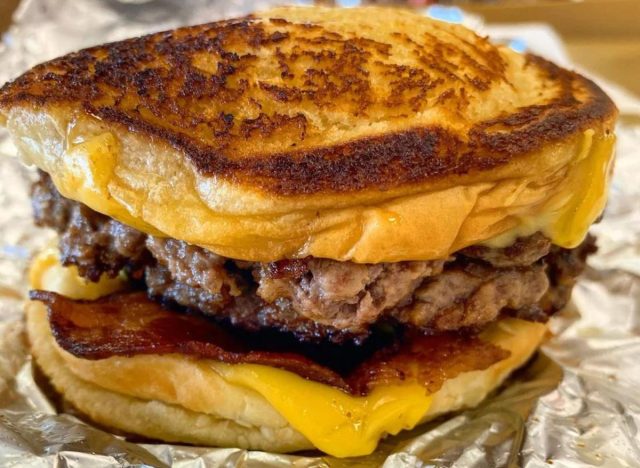 The menu at Five Guys is relatively simple and straightforward, but it allows for many customization options. There are so many different ways to modify a Five Guys order, in fact, that a secret menu developed over the years to highlight some of the best ways to hack your next meal. Ordering a patty melt from Five Guys involves a little bit of investigative work on its secret menu, but you will want to order a grilled cheese sandwich and ask to add a burger patty and any of your favorite toppings—don't forget the grilled onions.6254a4d1642c605c54bf1cab17d50f1e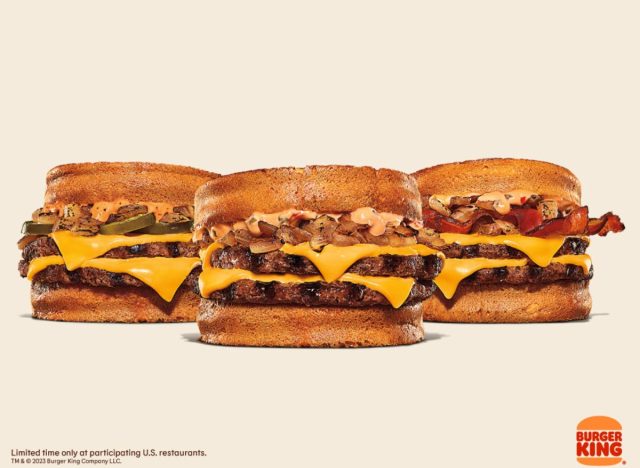 Burger King has gone through a bit of a rebrand in recent months, with new and returning menu items shaking things up for customers. One of those returning offerings in 2023 is the Patty Melt, which first appeared on Burger King's menu in 2022. In fact, Burger King brought back three versions of the Patty Melt: a Classic Melt, the Bacon Melt, and the Spicy Melt. Each includes two Whopper Jr. patties, American cheese, and caramelized onions, with the Bacon Melt aptly including bacon and the Spicy Melt swapping the Stacker Sauce with spicy sauce and adding jalapeños.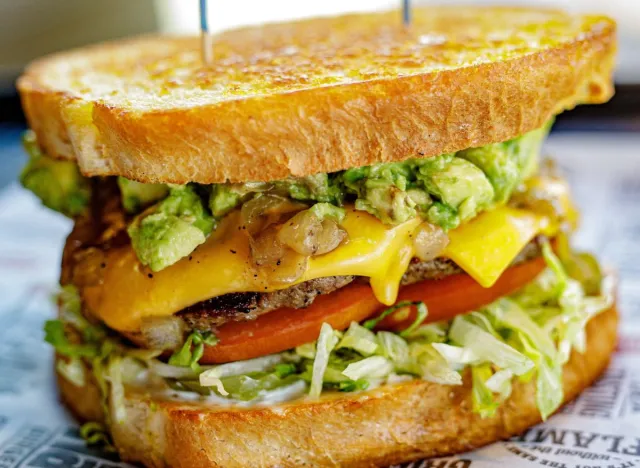 If you do not live in California, then you may have never heard of Habit Burger. The small but mighty west coast burger chain has actually been around since 1969, serving up tasty burgers, chicken sandwiches, salads, and more. Its menu also includes the Santa Barbara Char, Habit Burger's version of the patty melt. It comes with two chargrilled beef patties, American cheese, caramelized onions, avocado, lettuce, tomato, pickles, and mayonnaise on grilled sourdough bread.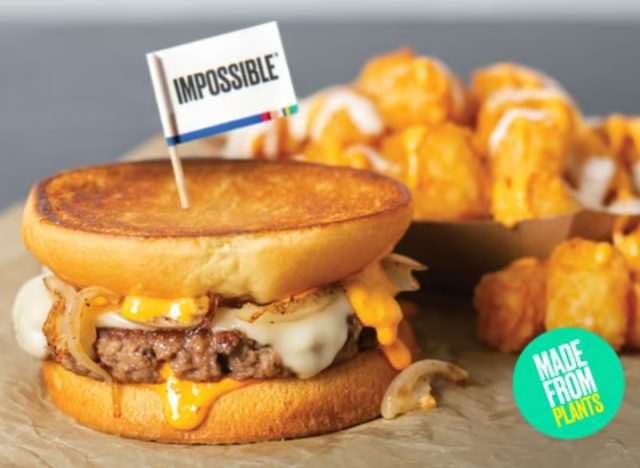 Wayback Burgers is a smaller chain with around 150 locations across the United States. It is one of the few burger chains that actually serves a vegetarian patty melt with Impossible meat. Its Impossible Melt is a quarter-pound Impossible Burger served with Swiss cheese, onions, and a Cajun remoulade sauce on an inverted bun. If you are looking for a version with meat, order the Cheeeesy Burger (with four e's), which comes with four slices of American cheese and two beef patties between an inverted bun. Be sure to add grilled onions for an authentic patty melt experience.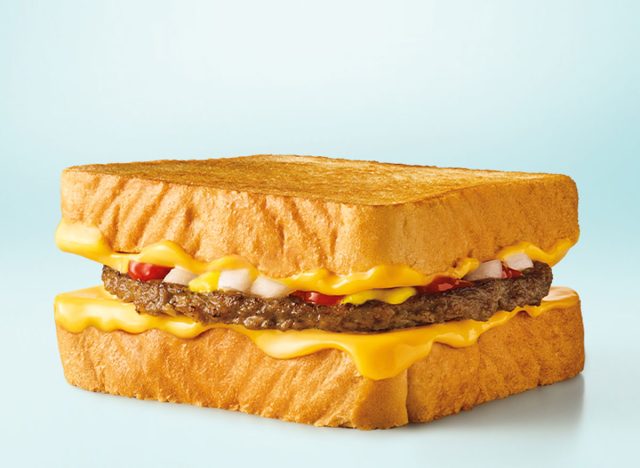 Sonic Drive-In has served its version of the patty melt in the past as a limited-time menu offering. It was last spotted in late 2021 and early 2022 and featured a quarter-pound beef patty, grilled onions, American cheese, and mustard between two slices of Texas toast. According to Thrillist, it was available nationwide through the end of February 2022, so hopefully, one day, customers will see the patty melt return to the menu again.


Post source: eatthis