We've all been here before: You find the perfect recipe, pull out all your ingredients, but then realize something critical is missing—you're fresh out of butter. Fortunately, there are plenty of alternative ingredients you can swap in as butter substitutes in cooking and baking that can make the final outcome for whatever you're cooking taste just as delicious (if not better).
The glue holding together many recipes, butter is a staple ingredient that both complements and enhances the texture and flavor of all your favorite dishes. Though an essential component for many recipes, the fact of the matter is that butter is not always the healthiest option. One tablespoon of unsalted butter—which is generally considered the best kind of butter to use in cooking and baking—is about 100 calories and contains 11 grams of fat (17% DV), 7 grams of saturated fat, and 30 milligrams of cholesterol (10%) DV. That said, an advantage of cooking with a substitute for butter is that, in some cases, doing so can help you cut down the amount of fat, calories, and cholesterol. In some cases, butter substitutes can even provide you with a significant boost in other nutrients and vitamins.
If you're concerned about how using certain butter substitutes may impact the taste and quality of your recipes, know that you're not alone. I too, was once a butter substitution-doubter intimidated by going off the usual butter-beaten path. It wasn't until college, after making a number of friends who eat exclusively plant-based diets (and love a good dinner party), were my eyes—and tastebuds—fully opened to the joys of whipping up a delicious pie, a sheet of delectable lemon bars, or even mouthwatering mac & cheese sans butter. Though I'm a meat eater, I still implement many of these butter substitution tricks of the vegan cooking trade often amid my own cooking even today.
Whether you're looking for a low-fat option or a vegan alternative or simply just need something easy on-hand after running out, there's a substitute for butter that will work for you. The key is to use the correct substitution ratio to ensure the best results in your recipes, which we've included below for your convenience. Keep reading to find out which substitutes for butter will still yield the tastiest cooking results when you're fresh out—and for more easy, useful cooking tips, be sure to check out The Easiest 3-Ingredient Peanut Butter Cookies Recipe I've Used for Almost a Decade.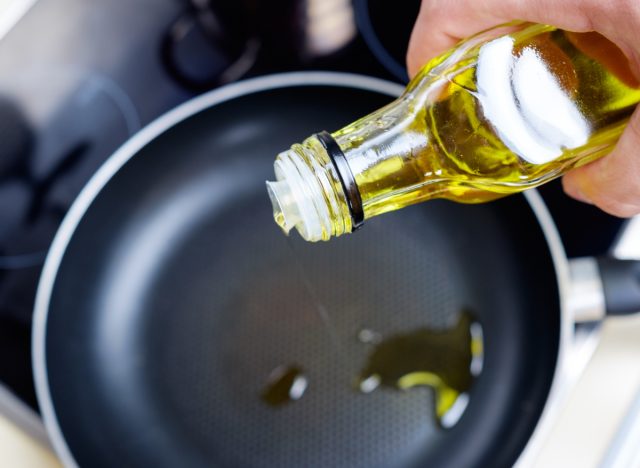 Calorie difference: 20
Substitution ratio: 3:46254a4d1642c605c54bf1cab17d50f1e
Though olive oil and calories have around the same amount of calories, olive oil's nutritional edge stems from its lack of cholesterol and the fact that its lower in fat. Olive oil is a heart-healthy option that can be used in place of butter in savory dishes and even a handful of baking recipes. Just be mindful of the difference in flavor profiles across the various types of olive oils. According to Paleo Pantry, because light olive oil has already been heated, it's less likely to overpower the flavor of your dish in the way that regular or extra virgin olive oil might.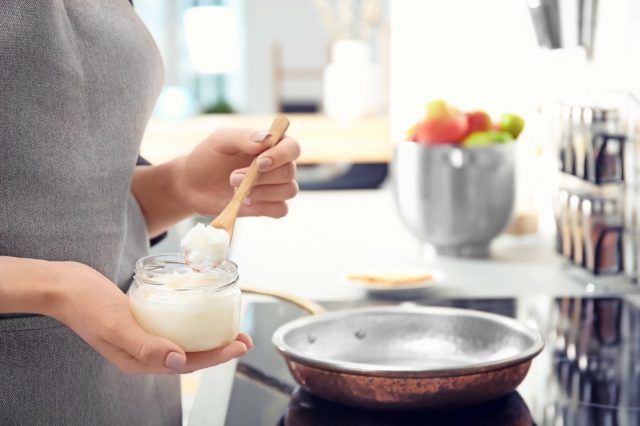 Calorie difference: 4
The substitution ratio: 1:1
If you're looking for something sweet yet mild that's also similar in texture to butter, coconut oil is an excellent substitute for butter. The next time you bake chocolate chip cookies or bake a sheet pan of sweet potatoes and Brussels sprouts, give this butter substitute a try.
Calorie difference: 91
The substitution ratio: 1:1
Given its texture and bright yet subtle flavor, applesauce is an excellent low-calorie replacement for butter that brings a degree of moisture without loading dishes up with extraneous fats. Use unsweetened applesauce in lieu of butter to up the ante on your baked muffins, cinnamon rolls, and other breads. Your vegan friends will love it, too!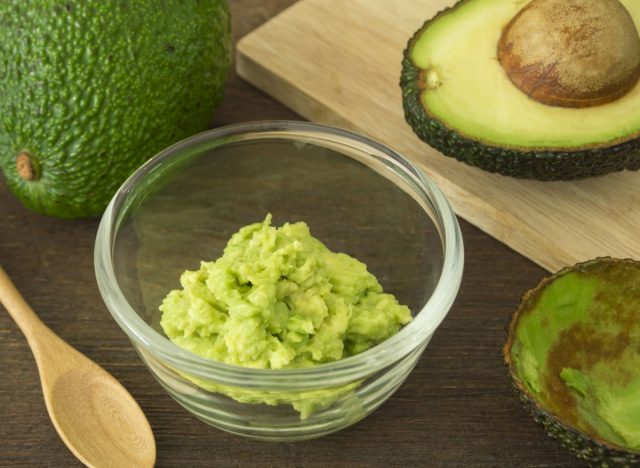 Calorie difference:<60
The substitution ratio: 1:1
Another heart-healthy option rich with omega-3 fatty acids, avocado is an excellent butter alternative for any recipe where you want to establish a creamy texture. It's also excellent when you're craving sweet desserts like cakes or cookies while also being mindful of your cholesterol levels. According to California Avocados, it's easy to substitute avocado for butter in a 1:1 ratio.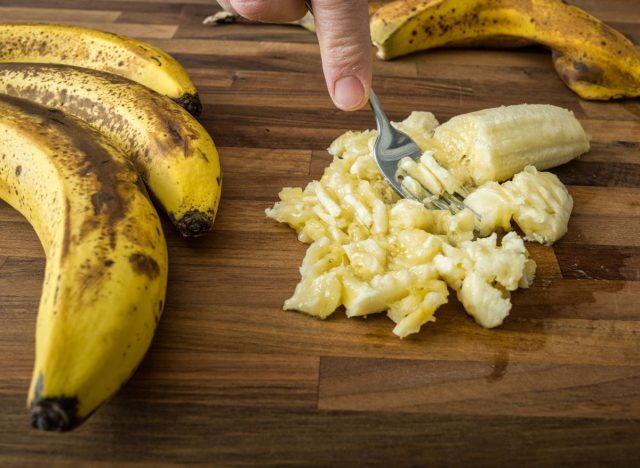 Calorie difference: 87.5
The substitution ratio: 1:1
For added sweetness, moisture, and a boost of potassium, mashed bananas are a convenient low-calorie butter replacement that will take your baking recipes to the next level. Though a classic use case for this butter replacement is pancakes, it's also great in cupcakes, bread pudding, and really any sweet baked treat.
Calorie difference: 24
The substitution ratio: 1:1
Whether you're frying up some chicken or baking a decadent tray of ooey-gooey brownies, vegetable oil is a versatile substitute for butter that can bring any dish together. Just be mindful of the fact that vegetable oil isn't super dependable when it comes to leavening your baked goods, so you can anticipate denser outcomes.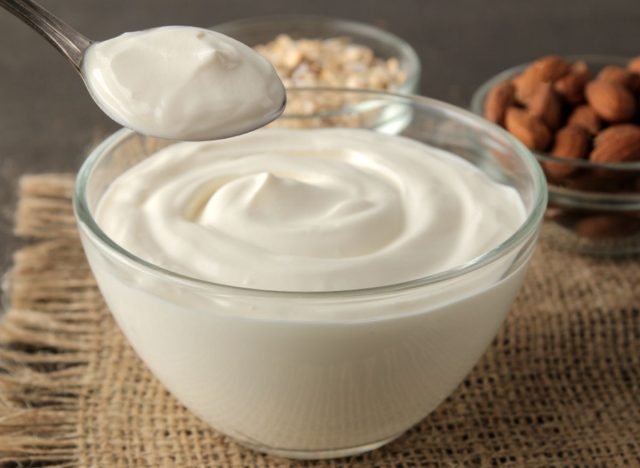 Calorie difference: 87
The substitution ratio: 1:1
Greek yogurt is a low-fat option that can be used in place of butter in baking recipes. This creamy, thick, delicious yogurt is also an excellent way to give your baked goods a boost of protein, calcium, B6, and B12. This butter substitution hack is perfect for a stack of fluffy pancakes or in your favorite cornbread recipe.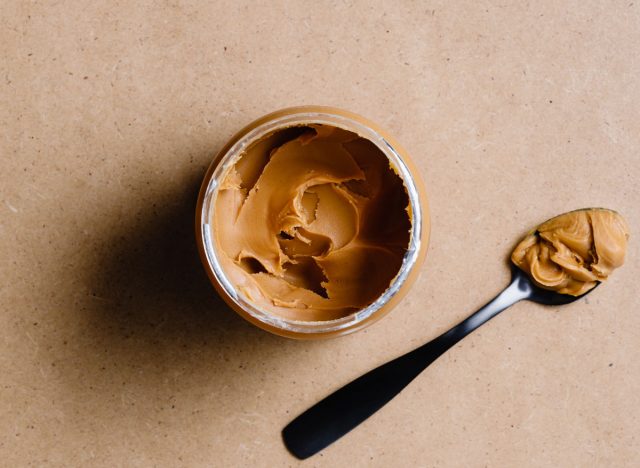 Calorie difference: 4.5
The substitution ratio: 1:1
When you're fresh out of butter and want to achieve a nuttier flavor in your baked goods, peanut butter is the way to go. If you're like E.T. and can't get enough of Reese's Pieces, try using this butter substitute the next time you make chocolate cookies or cakes for a delectable, butter-free treat.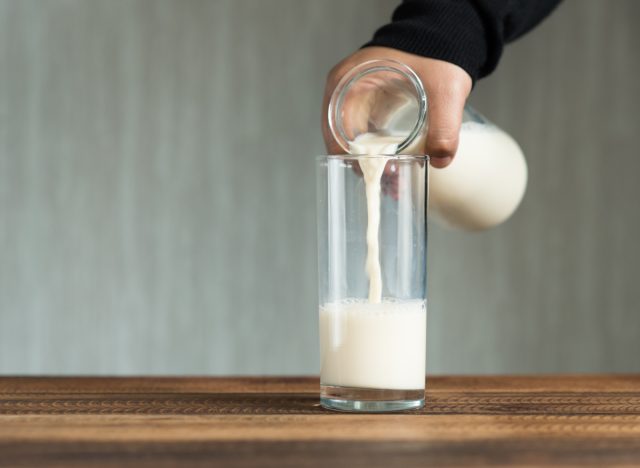 Calorie difference: 94
The substitution ratio: 1:1
Cultured buttermilk is not only low in fat and calories, but using it in place of butter for your baling recipes will add a rich, creamy flavor and texture to almost any recipe. Try this butter substitute the next time you make a pan of biscuits, or even blend it into a big pot of mashed potatoes.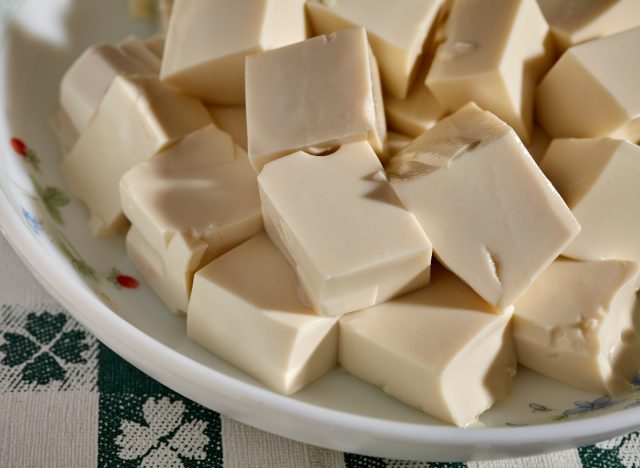 Calorie difference: 76
The substitution ratio: 1:1
This one is another butter substitution strategy that your vegan friends will really appreciate. The soft texture of silken tofu combined with its tame taste makes it a superb butter substitute that elevates the flavors of your dish without overpowering the other ingredients. Though great in baked goods (especially if you love a dense plate of cookies or brownies), it's also a marvelous lactose-free star in vegan mac & cheese recipes.


Post source: eatthis