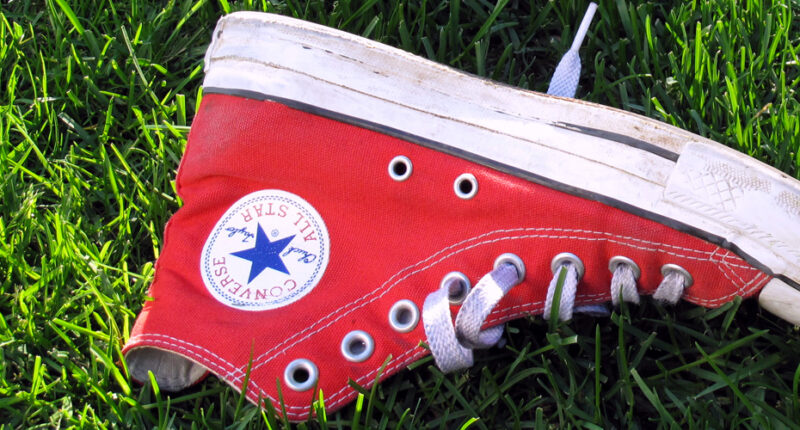 Chuck Taylor is considered the most successful basketball sneaker salesperson in history. The sales representative for Converse Shoes suggested that the Converse All-Star sneaker should have increased flexibility and support as well as a patch to protect the ankles. Converse added the famous Chuck Taylor signature to the patch on each All-Star sneaker. The Chuck Taylor became the best-selling basketball shoe in history. Although Taylor earned a salary for his many years of selling the shoe across the country, he never received any commissions. During World War II, Taylor was a fitness consultant for the Army, and Chuck Taylors became the official sneaker of the U.S. armed forces. We remember Taylor's life today as well as the lives of other notable people who were born this day in history.
Click to discover notable people who died this day in history including legendary actor Jackie Gleason.
1966: Adrienne Shelly, U.S. actress and director known best for "Waitress," is born in Queens, New York.
1947: Clarissa Dickson Wright, English chef and television personality who starred on the TV cooking show "Two Fat Ladies," is born in London, England.
She worked as a lawyer until her own alcoholism put an early end to a high-flying career. After giving up alcohol, she worked as caterer and ran a cookery bookstore before being talent-spotted by the BBC for a new series. On "Two Fat Ladies," Dickson Wright and Jennifer Paterson traveled Britain in an old Triumph motorcycle and sidecar, cooking lavish meals inspired by local tradition and trading quips about life, love, and food. Read more
1936:  Robert Downey Sr., filmmaker and actor best known for his 1969 film "Putney Swope." who was also the father of Robert Downey Jr., is born in New York, New York.
1933: Sam Jones, legendary shooting guard for the Boston Celtics who helped them win 10 NBA Championships during his career., is born in Wilmington, North Carolina.
1931: Billy Casper, U.S. professional golfer who was PGA Player of the Year in 1966 and 1970, is born in San Diego, California.
Casper won 51 times on the PGA Tour, putting him at No. 7 on the career list behind only Sam Snead, Tiger Woods, Jack Nicklaus, Ben Hogan, Arnold Palmer, and Byron Nelson. His three major championships include the 1966 U.S. Open, one of golf's most remarkable comebacks. He rallied from a seven-shot deficit on the back nine at Olympic Club to tie Palmer, and beat him in an 18-hole playoff. Casper also won the 1959 U.S. Open at Winged Foot and the 1970 Masters. He was inducted into the Hall of Fame in 1978. Read more
1922: Jack Carter, U.S. comedian and actor who had his own variety program on television in the 1950s, is born in New York, New York.
1919: Al Molinaro, U.S. actor known best for his roles as Al on the classic sitcom "Happy Days" and as Murray the cop on "The Odd Couple," is born in Kenosha, Wisconsin.
Molinaro joined the 1950s-throwback sitcom in its fourth season, replacing Pat Morita as the owner of Arnold's Diner. He was part of "Happy Days" for seasons four through nine, also playing his character's twin brother, the Rev. Anthony Delvecchio. When spinoff "Joanie Loves Chachi" premiered in 1982, Molinaro went with it, playing the same character, who was now the stepfather of main character Chachi. Read more
1904: Phil Harris, U.S. singer and comedian who provided the voice of Baloo in Disney's "The Jungle Book," is born in Linton, Indiana.
Before he brought life to animated characters, Harris was a bit of a character himself. In the 1930s, Harris began working as the musical director for Jack Benny's radio show, eventually joining the cast as a wisecracking version of himself in addition to his musical duties. In the late 1940s and early '50s, he and his wife, actress Alice Faye, starred in their own radio sitcom, "The Phil Harris-Alice Faye Show," proving successful for NBC and adding to the couple's star power. Read more
1901: Chuck Taylor, U.S. basketball player and shoe salesman who helped design the hugely popular Converse Chuck Taylor All-Stars sneaker, is born in Brown County, Indiana.
1895: Jack Dempsey, U.S. boxer who was the world heavyweight champion from 1919 to 1926 and became an icon of the sport, is born in Manassa, Colorado.
1893: Roy O. Disney, U.S. businessman who co-founded Walt Disney Productions along with his brother, Walt Disney, is born in Chicago, Illinois.
1386: St. John of Capistrano, Italian saint who is the namesake of the San Juan Capistrano missions in California and Texas, is born in Capestrano, Italy.
Click to discover notable people who died this day in history including legendary actor Jackie Gleason.
Post source: Legacy>