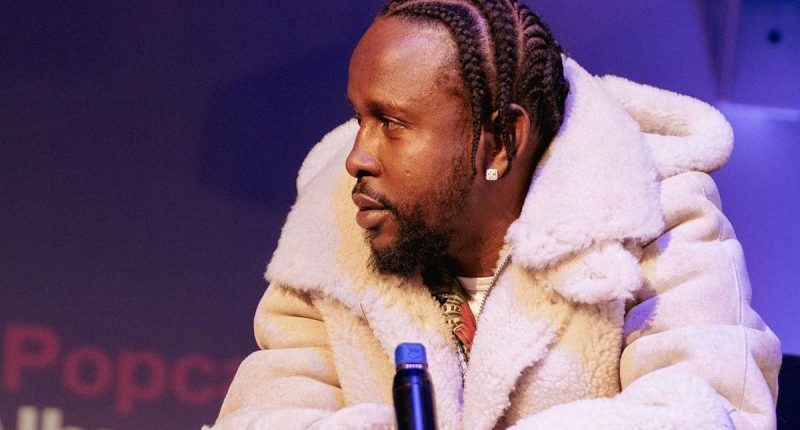 Popcaan has advice for the youths and younger artists who want to follow the music path and achieve their full potential, noting that self-belief is the most important thing.
Popcaan started as a dancehall deejay with Vybz Kartel's Portmore Empire label in the late-2000s as he made a name for himself as a lyrical maestro capable of captivating the crowd. Despite his international success as an OVO artist, the Jamaican deejay shares his success came from believing and manifesting his goals.
"My advice is you have to believe it, you know. You have to believe it before anyone else because I'm saying this from my experience," Popcaan began.
The artist has continually shared his background growing up in St. Thomas parish, which is among the impoverished in Jamaica and plagued by a lack of opportunities for youth. Popcaan used music to elevate himself and continues to help others through music as well as his community.
The artist says he has always kept an optimistic attitude to attract better circumstances for himself.
"Not everyone is like Popcaan you know, I'm very optimistic, I believe in myself a lot, and I see it before it happens. I believe in the laws of attraction. I attract what I want to myself. And I attract blessings and good living, and I attract millions and billions for myself. That is it," the artist said in a recent interview in Canada while doing a press run to promote his new album, Great Is He.
Poppy added, "You have to speak it into being and you have to believe it and you'll see it happen in flash, believe me."
Popcaan was speaking at a forum recently to mark the release of his album Great Is He. The artist's fifth studio album debuted at No. 1 on the iTunes Reggae chart with collaborations with Drake and Burna Boy.
The St. Thomas native signed to Canadian rapper Drake's record OVO Sound and Warner Records in 2016.
Popcaan is widely regarded as one of the most prolific dancehall artists of this generation. The deejay rose to prominence in the late 2000s to early 2010s before catapulting to the top of the genre and becoming a household name. Poppy, whose real name is Andrae Hugh Sutherland, was born in the rural parish of St. Thomas, where he began his music career as a protégé of Vybz Kartel, one of the biggest names in dancehall and who at the time had his own imprint, Portmore Empire.
Popcaan's breakthrough came in 2011 with the release of his debut album "Where We Come From." The album received critical acclaim and helped establish Popcaan as a major force in the dancehall world. Over the next few years, he continued to release hit songs, including "Only Man She Want," "Unruly Rave," and "El Chapo."
In addition to his solo work, Popcaan has also collaborated with a number of other international artists, including Drake, Jamie xx, Young Thug, PARTYNEXTDOOR, French Montana, Burna Boy, Davido, and Skepta. While he is known for his trendy bars and delivery, Popcaan is also one of the best live performers in dancehall, as evident in his recent show with Burna Boy in Kingston.
Despite his success, Popcaan has faced a number of challenges in his personal life, including his fair share of legal issues and the death of his close friend, Unruly Shagel, who was murdered at the artist's house in Kingston in December 2018. Despite these setbacks, Popcaan has remained dedicated to his music and has continued to release new material and a lot of collaborations with both local and international as he works to push dancehall's appeal on the international stage. His new album, Great Is He, is evidence of that.
His grind to the top of dancehall makes Popcaan's message all the more relevant to the youths today.