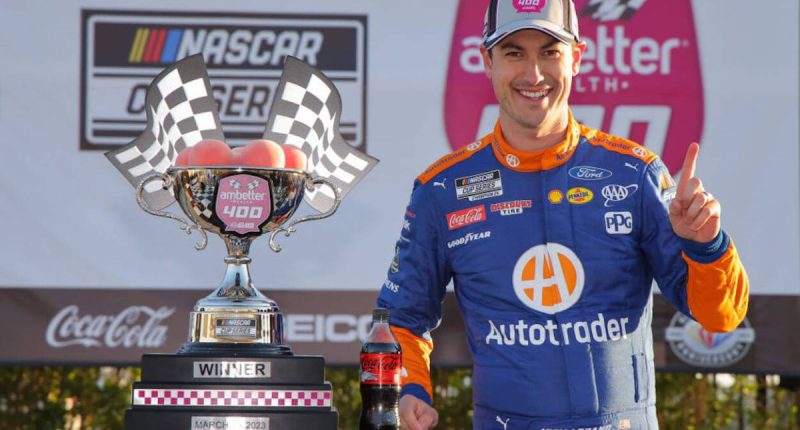 As the NASCAR Cup Series prepares for its first road-course race of the season this weekend at Circuit of The Americas in Austin, Texas, let's take a quick pit stop and examine who's hot and who's not a handful of races into the 2023 campaign.
Here are three drivers that easily fall into each category.
Hot: Joey Logano
After winning from the pole at Atlanta, a track where he'd never been to Victory Lane in 18 previous Cup Series starts, Joey Logano is hands-down the Cup Series' hottest driver — especially when you consider that he's now the points leader, too.
With his ticket punched to the playoffs, the reigning and two-time Cup Series champion has every reason to go for broke over the remainder of the regular season in an effort to pile up as many playoff points as possible. In other words, he won't have to race the least bit conservatively because he won't need to make the playoffs based on the points he earns.
That's very bad news for Logano's competition but very good news for the driver of the No. 22 Ford for Team Penske.
Hot: Christopher Bell
Easily the best among the four Joe Gibbs Racing drivers in 2023, Christopher Bell had a real shot to win Sunday at Atlanta, where he led six laps and came home third in an exciting last-lap battle between the front-running cars.
Aside from a 32nd-place finish in Week 2 at Auto Club Speedway, where he started from the pole but was involved in a crash, Bell has finished no worse than sixth in five races this season.
The Oklahoma native seemingly continues to build on his momentum from late last season when he won two playoff elimination races and advanced to the Championship 4 for the first time in his career, ultimately finishing third in the standings.
Hot: Ryan Blaney
Overcoming a penalty for speeding on pit road that cost him a lap, Ryan Blaney rallied to finish seventh at Atlanta and, in so doing, secured his second consecutive top-10 finish after taking the checkered flag in the runner-up spot the previous weekend at Phoenix.
Aside from a 26th-place finish at Fontana, the Team Penske driver has placed no worse than 13th this season — good enough to hold down P4 in the Cup Series standings heading to Circuit of The Americas this weekend. 
Not: Justin Haley
Sitting last in the standings and with a negative 25 points to his credit is Justin Haley, who lost 100 driver points when his Kaulig Racing Chevrolet flunked an inspection during the Phoenix race weekend.
Between his dire points situation and the fact that he's finished outside the top 20 in four of five races this season, Haley is in pretty much the deepest possible hole a driver could ever possibly be in.
At least Haley has one positive stat he can hang his proverbial hat on: He's passed more cars under green-flag conditions than any other driver this season.
Not: Ricky Stenhouse Jr.
After opening the season with a bang by winning the Daytona 500, Ricky Stenhouse Jr. began steadily slipping to his traditional mid-pack form.
Since finishing 12th at Auto Club Speedway the weekend after his triumph in The Great American Race, the JTG Daugherty Racing driver has finished 24th, 19th, and 17th.
While those results aren't terrible, they're a far cry from what you'd expect from most Daytona 500 winners. But, then again, this is Ricky Stenhouse Jr. — a driver whose calling card over 10 full seasons as a NASCAR Cup Series competitor has always been mediocrity.
Not: Aric Almirola
Aric Almirola, who initially planned to retire at the end of 2022 but later had a change of heart, has been quite underwhelming in what one might fairly call an encore season with Stewart-Haas Racing.
Despite having some of the best equipment in the business, Almirola has finished inside the top 20 just once, has no top-15s, and owns three of 30th or worse. 
Perhaps sticking with his initial instincts and stepping down ahead of the 2023 season would've been the way to go.