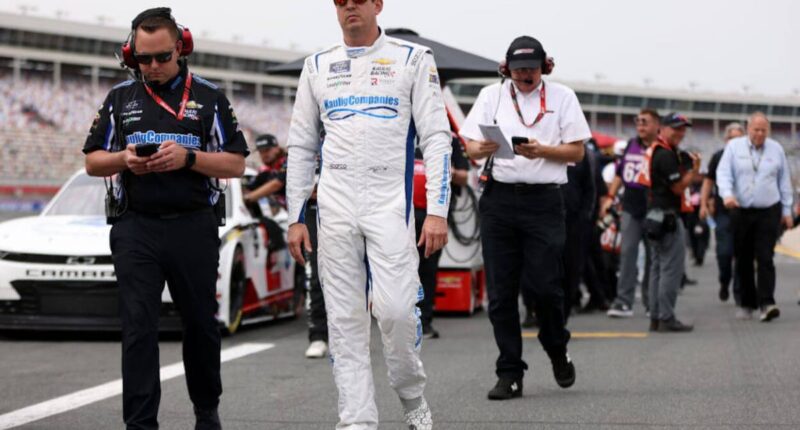 Round 15 of 36 in the 2023 NASCAR Cup Series season is on tap this weekend at World Wide Technology Raceway in Madison, Illinois, where the sport's top division will compete for just the second time in its 75-year existence.
So, who will the key players be on Sunday at the 1.25-mile track just outside of St. Louis? Up next are the five drivers you should keep the closest tabs on, and we've ranked them based on their likelihood of going to Victory Lane.
5. Kyle Larson
Kyle Larson's feast-or-famine season continued earlier this week at Charlotte Motor Speedway as he spun his No. 5 Hendrick Motorsports Chevrolet, setting in motion a multicar wreck and finishing 30th after dominating the previous Sunday's NASCAR All-Star Race at North Wilkesboro.
The good news for Larson? Gateway — the site of this Sunday's race — has some characteristics that are similar to a short track, and Larson is a perfect 3-for-3 this season at paved short tracks, thanks to his wins at Wilkesboro, Martinsville, and Richmond.
4. Ryan Blaney
There's arguably nothing more valuable in NASCAR — or any sport, for that matter — than momentum, and Ryan Blaney certainly has plenty of it just a few days removed from a stellar performance in the Coca-Cola 600 at Charlotte Motor Speedway where he not only won NASCAR's longest race but did so in convincing fashion.
Blaney, who hadn't been to Victory Lane since late August 2021, paced the field for 163 of 400 laps in his Team Penske Ford — guaranteeing his spot in the playoffs (which was already in little doubt) and serving notice that he can indeed be a closer after failing to finish the job and put his car in Victory Lane on numerous occasions over the past 21 months.
The fact that Blaney came home fourth last season at Gateway helps his chances even more this weekend.
3. William Byron
Is there any track or any race on the 2023 NASCAR Cup Series schedule where William Byron can't be counted as a contender to win? Probably not.
That's because Byron — driver of the iconic No. 24 Hendrick Motorsports Chevrolet — has posted a league-leading five top-five finishes in 14 starts this season and also owns a series-high three wins.
Just to give you an idea of how strong Byron has been, especially in recent weeks, his last finish outside of the top seven came at Martinsville Speedway way back on April 16. If Byron doesn't factor heavily into the mix on Sunday, it'll be a major surprise to everyone.
2. Joey Logano
The only driver to win a NASCAR Cup Series event at World Wide Technology Raceway? Well, look no further than two-time and reigning series champion Joey Logano, who captured last year's inaugural race for NASCAR's premier series at Gateway.
Logano led only 22 of 245 laps in his No. 22 Team Penske Ford, but he managed to fend off Kyle Busch's No. 18 Joe Gibbs Racing Toyota in an exciting green-white-checkered finish that culminated in Logano taking the checkered flag .655 seconds ahead of his closest challenger.
Logano will aim to remain the sole Cup Series race winner this weekend at Gateway, where he's hoping to break out of a slump he's been in the past several weeks.
1. Kyle Busch
Although Kyle Busch hasn't won a non-superspeedway race since February, the two-time Cup Series champion has been solid — even when unspectacular — most weekends in this his first season as driver of the No. 8 Chevrolet for Richard Childress Racing.
The fact that Busch finished a close second to Joey Logano last season at Gateway and led a race-high 66 laps not only bodes well for him this weekend, but it will undoubtedly serve as fuel to finish one position higher in the running order since Logano is one of his fiercest rivals.