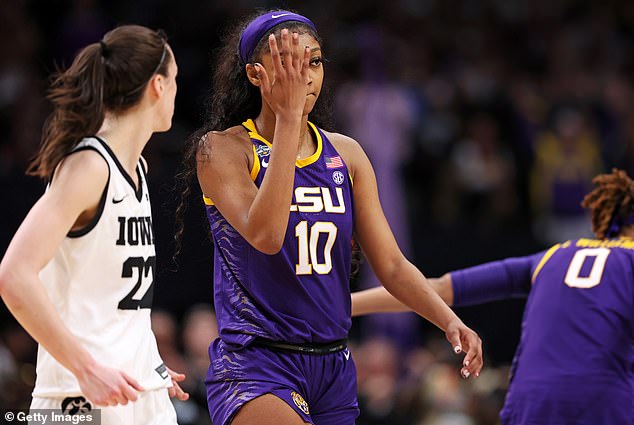 Angel Reese says she's 'overwhelmed' in the spotlight after NCAA title win and Caitlin Clark controversy – but LSU star insists she's embracing her new 'fast life'
Reese scored 15 points in the national title win over Clark and Iowa in March 
She catapulted to relevancy after taunting the Iowa star during the game
DailyMail.com provides all the latest international sports news 
Angel Reese has revealed she is at times 'overwhelmed' with the whirlwind summer which followed LSU's national title win vs. Iowa. 
Reese scored 15 points in the 102-85 blowout of the Hawkeyes as the Lady Tigers won the school's first-ever NCAA women's basketball championship. 
Since, she has capitalized on the media attention gained from the coverage of her taunting of Caitlin Clark; appearing in Sports Illustrated and signed an NIL deal with Baton Rouge Mercedes Benz, among others. 
Reese told People her newfound fame has been largely a positive experience. 
'It's a blessing, honestly. I've kind of embraced it. People are watching me,' she said. 'I mean, it's a fast life I'm living. I think I have to mature quickly.
LSU's Angel Reese taunted Caitlin Clark with her own diss during the NCAA national title game
Reese went further, also pointing at her finger signifying her imminent championship ring
LSU captured its first-ever national title in program history with 102-85 win vs. the Hawkeyes
'I'll go down in history for doing what I did, and our team will for winning. I'm happy we were able to do that for Louisiana.'
With fame come obligations and a reality which differs to that of the lay person. Now, Reese is no longer able to enjoy the life of a typical college student. 
'I don't party, I don't date, I'm just living my life,' she said. 'I'm not really on campus much just because of my security work reasons. So I stay at my apartment and my teammates come over and we'll eat.   
'We'll cook or we'll do whatever, have fun, watch movies, listen to music, do whatever. TikTok.' 
Reese has 2.1million followers on the platform and most recently posted a video with female rapper, Latto. 
She uploaded a video with Grizzlies star Ja Morant on the day of LSU's championship parade through Baton Rouge. 
Angel Reese has a Mercedes-Benz EQS580 after signing an NIL agreement with a local dealer
Reese and Dunne are student-athletes at LSU representing the school in basketball and gymnastics respectively. Reese was recently a part of the national champion win vs. Iowa
Amid the chaos which occasionally engulfs her life, Reese has found solace in her faith.
'I've been through so many things, and I think that the only way I'm getting through these things is just taking time with God and giving him his time. That's something I've emphasized this year.' 
Reese joined fellow LSU student-athlete Olivia Dunne at the Sports Illustrated Swimsuit Issue launch party in Manhattan last month. Both appeared in the magazine. Reese shot in Los Angeles while Dunne was snapped in Puerto Rico.


Post source: Daily mail