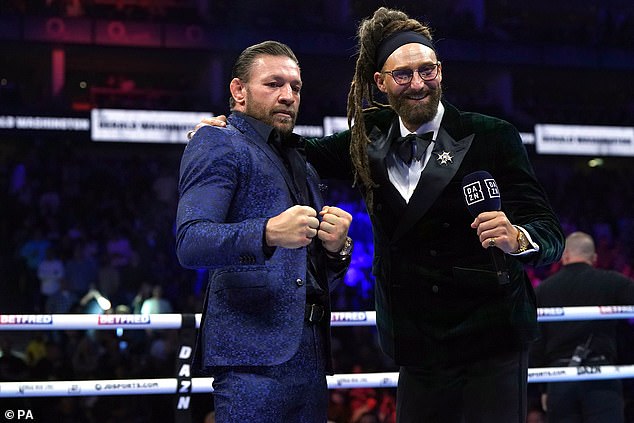 Conor McGregor has once again taken aim at Justin Gaethje, labelling the BMF champion 'a b***'.
McGregor was responding to a tweet which quoted Gaethje's response to being asked if he would be interested in a BMF unification bout with Jorge Masvidal.
Masvidal was the first man to win the symbolic belt when he defeated Nate Diaz.
It was put back up for grabs following his retirement, Gaethje winning it when he knocked out Dustin Poirier.
Asked if he would defend it against Masvidal, Gaethje responded: 'I don't think he is ever coming back.
Conor McGregor has taken aim at Justin Gaethje , labelling the BMF champion 'a b***"
'He look like he weighs 240 pounds. I fight at 155 pounds. I'm sure he would want to fight at 170.'
McGregor took issue with this reasoning and replied: 'the most un-bmf shout ever. He fights at 155. lol. B****. Get into that sauna, b****.'
McGregor's next fight is still yet to be confirmed and there has been talk of a showdown with Gaethje.
However, Michael Chandler remains the most likely opponent following their time on The Ultimate Fighter. 


Post source: Daily mail