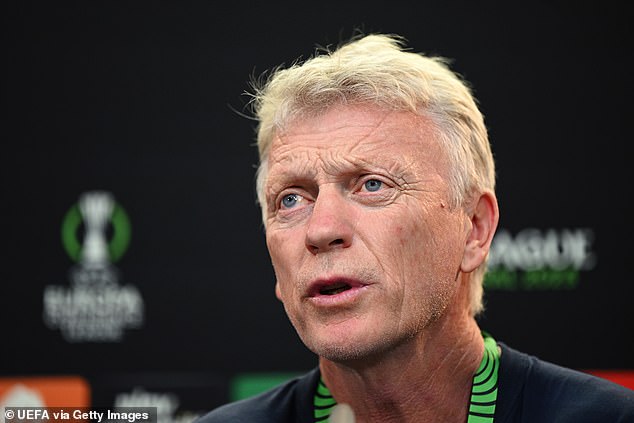 From Danish backwaters and the Romanian capital in autumn, through the lowlands of Belgium and the Netherlands and the glistening isle of Cyprus in spring to an airless room in the back of a modest stadium in Prague.
An odyssey of 14 games, 13 won and one drawn, across nearly 10 months, culminates in the Czech capital against Fiorentina. It is the end of an adventure and maybe with it the end of an era for West Ham. For manager David Moyes, it is the chance to fulfil an ambition and scale a peak.
'I've had a really good career,' said the Scot on Tuesday night. 'Coaching since I was 34 or 35, over a thousand games in football and maybe 600 in the Premier League. I've been in some finals and had some promotions, but this is the biggest moment.
'It is for any coach, new or old. To coach in a European final is one of the pinnacles. It is slightly surreal because I've watched a lot of football, all the big games and was part of UEFA's technical committee.
'But to turn up as a manager and have your own dressing room, to know your team are performing here, is a big thrill for me. I really hope I can take it to the next level, which is winning, but I'm up against a really good opponent. I know it'll be a tough game.'
David Moyes is aiming to be the first British manager to win a European trophy since 2008
Sir Alex Ferguson was the last Brit to win in Europe, leading Man United to glory in 2008
Beat Fiorentina in the Europa Conference League final on Wednesday and Moyes will be the first British manager to win a European trophy since Sir Alex Ferguson's Manchester United won the Champions League in 2008.
He would take a place in the pantheon of great Glaswegians to achieve success in European competition that includes Ferguson, Jock Stein, Sir Matt Busby and Bill Shankly.
Moyes was born into a Celtic family only four years before Stein led them to glory, the first British team to win the European Cup in 1967 with players drawn almost entirely from the city's east end.
The West Ham boss would have been acutely aware of what all that stood for, long before he signed at Parkhead from Drumchapel Amateurs aged 17. On Tuesday night, though, he was reluctant to accept victory here might bestow upon him any kind of legendary status.
'I don't think of myself as any different to anyone else in this room,' said the 60-year-old. 'I'm privileged to have the opportunity to go this far in my career and be on a stage like this.
'I don't think of myself as being a legend or words like that. I'd like to be known as a football manager who's serious about his job and tries to do the best he can.
'To be a coach for as long as I have means you've done something right. Longevity is difficult. There are lots of good, young coaches starting out, but they have to see if they can do 20-25 years in the business because that's what it takes.'
The backdrop to all this is a feeling that this might be his last game in charge of West Ham, amid strong links to the vacancy at Celtic after Ange Postecoglou's move to Tottenham.
Moyes has one year left on his contract and insists he does not want to leave. 'The best is yet to come,' he said on Tuesday night. 'Hopefully it's the start.'
Wednesday's game could be Moyes' final one at West Ham but he wants to continue at the club
Earlier on Tuesday, in an interview with the Evening Standard, he put it even more clearly, saying, 'I want to stay at West Ham.' Unequivocal words scotching the theory that any split might be mutual.
He returned for his second spell in December 2019, rescuing them from the drop before finishing sixth in the Premier League in his first full season back, then seventh a year later. They went boldly into Europe but, this year, slipped to 14th after spending months locked in an ugly relegation scrap.
The Conference campaign has been their salvation and if they win West Ham will qualify for the Europa League next season, meaning European football for three years in a row for the first time in the club's history.
It represents success and yet the feeling is of a team nearing the end of its natural cycle, not simply the end of a cup competition. There is rebuilding work ahead with captain Declan Rice set to be sold, a target for clubs including Arsenal.
Declan Rice has called on his team-mates to rise to the occasion and take their place in history
Perhaps victory will help Moyes convince the owners he is the man for the rebuild. It would certainly be an audacious act to fire him if he delivers the club's first major trophy since the FA Cup in 1980 and the first in Europe since 1965.
It will not be easy against Fiorentina, the first club to reach the final of all four of the major European competitions. They finished this season eighth in Serie A and lost the Coppa Italia final to Inter Milan. They are also running into decent form, although they will be without influential midfielder Gaetano Castrovilli.
So are West Ham, improving towards the end of the season and with strong local support for Czech stars Tomas Soucek and Vladimir Coufal, if they needed any further motivation. They probably do not. They know what is at stake.
Rice spoke on Tuesday of the players taking their place in history and the England international would step into the company of West Ham royalty.
Bobby Moore and Billy Bonds are the only trophy-winning captains, with Ron Greenwood and John Lyall the only trophy-winning managers at the club.
It would surely be ruthless to knock Moyes from his pinnacle if he clinches European silverware and really does want to extend his stay.


Post source: Daily mail