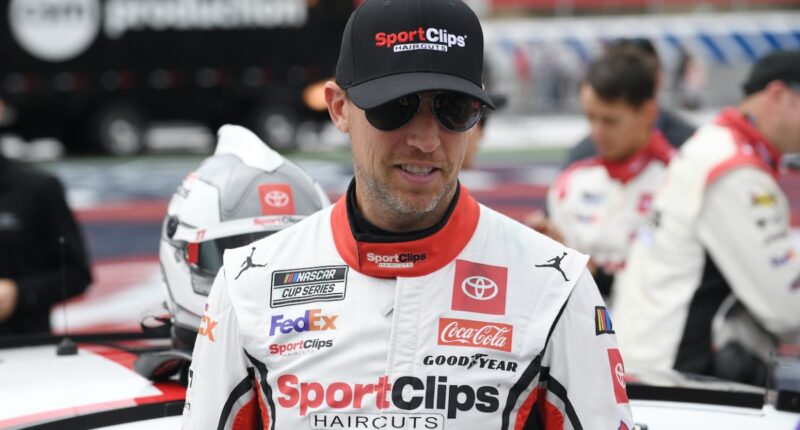 Denny Hamlin had a couple of big things to talk about this week on his podcast, including getting wrecked by Chase Elliott and the pit road confrontation between his 23XI Racing driver Bubba Wallace and Aric Almirola. However, before the Joe Gibbs Racing driver addressed those topics, he first touched on the weekend's F1 race in Monaco. It was during that conversation that the future Hall of Famer pointed out how F1 is better than NASCAR in one specific area and it's something officials at Fox aren't going to want to hear.
Denny Hamlin says F1 announcers more exciting than NASCAR counterparts
No one would have been surprised if Denny Hamlin opted to focus his attention on the incident in the Coke 600 with Chase Elliott during this week's Actions Detrimental podcast. Unsurprisingly, that subject did take up a large part of the conversation, but before delving into that topic, the three-time Daytona 500 winner revisited the weekend's F1 race at Monaco.  
After talking several minutes about how the racing action was boring, Hamlin shifted his attention to one positive from the race and made an interesting comparison with NASCAR in the process.
"Listen, I have to give an absolute shout-out to the announcers," Hamlin said. "Unbelievable how, I mean, they make you think, oh my god, this is unbelievable what Max Verstappen did in the final sector in qualifying. I mean, screaming in the mic saying, 'Cannot believe what just happened.' 
"And I'm like, wow, I guess this is, this is a big moment. I should care about it. Yeah. And it's just crazy when you hear kind of the monotone that we have (in NASCAR), right, it's just that, da-da-da-da-da-da."
Hamlin critical of Fox coverage recently 
Interestingly, Hamlin's remarks on Fox's monotone delivery aren't the first time he's been critical of the network's coverage. In April, also on his podcast, he talked about what fans have complained about for years.  
"I think the fans, in general, and on social media, are really, really tough on Fox," Hamlin said. "I think some of it is warranted, but I think that they're very critical about some really small things that they could get better. 
"One thing I saw at (Bristol) dirt last week or when I watched it back, the announcers would be talking about some side-by-side battle, and the camera wasn't on it. So you didn't know — what are they talking about? Let me see this battle. 
"I did notice too, as soon as some action would start to heat up on a side-by-side battle, they'd cut to like 12th place. You see the second-place guy working over the first-place guy like right on his ass and about to make a move and they cut to like side-by-side for 12th. It's like, s***, let's keep it in the battle that's about to dictate who's going to be leading this race. Certainly I think from a production standpoint, we could make some improvements."
Network missed initial incident with Ross Chastain
This weekend's race at World Wide Technology Raceway near St. Louis is an anniversary for Hamlin. That's where a year ago Ross Chastain introduced himself to the JGR driver early in the second stage. 
After several laps of following the No. 11 and being unable to pass, Chastain grew impatient and drove hard into the corner, sending the JGR car into the wall. That initial incident ignited the feud between the pair that's continued into the 2023 season.
Those sitting in the stands witnessed that first incident live. Those watching at home did not and had to be told about the situation and shown the replay moments later when Fox returned from a commercial.
But there was more. After Hamlin ran the Trackhouse car down near the infield grass when he lapped him, the two met again later in the race, and just when it was clear Chastain was going to dive-bomb underneath for the pass, the camera cut away to other cars racing on the track. 
A lot of drama and excitement has happened since that initial incident a year ago, including the watermelon farmer adding multiple drivers to his list of victims. Unfortunately, at least according to Hamlin's latest assessment, the actual level of excitement isn't accurately conveyed by those talking about it in the broadcast booth.
To stay up to date on the latest happenings in NASCAR, including breaking stories you can't find anywhere else, follow Kyle on YouTube and Twitter.