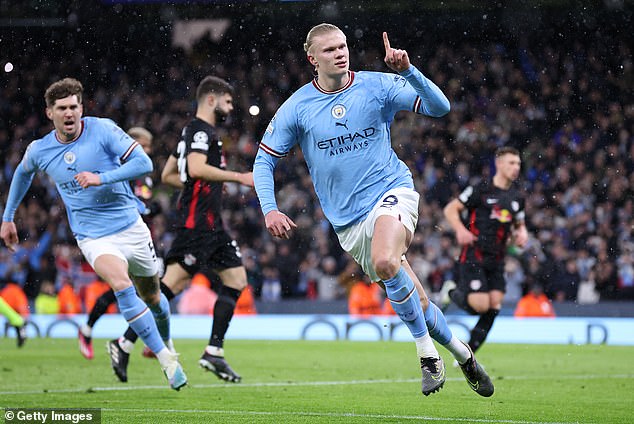 Erling Haaland equals record set by Lionel Messi of FIVE goals in one Champions League game… but can you name the lesser-known Brazilian striker who also achieved the feat?
Haaland scored five times in just 58 minutes on the pitch in City's Leipzig clash
He broke the record for the number of goals scored by a City player in a season
The Norwegian striker also became the fastest player to 30 CL goals 
Erling Haaland put in a record-breaking performance against RB Leipzig as he scored five goals to guide Manchester City to the quarter-finals of the Champions League.
Haaland became the youngest player to reach 30 Champions League goals, surpassing Kylian Mbappe, and achieved the feat faster than any other player.
The Norwegian star also broke a 94-year-old record for the most goals scored by a City player in a single season.  
But Haaland did not stop there as he became only the third player to score five times in one Champions League match.
The first player to do so was Lionel Messi for Barcelona against Bayer Leverkusen in 2012.
Haaland joined an elite club made up of himself, Messi, and which other striker? 
In 2012, Lionel Messi became the first player to score five in a Champions League match
Messi outfoxed a young Bernd Leno to score his fourth – the World Cup winner now has 129 Champions League goals in 163 appearances
The World Cup winner put five past Bayer Leverkusen in 2012 during their round of 16 tie, but the Catalan club missed out on the ultimate glory in the end after being knocked out by the year's eventual winners Chelsea in the semi-final. 
But the second player might give even the most committed football fans more of a pause. 
In 2014, Messi's record was matched by then-Shakhtar Donetsk striker Luiz Adriano, when the Brazilian put five past BATE Borisov in their group stage match. 
Luiz Adriano is the lesser-known five-goal Champions League record holder alongside Messi
Future Chelsea player Willian (right) celebrates with Adriano during a Champions League match in 2012 at Stamford Bridge
The Ukranian team beat the Belarusians 7-0 to progress to the round of 16, where they exited the competition off the back of their own seven-goal drubbing against Bayern Munich. 
Adriano joined Shakhtar in 2007, before moving on for spells at AC Milan, Spartak Moscow, Palmeiras and Antalyaspor. 
The 35-year-old forward returned to his boyhood club Internacional during the January transfer window. 
Haaland was substituted to a standing ovation in the second half of Manchester City's 7-0 rout of Leipzig, through he would undoubtedly have liked to stay and add to his tally. 
The Norwegian will have to surpass 48 Champions League goals to make it into the top ten of the competition's all-time scorers, but in his current form, that landmark looks all too achievable. 


Post source: Daily mail