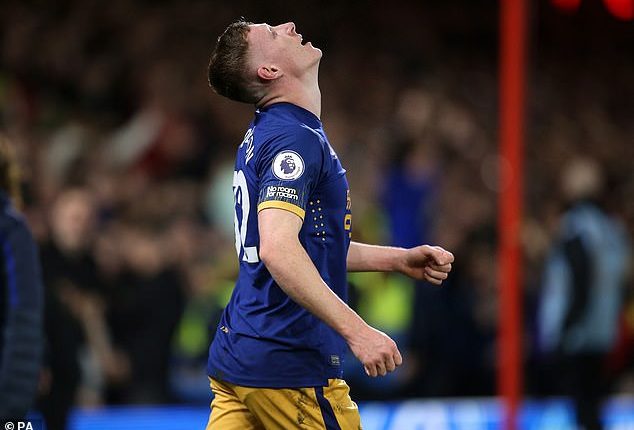 'Peter Walton where are you?!': Gary Neville has Jamie Carragher in stitches as he pokes fun at BT Sport's expert referee after explaining controversial VAR decision that denied Elliot Anderson his first senior goal in Newcastle's win over Forest
Gary Neville aimed a jibe at BT Sport's expert referee Peter Walton after explaining a complex VAR decision from Newcastle's 2-1 win over Nottingham Forest on Friday night. 
20-year-old Elliot Anderson headed home what would have been his first senior goal for the Magpies, but the strike was chalked off after Sean Longstaff was adjudged offside in the build-up.
It came after a lengthy VAR stoppage, which some felt led to the wrong decision as Forest's Felipe touched the ball before Longstaff picked it up in an offside position.
The call was based on the touch being a deflection rather than a genuine attempt to play the ball, which Neville labelled 'bizarre' on Sky Sports. 
'We need Peter Walton!' the pundit joked after explaining the decision, before adding 'Peter where are you!'
Elliot Anderson had what would have been his first Newcastle goal chalked off by VAR
Sean Longstaff was controversially judged to be offside in the build-up
Like many fans and ex-Newcastle players, Neville was unconvinced by the VAR decision.
He explained: 'Longstaff is an offside position, and the ball gets played across but it gets played across by a Nottingham Forest defender, Felipe, so I'm thinking that's not offside.
'It's a brilliant goal, Anderson's header is absolutely wonderful, but the judgement here is that Felipe has not played that ball deliberately, he's deflected it.
'I don't get that at all. For me he's definitely played the ball. I've been there many times as a defender where I've tried to clear it and it's not quite gone where I've wanted it to.
'I'm a little bit bemused. There might be much cleverer people than me that can explain why that's a deflection and not a deliberate play of the ball. '
The former Man United right back then ran through the offside law's wording, before offering a defence of the technology.
'I'm for VAR,' he said, 'I think VAR gets 90% correct, we always focus on the one that isn't, the one tonight though is bizarre.
The decision hinged on whether Nottingham Forest's Felipe meant to play the ball that ended up with Longstaff
Gary Neville jokingly asked 'Peter Walton where are you?' After attempting to explain the decision
Newcastle ultimately still won the game 2-1 thanks to a brace from Alexander Isak
'In some ways I'm glad Newcastle have won, because it takes the edge off  it for everybody, including the officials. If that had been 1-1, Eddie Howe would have been absolutely fuming.' 
The Magpies boss did seem bemused by the decision, as he told Sky Sports: 'I couldn't believe it at the time, I'd need to be sat down and have the rules explained on that, it was a disappointing one for Elliot.'
Despite the controversy, Newcastle still took three points from the game thanks to an injury time penalty from Alexander Isak.
The result leaves Howe's side just a point off Tottenham with a game in hand as they head into the international break.


Post source: Daily mail