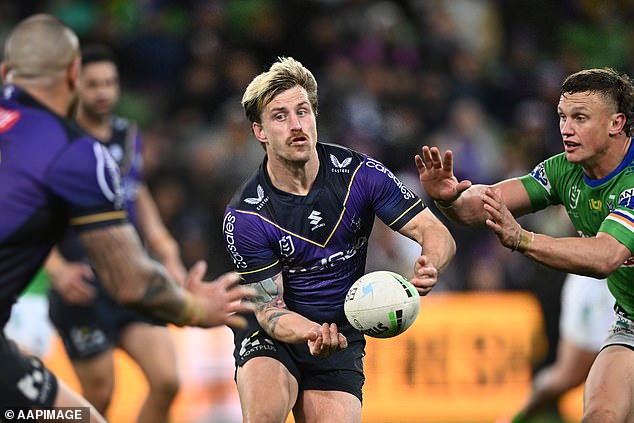 Before a single ball was kicked in anger, the NRL's newest franchise The Dolphins had a searing spotlight pointed at them for lacking a marquee player heading into their inaugural season.
After 12 months of knockbacks including missing out on Cameron Munster, Kalyn Ponga, Brandon Smith, Ryan Matterson, Junior Paulo and many more big-name players, the critics were dragging out the red pen to draw a line through their chances.
However, the Dolphins stunned the NRL with a debut win over the star-studded Sydney Roosters in their opening clash, followed up by a stirring win over Canberra on Saturday – and the roster they did assemble has plenty to do with that upset result.
The latest episode of Stan Original documentary series Dawn of the Dolphins gives fans a behind-the-scenes look at how the Dolphins managed the multiple setbacks and built a competitive roster for their debut season.
Veteran player manager Sam Ayoub said criticisms levelled at the club for not securing a marquee player were unfair.
'It was always going to be difficult. They've only got a 12-month start, every other club has had two, three, 100 years.'
'I am sick of hearing they don't have a marquee. Now I can list three or four clubs that don't have marquees, yet they're not criticised for not having marquee players.'
The Dolphins made a huge, last-ditch play to get Cam Munster to the club but he ultimately re-signed with the Melbourne Storm
Ponga was another high-profile target that the Dolphins missed out on, electing to remain in Newcastle
Fellow player agent Chris Orr agreed, adding that it was always going to be tough to pry quality players away from winning club environments.
'I'm not sure whether the criticism is warranted. It was always going to be difficult.
'They certainly have experienced people inside their organisation.
'It was always just going to be difficult to convince those top athletes to leave their current environment.'  
So with the likes of Munster, Smith and Ponga all knocking them back, they had to take a different tack. 
Stone charges the ball up against the Roosters in the Dolphins round one NRL debut at Suncorp Stadium
At one point Wayne Bennett comments that 'there aren't enough Ray Stones' in the NRL ranks, highlighting the type of player the Dolphins went after.
Stone is a hard-working forward the Redcliffe outfit secured at a bargain basement price and he has been enormous for the club already.
Likewise, fullback Hamiso Tabui-Fidow was one of the Dolphins best in their opening win over the Roosters after going from State of Origin player to a bench player at the North Queensland Cowboys.
It was about using the Moneyball approach to identify undervalued players and bring them to the organisation knowing that with the proper coaching, they could match it with the best.
Moneyball is a term used to describe a data-driven approach to sports, particularly baseball. 
Bennett chose his targets carefully, valuing work ethic and commitment to ensure the Dolphins would be competitive
The concept was popularised by Michael Lewis' 2003 book, 'Moneyball: The Art of Winning an Unfair Game,' which tells the story of how the Oakland Athletics, a small-market team with a limited budget, used advanced statistical analysis to assemble a competitive team.
It was turned into a hit 2011 film starring Brad Pitt and Jonah Hill. 
The Moneyball approach involves identifying undervalued players based on their statistical performance and using that information to build a team that can compete with much larger and better-funded organisations.
Dolphins recruitment manager Peter O'Sullivan said getting those signing right was critical for the long-term success of the new franchise.
'You can recover from a player that you don't sign, it takes you years to recover from players that you shouldn't have signed,'
'So I'm not worried about the don't signs, what I'm worried about is whether we've signed players that we shouldn't have.
'Ok, so we missed him, well let's go and get somebody younger and cheaper and coach the heck out of them. Put good people around them and watch them grow in that player of even better quality.
'There's always someone around the corner.'
Meanwhile the second episode also reveals how hard the Dolphins went to try and secure Bennett.
Munster is presented with the man of the match award by Maroons coach Wayne Bennett after game three of the State of Origin series at Suncorp Stadium in 2020
In a recruitment meeting, Bennett gives the green light to offer the Melbourne Storm star a four-year deal and also promises the representative half success, saying: 'We're not going to bring you here to f*** you up'.  
'No one knows more than me the value of the spine, that's why we're chasing Munster,' he said.
'If he is going to take some risk with us, we'll take some risk with him.
'Simple as that, it's a two-way street.
'I don't think we've offered anyone a four-year contract. So that's a huge leap of faith by us. It gives you a security net.
'You haven't failed in your footy career, I haven't failed in mine. We're not going to bring you here to f*** you up.
'Honest to God, if I didn't think we could be good for you and you could be good for us, we wouldn't be sitting here having this conversation.'
Bennett will feature in the second episode of the Stan Original Documentary Series, Dawn of the Dolphins. Episode 1 is now streaming, with episode 2 premiering on Monday, March 13, only on Stan.


Post source: Daily mail