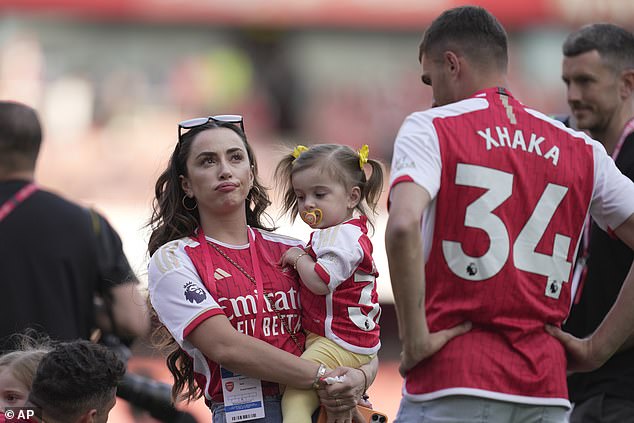 'It's not about the missus!': Granit Xhaka tells Arsenal fans decision over his future is NOT down to his wife's desire to leave, as midfielder nears exit with Bundesliga clubs interested
Granit Xhaka has insisted its not about his wife when asked by fans about the possibility of his exit from Arsenal this summer.
Xhaka, 30, struck twice for the Gunners as they signed off their Premier League season in style with a 5-0 hammering of Wolves at the Emirates on Sunday.
It is widely believed to be the Swiss midfielder's last game for the club, after making almost 300 appearances for Arsenal since joining in 2016.
Reports suggest that his wife Leonita Lekaj is tired of living in London, and is looking for a change of scenery for the family.
German outlet Kicker previously said that she wanted to return to Germany for a long time – where the pair met while he was plying his trade for Borussia Monchengladbach. 
Granit Xhaka's wife Leonita Lekaj has reportedly wanted to move the family back to Germany
While signing autographs on Sunday, Xhaka insisted his future was not down to 'the missus'
The pair met while the Swiss midfielder was plying his trade with Borussia Monchengladbach
But when asked about the situation by fans getting autographs after the Wolves game, Xhaka replied 'It's not about the missus', causing a chorus of 'aww' from the waiting Arsenal supporters. 
Earlier in the video, shared on Twitter, Xhaka responded to a question about his potential departure by saying: 'We will see next year what's up.' 
However, the question marks over the Swiss man's future at the Emirates have been swirling for some time, and they won't go away while he refuses to commit his future to the Gunners. 
Xhaka's current Arsenal deal expires next summer, so the club have to sell him this year if they want to recoup a fee for a player who previously wore the captain's armband at the club. 
It is thought that Arsenal manager Mikel Arteta would not stand in Xhaka's way if he departed
The Swiss international may find his playing time limited next season if Arsenal buy new men
Xhaka told Arsenal fans 'we will see next year', but could not confirm his stay with the Gunners
The Gunners signed Xhaka from Monchengladbach for a fee of around £30m, and it is thought they will expect to make about £13m if they sell him now after seven years of committed service – something unexpected when he was booed off the pitch in 2019.  
Xabi Alonso's Bayer Leverkusen are reportedly interested in the Swiss international's services – although Arsenal fans are also desperate for him to stay at the Emirates as his performances in the centre of the park have been pivotal to their second place finish in the Premier League.
Arsenal remain linked to a number of potential summer signings in midfield – which could limit Xhaka's playing time next season if he was to stay at the Emirates. 
It is thought that Mikel Arteta would not stand in Xhaka's way if he wanted to leave – and may be used as part of a swap deal, with the Gunners also reportedly keen on Leverkusen winger Moussa Diaby. 




Post source: Daily mail