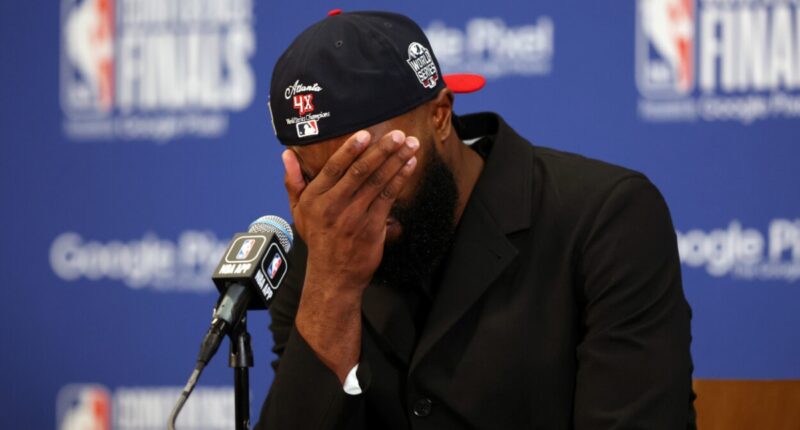 The Miami Heat put history on hold. With the Boston Celtics looking to become the first team in NBA history to overcome a 3-0 playoff deficit, the visiting Heat put that to rest early. Jimmy Butler & Co. marched into TD Garden on Monday and set the tone early in a 103-84 victory, earning a berth in the NBA Finals.
The Celtics became the third team the eight-seeded Heat sent home in the postseason. They began their run by defeating the top-seeded Milwaukee Bucks in the opening round. While Bucks star Giannis Antetokounmpo was adamant Milwaukee's first-round exit was not a failure, Boston's Jaylen Brown had a much different reaction after his team was sent packing.
Jaylen Brown struggled big time in the Boston Celtics loss to the Heat
For the third time in the series, the Boston Celtics lost at home to the Heat. They were heavy favorites every time, but Miami found a way to get things done.
In Monday's winner-take-all Game 7, the Celtics were dealt a heavy blow on the game's first possession when Jayson Tatum rolled his ankle. He later admitted he was "a shell of myself" throughout the game. Tatum finished with 14 points and winced often as he ran or landed on the ankle. Miami capitalized and took a 22-15 lead after the first quarter.
Tatum's injury was the perfect opportunity for Jaylen Brown to shine. Often regarded as the top tandem in the NBA, Brown and Tatum have guided the Celtics to the Eastern Conference Finals four of the last six years. Brown has been there five of the last seven.
Instead, Brown and the Celtics struggled big time.
While he led Boston in scoring with 19 points, Brown went 8-for-23 shooting, including making one of nine three-point attempts. He also continued to fumble the ball away, finishing with an alarming eight turnovers.
Derrick White was the lone player to step up for Boston, finishing with 18 points on 5-for-12 shooting. The Celtics went an embarrassing 9-for-42 from three-point land.
Brown had a much different reaction than Antetokounmpo after being eliminated by the Heat
After Miami shocked the Bucks in the opening round, Antetokounmpo held his press conference explaining how getting bounced early was not a failure.
"Oh my God," Antetokounmpo said to reporters, per TNT. "You asked me the same question last year, Eric. Do you get a promotion every year on your job? No, right? So every year you work is a failure? Yes or no? No.
"Every year you work, you work toward something, toward a goal — to get a promotion, to take care of your family, I don't know, provide a house for them, take care of your parents. You work toward a goal. It's not failure. It's steps to success."
The Greek Freak went on to ask if Michael Jordan failed in his nine years without a championship.
Brown had a far different reaction after losing to that same Heat team.
"We failed," Brown told reporters after the game. "I failed. We let the whole city down."
Brown got straight to the point. He pulled no punches. He mentioned he or the team failed several times. Brown is right. The Celtics had a golden opportunity as a heavy favorite at home to reach the NBA Finals and didn't get it done. That's failing. It doesn't mean he, as a person, is a failure. It simply means they failed to achieve their goal.