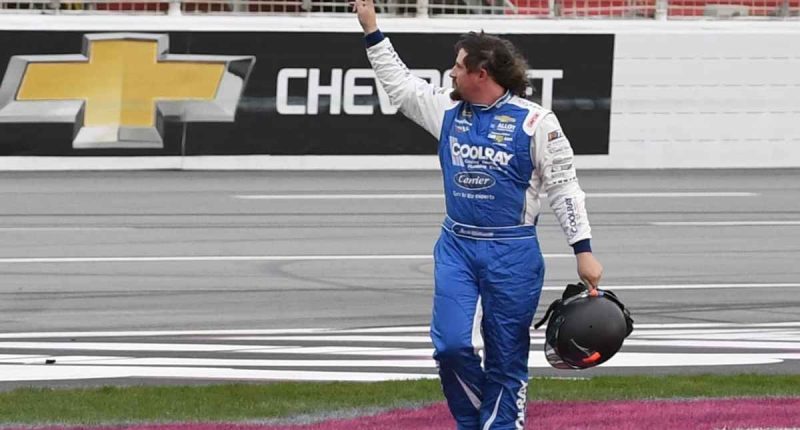 Austin Hill undoubtedly disagrees, but Saturday's Xfinity Series race at Atlanta Motor Speedway might as well have been named the Rin Tin Tin 250. It was that much of a dog, even sending Josh Williams to the dog house known as the NASCAR hauler.
A year from now, fans will remember the Raptor King of Tough 250 for Williams' hissy fit near the end of Stage 1 rather than Hill's third victory in five starts. Williams may have been wrong with respect to style, but he and other drivers were on the mark when it came to substance.
Josh Williams took NASCAR officials literally when they told him to stop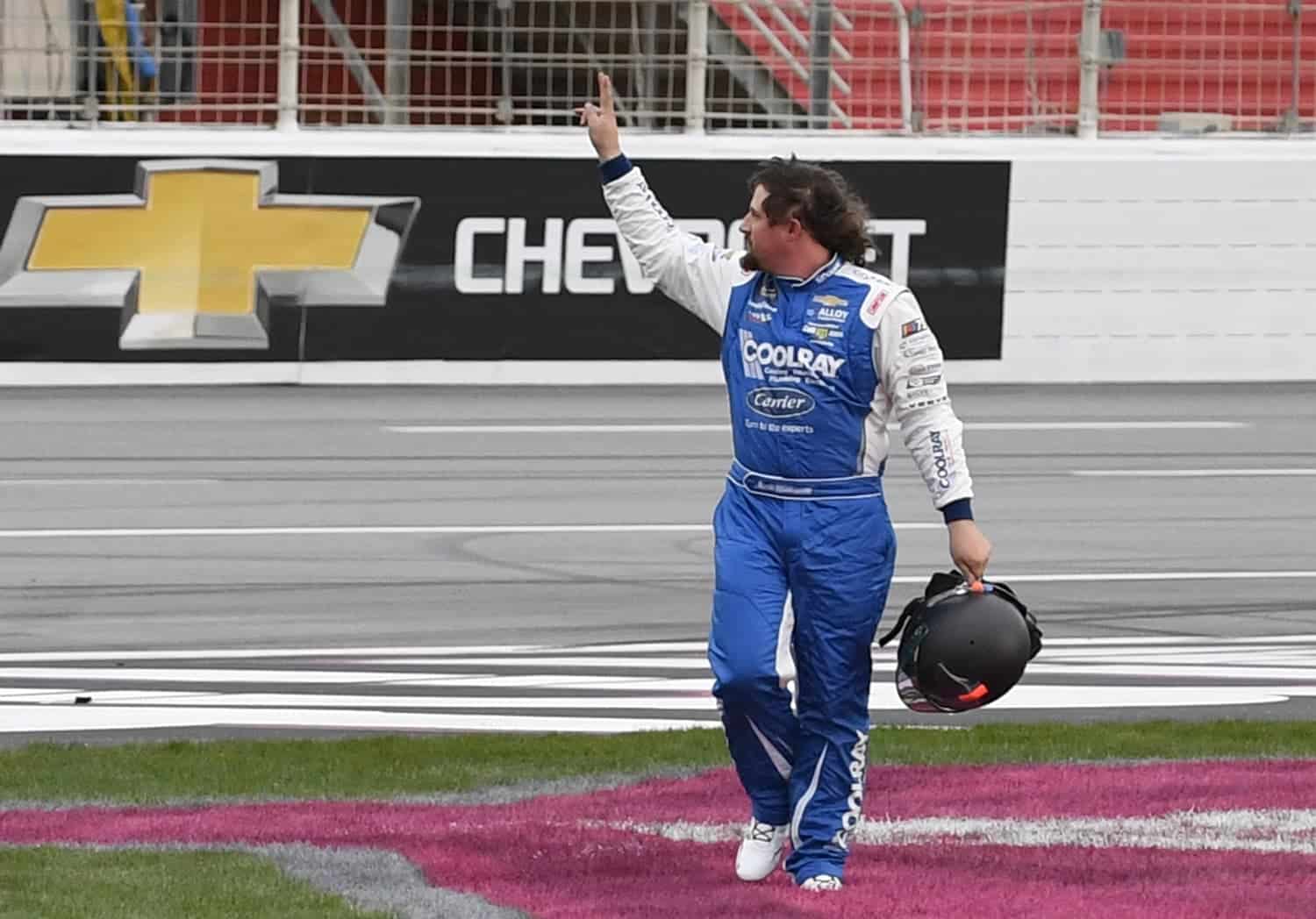 Veteran driver Josh Williams parked his No. 92 Chevy at the start/finish line and walked away after NASCAR Xfinity Series officials ordered him off the track during Saturday's race at Atlanta Motor Speedway.
Kyle Weatherman's mishap on Turn 2 just 28 laps into the race collected Williams and Jeb Burton. Williams' team taped over the front and right side of his car, but debris started flying after he returned to the track, and officials ordered him out of the race.
Rather than pulling off onto pit road and into the garage, Williams parked at the start/finish line, got out of the car, and walked to his pit stall. There, officials instructed him to report to the NASCAR hauler.
Series officials met with Williams for about 20 minutes after the race, and there's a good chance reading their list of penalties assessed in Tuesday's weekly race report will last longer than any of the green-flag runs in Stage 1.
The Xfinity Series race was painful to watch
A race with as many only as many lead changes as cars that did not finish (12) seldom makes for entertaining viewing, and the Xfinity race at Atlanta Motor Speedway fit the description. Eight cars didn't survive the opening stage as the caution flag came out five times, consuming 33 of the first 47 laps.
The race's average green-flag run was just 7.9 laps, which works out to under five minutes. Once we did get some semblance of continuity, king of Xfinity Series superspeedways Austin Hill led 70 of the final 71 laps.
Even drivers other than Josh Williams expressed disgust, with Justin Allgaier particularly vocal after a wreck on Lap 79 ended his day. As is frequently noted, the Atlanta Motor Speedway overhaul before the 2022 season made the track a superspeedway, complete with double-file parades that collapse into chaos when drivers try forming a third line.
"This style of racing after the reconfiguration to this, to me, it's completely ruined this place," Allgaier said. "I hope we can figure something out … To do what we're doing right now – I mean I think we ran maybe 20 green-flag laps and before halfway – that's unrealistic for what we should be doing. We definitely need to go back to the drawing board."
Josh Williams: 'I just wanted to voice my opinion'
By letter of the law, NASCAR was right to pull Josh Williams off the track at Atlanta. Williams was involved in a wreck midway through the first stage, and his pit crew's work taping over the damage didn't work. Cold weather that kept the tape from adhering to the torn-up and aero-challenged sheet metal was a factor.
With debris flying off the No. 92 Chevy and creating a safety hazard with the yellow flag still out, officials ordered him to the garage for extending the caution.
Williams, 29, argued the call, but few ever win an argument with NASCAR. Rather than pull onto pit lane, Williams slowed to a stop on the track on the start/finish line. He exited the vehicle, waved  to the crowd, and walked across the infield and pit road to his team.
"We all work really hard, and to only run 'X' amount of laps and then have something like a piece of Bear Bond (tape) put us out of the race, it's really frustrating," Williams said after meeting with series director Wayne Auton and Elton Sawyer, NASCAR's senior VP of competition. "Small team. We work really hard. We've got to make our sponsors happy, right? It doesn't do any good sitting in the garage. It is what it is. We'll learn from it and move on."
Williams showed some remorse afterward and admitted he was unlikely to pull the same stunt again.
"I didn't do it to be spiteful or make a huge scene or cause (reporters) to stand out here, but I just wanted to voice my opinion," he said. "I felt like it wasn't right, but it's in the rulebook."
Got a question or observation about racing? Sportscasting's John Moriello does a mailbag column each Friday. Write to him at [email protected]