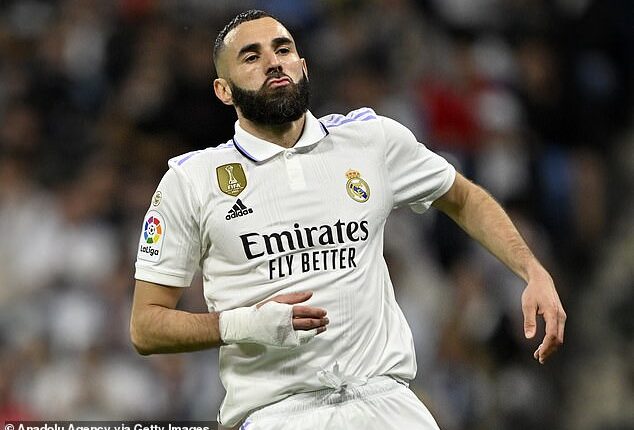 Karim Benzema 'will announce he's LEAVING Real Madrid in a press conference this afternoon'… bringing an end to his 14-year stint at the Bernabeu amid reports he's set to join old team-mate Cristiano Ronaldo in Saudi Arabia
Karim Benzema will leave Real Madrid at the end of the 2022-23 season 
The Frenchman has been strongly linked with a summer move to Saudi Arabia 
Benzema looks likely to join Cristiano Ronaldo in the Saudi Pro League 
Karim Benzema will reportedly announce that he will leave Real Madrid at the end of the season this afternoon.
Gianluca Di Marzio have reported that the Frenchman will confirm the news in a press conference, bringing an end to his legendary 14-year stint at the Santiago Bernabeu. 
It comes as the Frenchman looks set to join former team mate Cristiano Ronaldo in Saudi Arabia – following reports earlier this week that he had been offered a £345m two-year by an unnamed club. 
Benzema will go down as one of the club's greatest players of all time, scoring 353 goals in 647 appearances and winning countless trophies – including the Champions League a record five times.
The bombshell report comes just hours after Paris Saint-Germain announced that Lionel Messi will play his last game for the club on Saturday. 
Karim Benzema will reportedly confirm that he will be leaving Real Madrid in the summer 
Benzema looks likely to join Cristiano Ronaldo in the Saudi Pro League with reports that he has been offered a deal worth a staggering £345m from an unnamed club in the country
The news follows that of Lionel Messi who will leave Paris Saint-Germain and could also be making the move to Saudi Arabia
Benzema though is likely to have played his final game for the club after signing off for the season in a post on Instagram after suffering a nasty cut to his foot. 
It remains to be seen though whether Benzema makes an appearance when Real Madrid play their final game of the season against Athletic Bilbao at the Santiago Bernabeu on Sunday.
Reports in Spain had suggested that Benzema – whose contract expires this summer – was likely to sign a new deal.
However, concern had grown with the 35-year-old not announcing his future until now. 
If reports are right and Benzema is given a £345m two-year deal, then the staggering deal would effectively match Cristiano Ronaldo's current £173m-per-year deal at Al-Nassr. 
It was also claimed that the signing of Benzema would help with the country's strategy of landing the 2030 World Cup – and the Frenchman could become an ambassador for the competition. 
Benzema would likely earn a large amount of money if he was to take up an ambassadorial role for the competition if they win the bidding rights in a tournament which would be jointly held with Turkey and Greece.
Earlier this month, Carlo Ancelotti said Real Madrid would be looking to sign a new striker in anticipation of Benzema's departure, with his age being a crucial factor.
Benzema is one of the most successful players in Real Madrid's history with 24 pieces of silverware
Benzema enjoyed the best year of his career in 2022 – leading to him receiving the Ballon d'Or
Benzema has scored 353 goals for Real Madrid since joining from Lyon in 2009 (pictured)
Benzema is among a host of names, including Messi, and exiting Barcelona pair Sergio Busquets and Jordi Alba, to be linked with a move to the Saudi Pro League this summer.
Ronaldo was the first big-name player to make the move late last ear and he has been making waves in the Gulf nation.
Al-Nassr finished second in the league during his first season, but it did not stop Ronaldo from hailing the future possibilities of the top-flight in the country. 
Ronaldo said: 'The Saudi league is getting better, next year will be even better.
Benzema has reportedly been 'offered the chance to become an ambassador for the 2030 World Cup' should Saudi Arabia stage the tournament
The 35-year-old won four LaLiga titles and five Champions League trophies at Real Madrid
'Step by step, I think, this league will be in the top five leagues in the world but they need time, they need players, they need infrastructure. But I believe this country has amazing potential. They have amazing people and the league will be great in my opinion.'
Since joining Madrid from Lyon in 2009 for £25m, Benzema has worked his way up to second on the club's all-time scoring charts – only behind Ronaldo who netted 450. 
Benzema often played second fiddle to Ronaldo before the latter's departure to Juventus in 2018. But the striker made sure the club did not feel the absence of the Portuguese superstar and has helped continue to drive the team to more success.
He enjoyed the best season of his career last year, scoring 44 goals as Los Blancos clinched both the LaLiga title and the Champions League by beating Liverpool. This led to him receiving the Ballon d'Or gong for the first time in his career.
In total, Benzema has won four LaLiga titles and five Champions League trophies during his near decade-and-a-half stint at the Santiago Bernabeu.


Post source: Daily mail