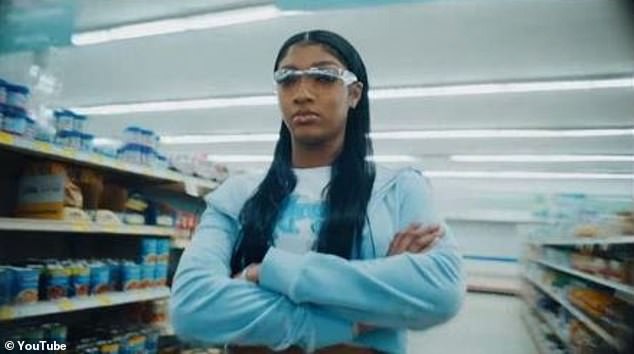 LSU star Angel Reese features in Latto and Cardi B's new rap music video, as she continues to cash-in on massive multi-million endorsements
Reese has racked up multi-million NIL deals with Sports Illustrated and Coach

The 21-year-old recently appeared at the White House following LSU's title win 
DailyMail.com provides all the latest international sports news 
NCAA champion Angel Reese has taken her newfound fame to another level, starring in a rap music video with Latto and Cardi B, barely two months after winning March Madness on LSU's women basketball team. 
The 21-year-old's quickly becoming an influential figure outside of basketball in the US, ever since she mocked Caitlin Clark, of Iowa, by emulating John Cena's 'you can't see me' hand gesture, something Clark had done previously throughout the college basketball tournament. 
In between high-profile events, Reese has racked in several multi-million NIL deals, including with Sports Illustrated, for who she posed for in the magazine's swimsuit issue; Coach, Amazon and Xfinity.
Reese can now checkmark another accomplishment off her list — starring in the visuals for the song 'Put It On Da Floor Again' with popular female rappers Cardi B and Latto, which was released on Thursday night.
The NCAA Tournament's Most Outstanding Player appears several times in the clip, noticeably in the grocery store scenes during the three-minute video. 
Angel Reese's taken her fame to a new level, starring in a rap music video with Latto & Cardi B
The 21-year-old basketball star (R) appeared in the visuals for Latto's 'Put It On Da Floor Again'
First off, she untangles Latto from being wrapped up in plastic before pushing her in a shopping cart and holding up a makeshift hoop as the artist puts up a dunk with a stuffed heart rather than a basketball. 
But Reese's most noticeable cameo comes after Cardi first appears in the music video, when she drops the bar: 'I been ballin' so damn hard, coulda went to LSU' as the camera zooms in on a mean-mugging Reese.
On the eve of the music video dropping on digital platforms, Reese tweeted: 'i told y'all i wanted to be a video vixen.' 
She later added on Twitter that her boyfriend 'singing PUT IT ON THE FLOOR AGAIN' and that she 'GOT EMMMN.'
In May, Reese's teammate Flau'jae Johnson shared her own cover of Latto's latest hit on social media. 
On Friday, Reese tweeted that she's always wanted to be a in a music video to fans
LSU's Reese reacts in front of Iowa's Caitlin Clark in the national championship game
Reese has a Mercedes-Benz EQS580 after signing an NIL agreement with a local dealer
The LSU forward received a lot of backlash after the game, which sparked controversy over whether she was being held to a double standard. What's more is that she also criticized First Lady Jill Biden's proposal to invite both LSU and Iowa to the White House, putting her attendance into question, before finally opting to join her teammates in D.C. in May.
Reese, who's been nicknamed the 'Bayou Barbie' since transferring to LSU, also filed for a trademark on the nickname. 
Following her basketball accomplishments at college level, she was praised by LSU alumni, Shaquille O'Neal, who called Reese the greatest athlete to ever come from the school. 
Reese contacted O'Neal after he made the comments and said that she had not done enough to earn that level of praise.


Post source: Daily mail