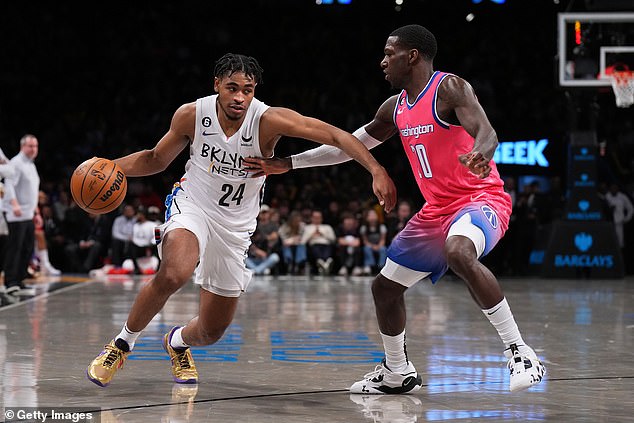 Cam Thomas scored a career-high 44 points off the bench and the short-handed Brooklyn Nets rallied from a 23-point deficit to stun the Washington Wizards 125-123 on Saturday night.
Edmond Sumner also set a personal best with 29 points and Nic Claxton had 15 points and 13 rebounds for the Nets, who had their largest comeback win of the season and swept the regular-season series against the Wizards.
Washington also lost to Portland 124-116 on Friday night after blowing a 20-point lead. The Wizards became the first NBA team in the last 25 seasons to lose on consecutive days after being up by 20 or more points in each, according to ESPN Stats and Info.
Patty Mills added 13 points and Royce O´Neale had 10 for the Nets, who trailed 44-21 late in the first quarter.
'We responded,' Nets coach Jacque Vaughn said. 'Definitely a shift in our mentality and we got rewarded for it.'
Cam Thomas scored a career-high 44 points in an electrifying performance for the Nets
The victory came despite Brooklyn being without Kyrie Irving, who was out with what the team said was right calf soreness – a day after he told the Nets he wants to be traded. 
'We were all in agreement on him not being here tonight,' Vaughn said.
Kristaps Porzingis led the Wizards with 38 points before fouling out. Deni Avdija finished with 23 points, Monte Morris added 18 and Corey Kispert had 15 for beleaguered Washington.
BUCKS 123, HEAT 115
Giannis Antetokounmpo had a triple-double with 35 points, 15 rebounds and 11 assists and the Milwaukee Bucks beat the short-handed Miami Heat 123-115 on Saturday night for their seventh straight victory.
Jimmy Butler scored 32 points and Tyler Herro added 24 for the Heat, who had just nine available players. Notable injured Miami players included Kyle Lowry (sore left knee) and Victor Oladipo (sprained right ankle).
Antetokounmpo had his third triple-double of the season and 32nd of his career. The 11 assists matched his season high.
The two-time MVP had 26 points, 14 rebounds and 11 assists in a victory at Minnesota on Nov. 4. He had 30 points, 21 and 10 assists in an overtime win at Toronto on Jan. 4.
Antetokounmpo's latest triple-double came two nights after he scored 54 points in a 106-105 victory over the Los Angeles Clippers. During the Bucks' six-game winning streak, Antetokounmpo is averaging 39.4 points, 14.7 rebounds and 5.0 assists.
Khris Middleton added 24 points, Grayson Allen 19, Jrue Holiday 15 and Pat Connaughton 14.
The Bucks gained a measure of revenge after losing consecutive games in Miami on Jan. 12 and 14. Antetokounmpo didn´t play in either of those games.
Giannis Antetokounmpo had a 35-point triple double as the Bucks beat their East rivals
THUNDER 153, ROCKETS 121 
Shai Gilgeous-Alexander scored 42 points to help the Oklahoma City Thunder blow out the Houston Rockets 153-121 on Saturday night.
Oklahoma City set a Thunder record for points in a game, surpassing the 150 scored in a win over the Boston Celtics last month.
Gilgeous-Alexander shot seven for 23 in a loss to the Rockets on Wednesday. He bounced back to make 14 of 23 field goals in the rematch, falling two points short of his career high. 
The first-time All-Star also made 14 of 15 free throws and had six assists for the Thunder, despite not playing in the fourth quarter because the Thunder led by 42 points at the end of the third.
Mike Muscala scored a season-high 19 points and Josh Giddey added 17 points, 10 assists and eight rebounds for Oklahoma City.
Josh Christopher and TyTy Washington each scored 20 points and Tari Eason added 18 for the Rockets.
Oklahoma City led 79-53 at the break after shooting 55 percent from the field. Gilgeous-Alexander scored 28 points in the first two quarters, a career high for him in a first half.
Shai Gilgeous-Alexander had 42 points as the Thunder broke a franchise record for scoring
CLIPPERS 134, KNICKS 128
Kawhi Leonard scored 35 points, Paul George added 30 and the Los Angeles Clippers beat the New York Knicks 134-128 in overtime Saturday night.
After the Clippers lost a 17-point fourth quarter lead, Nicolas Batum's three-pointer at the regulation buzzer tied it at 115.
'I wish we could finish the game in the fourth quarter by making some shots to put teams away,' Clippers coach Tyronn Lue said. 'But, big shot by Nico. Gutsy win by us. Nico makes the big shot and we controlled the overtime.'
The Clippers scored the first four points of overtime and never relinquished the lead. Leonard connected on all of his eight free throws in the extra session, finishing 12 for 12 from the line.
'We got to do better,' Leonard said. 'Second night in a row we had big leads against these good team and they´re coming back. They have fight in them and we have to be able to close them out.'
Norman Powell added 24 points for the Clippers and Marcus Morris Sr. had 17. Los Angeles has won seven of nine.
Jalen Brunson, who returned after missing a game due to a non-COVID illness, led the Knicks with 41 points. Julius Randle had 28.
Kawhi Leonard helped the Clippers win in OT after Nicolas Batum's game-saving three-pointer
NUGGETS 128, HAWKS 108 
Jamal Murray scored a season-high 41 points, Nikola Jokic had his 18th triple-double of the season and the Denver Nuggets won their third straight game, beating the Atlanta Hawks 128-108 on Saturday night.
Jokic finished with 14 points, 18 rebounds and 10 assists and recorded the 94th regular-season triple-double of his career. Michael Porter Jr. added 23 points for the Nuggets, who are 19-1 in their last 20 home games and moved into a tie with the Boston Celtics for the best record in the NBA at 37-16.
Dejounte Murray scored 28 points to lead the Hawks. De'Andre Hunter added 20 points.
Trailing by 18 points at the break, the Hawks narrowed the deficit to 97-86 by the start of the fourth quarter on a tip-in by Onyeka Okongwu in the final minute of the third. Atlanta defenders had blocked the Nuggets´ last three field goal attempts in the third period.
Hunter's jumper with 5:49 remaining got the Hawks within 109-101. But the Nuggets, with Murray leading the way, responded with a 15-2 run that pushed their lead to 124-103 with 2:23 remaining. 
The Hawks never threatened again. Murray had 11 of his points in the late flurry, which Jokic helped get started with an alley-oop pass to Aaron Gordon for a layup for his 10th assist of the game.
Murray had 22 of his points in the first half, including a 3-pointer off a feed from Jokic following an Atlanta turnover in the waning seconds of the second quarter. That helped the Nuggets take a 70-52 halftime lead.
Nikola Jokic had his 18th triple-double of the season as the Nuggets moved to a 37-16 record 
BULLS 129, TRAIL BLAZERS 121
The Chicago Bulls tried all sorts of defensive coverages on Damian Lillard. He kept scoring anyway.
Just not enough to hold down Zach LaVine and company.
LaVine scored 36 points, DeMar DeRozan had 27 and the Bulls topped Lillard and the Portland Trail Blazers 129-121 on Saturday night.
Nikola Vucevic added 23 points and 11 rebounds as Chicago won for the third time in four games, erasing a 17-point deficit in the second half. Ayo Dosunmu had 13 points, including a key 3-pointer in the third quarter.
The Bulls shot 60 percent (48 for 80) from the field and finished with 32 assists.
'We were able to get in transition, get some easy baskets,' LaVine said. 'Then when they started doubling, it was just picking it out where the rotation was.'
Lillard scored 40 points for Portland, and Anfernee Simons had 27. But the Trail Blazers looked a little tired in the second half of their third game in four nights.
Damian Lillard had a healthy 36 points against the Bulls as the Blazers won on the road
SUNS 116, PISTONS 100
Deandre Ayton had 31 points and 16 rebounds to help the Phoenix Suns beat the Detroit Pistons 116-100 on Saturday night.
The surging Suns have won eight of 10 games, including a victory at Boston on Friday night, and have help on the way with Devin Booker nearing his return. 
The three-time All-Star guard has been out since Christmas with a groin injury, but dunked in warmups in another sign that he's close to coming back.
'I wouldn't read too much into it,' said Suns coach Monty Williams, who didn't want to speculate on the chances Booker will play Tuesday night at Brooklyn.
Phoenix started each half strong, leading 13-3 in the opening minutes and scoring the first eight points after halftime, to take and keep control against Detroit.
Chris Paul had 14 assists for the Suns' balanced offense that didn't need him to make shots, finishing zero for seven and without a field goal for the first time since March 18, 2017, when he helped the Los Angeles Clippers beat Cleveland by 30 points.
Bojan Bogdanovic scored 23 points for the Pistons, who are vying with Houston to have the No. 1 pick in the NBA draft and a shot to select 7-foot-3 French phenom Victor Wembanyama.
Deandre Ayton scored 31 points and had 16 rebounds as the Suns stayed hot vs. the Pistons
PELICANS 131, LAKERS 126
LeBron James moved 36 points away from breaking the NBA career scoring record in the Lakers' 131-126 loss to New Orleans on Saturday night that ended the Pelicans' losing streak at 10 games.
James had 27 points to go with nine rebounds and six assists as he continued to close in on Abdul-Jabbar´s record total of 38,387 points.
Brandon Ingram had his best game since returning 10 days earlier from a nearly two-month injury absence, scoring 35 points for the Pelicans on an array of drives and jumpers, sometimes in heavy traffic as he was fouled
LeBron James continued inching towards Kareem Abdul Jabbar's record as the Lakers lost
WARRIORS 119, MAVERICKS 113
Stephen Curry went down and the Golden Warriors once again had to fight like crazy to close out a game.
Curry had 21 points, seven assists and six rebounds before injuring his left leg defending a drive late in the third quarter, and the defending NBA champions defeated Dallas 119-113 on Saturday night and the undermanned Mavericks team was missing injured star Luka Doncic.
The Warriors said X-rays for Curry were negative, and he will have an MRI exam.
Stephen Curry scored 21 points before exiting the game with a leg injury in the third quarter


Post source: Daily mail