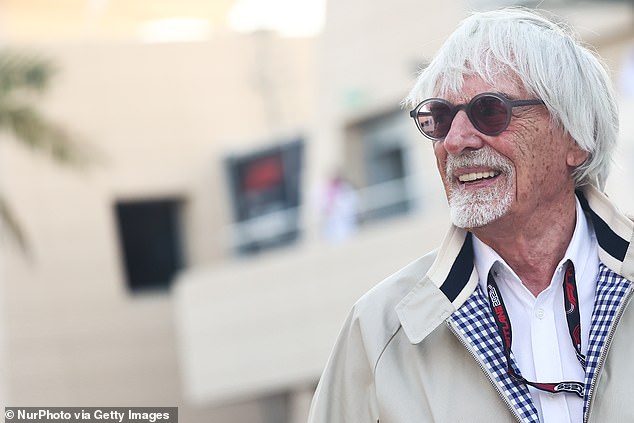 We spoke to Bernie Ecclestone packing for his next trip. He was en route from Ibiza to the place he now calls home, Gstaad, Switzerland.
London in many ways is still his truest habitat, and always will be, and he'll be back, but he is limited for tax reasons to 90 days a year on the terra firma where he made his name and his fortune, and created modern Formula One.
'I thought the only time I'd leave would be in a coffin,' says Ecclestone, 93 next month, who moved away on a semi- permanent basis during Covid. He is also conscious of where his 46-year-old Brazilian wife Fabiana wants to be, along with their son Ace, Alexander Charles Ecclestone, aged three. The little one is fluent in English and Portuguese, and is learning German.
I ask if we can do a bit of work — to discuss Formula One, a tour d'horizon of the sport he was involved in all his life. 'Whatever you want,' he says.
On owners Liberty Media: 'My opinion is that 18 races is enough. We did 20 and I often thought that that was a bit too much. Because you have to think of the teams. Before long, they will have to employ double staff. With 22 or 23 races there will be too many divorces. It is a matter of when.
Bernie Ecclestone says there should be 18 prestigious races on the F1 calendar
Former F1 supremo Ecclestone has voiced concerns about the races in America
Stars Tom Cruise and Shakira on the starting grid at the Miami Grand Prix this year
'I can understand the commercial people because they can say they are signing long-time agreements and that apparently makes the company they work for a lot more money. They can say they have 10-year contracts or whatever. So what they are doing is 100 per cent right for them at the moment commercially.
'But without any shadow of a doubt I would stick to 18 prestigious races. That's because we don't know, however long-term the contracts are on paper. We don't know whether they will suddenly decide that it isn't working too well and stop.
'Singapore were about to stop. They phoned me and asked me what I thought. I said they should see how it all works out but don't stop now. I moved it from 18 to 20. I don't want to make excuses for myself, but that was at a time we were moving it out of Europe to the rest of the world.'
On his successor but one, Stefano Domenicali: 'Stefano called me when he got the job. I told him that when I was running it as chief executive that I made the calls. Nobody from CVC (the private equity firm who owned F1) ever complained about that — they let me get on with what I thought was best at the time. I don't know what Stefano's position is. I think he is a little bit more aware of what the people in America think (F1 being owned by US conglomerate Liberty Media). 
'I think you can see that with the races in America that they are doing — which I think is completely mad. The one in Miami — the way they ran that was mad, trying to be American rather than the way I did it, which was trying to be pure Formula One as it was, rather than as it could be.
'Maybe they are completely right; maybe I was wrong trying to keep it more Formula One. I watch every practice session and every race and I look and I think, "My God are we trying to show Formula One or are we trying to show other things?"
'Netflix has captured them a little bit and they follow that a bit too much. Netflix is in the entertainment business as long as it suits them. It's not like our old broadcasters who have been with us for ever.'
On the best driver he has seen: 'Max is the best driver ever. No doubts. I used to say Alain Prost. Now I would say Max. He's the greatest. He is brightest with regards to getting the best out of the car. He doesn't muck around. He gets right on the programme. In my list he is above Lewis Hamilton.
'Lewis is obviously super-super bright, super-super talented. Lewis understands people and gets the best out of them, whereas Max gets the best out of the car. He's very different from Max. When Lewis stops racing, he can get into a different world — entertainment or whatever — but that won't be the way Max could go.
'I'll tell you Max is one of us. In our sphere of Formula One nobody is like Lewis, nobody is. I think in the early days he was a bit different from other people. At school, I was a bit under-sized, so it is a bit different, too. As it was with Lewis. He had his dad's support.
Ecclestone claims reigning world champion Max Verstappen (above) is the 'best driver ever'
'When you are a little undersized, or whatever, you have to have a bit to look after yourself. You have to be a fighter, perhaps. You see that a lot in business generally.'
On Lewis Hamilton's Mercedes team-mate George Russell: 'I can't make up my mind about him. I like him. He is super-talented.
'It is a matter of what he is prepared to do to win. He was hoping Carlos (Sainz) would run out of road at the last race. He was pushing very, very hard. I don't think he thinks his race through, something Lewis does do.
'If I were a team owner, I think I'd get hold of the Australian kid (McLaren's Oscar Piastri). He's very good. But Max is the best I have ever seen.'


Post source: Daily mail