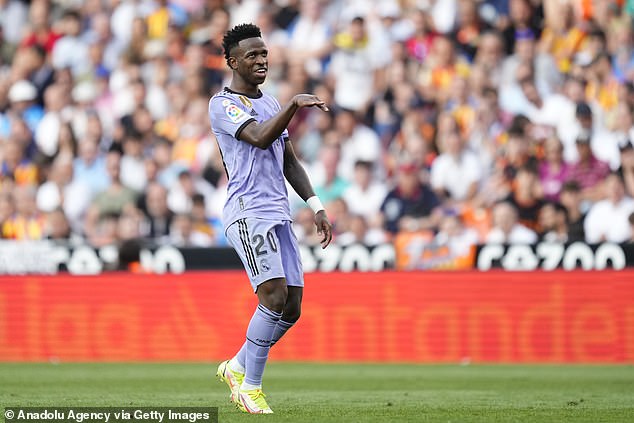 Vinicius Jnr was involved in a confrontation with a journalist after he was allegedly subjected to racial abuse during Real Madrid's clash with Valencia.
The Brazilian was sent off during Madrid's defeat for striking Hugo Duro – moments after claiming he was racially abused.
Vinicius claimed on social media that LaLiga 'belonged to the racists,' with the incident not the first time the Brazilian has been subjected to abuse this season.
Video footage from El Chiringuito has now revealed a further confrontation following the match, after he was questioned whether he would apologise for a gesture in which he appeared to suggest to Valencia fans that their club would be relegated.
Vinicius was not happy with the line of questioning, repeatedly asking the journalist 'are you stupid?' 
Vinicius Jnr was sent off moments after claiming he was subjected to racial abuse on Sunday
 Contexto de la situación:

️ Vinicius abandona Mestalla tras el partido y, mientras firma autógrafos a aficionados madridistas, un periodista le pregunta por este gesto. pic.twitter.com/tyAf9NAdzy

— El Chiringuito TV (@elchiringuitotv) May 21, 2023
Spanish publication El Chiringuito claimed the questioning was in regards to this gesture in which it is suggested that the Brazilian told Valencia fans they were getting relegated
Vinicius had an expression of bewilderment on his face following the question, which he was asked while he was signing autographs for fans following the game.
The 22-year-old tried his best to laugh off the situation, as he shook his head with a grin on his face as he signed a ball for a supporter, before taking a photo with another fan and walking away.
Vinicius, who joined Real Madrid in 2018 from Brazilian side Flamengo, has been subjected to racial abuse multiple times this season and has previously expressed his frustrations towards LaLiga authorities for their lack of action to stamp out the discrimination.
The game was paused and the referee came to speak to the fourth official and coaches on the touchline, before play was resumed again. 
Soon after, things took an unsavoury turn as the winger was shown a red card after he appeared to strike Duro following a melee inside the penalty area. 
Those in the crowd were warned over the tannoy system that the game would be suspended should they continue to direct abuse towards the players. 
After the match, the winger posted an Instagram story expressing his upset at the events that had happened during the match.
'It wasn't the first time, not the second and not the third. Racism is normal in La Liga,' he wrote. 'The competition thinks it's normal, so does the Federation and the opponents encourage it. I am soo sorry.'
Vinicius Jnr (second from left left) was sent off during Real Madrid's 1-0 defeat by Valencia
The 22-year-old (middle) was the subject of discriminatory abuse during the game and angrily singled out a spectator who had directed the racial comments towards him
With Madrid chasing the game, Vinicius was sent off for slapping Valencia forward Hugo Duro during the game
'The championship that once belonged to Ronaldinho, Ronaldo, Cristiano and Messi, today belongs to the racists. 
'A beautiful nation, which welcomed me and I love, but which accepted to export the image to the world from a racist country. 
'Sorry for the Spaniards who do not agree, but today, in Brazil, Spain is known as a country of racists. And unfortunately with everything that happens on a weekly basis, I have no way to defend. 
'I agree. But I'm strong and will go to the end against the racists. Even though its far from here.'
Meanwhile, FIFA president Gianni Infantino has released a statement on Monday morning showing 'solidarity' with the Brazilian.
He said: 'Full solidarity to Vinicius. There is no place for racism in football or in society and FIFA stands by all players who have found themselves in such a situation.
'Events during the match between Valencia and Real Madrid show that this needs to be the case.
'That is why the three-step process exists in FIFA competitions and it is recommended at all levels of football. 
Vinicius Jnr in a statement on Instagram claimed that LaLiga 'belongs' to racists
It comes after he received alleged racial discrimination on several other occasions this season
He previously suffered abuse during Real Madrid's 2-1 defeat by Barcelona in March
'Firstly, you stop the match, you announce it. Secondly, the players leave the pitch and the speaker announces that if the attacks continue, the match will be suspended. 
'The match restarts, and then, thirdly, if the attacks continue, the match will stop and the three points will go to the opponent. These are the rules that should be implemented in all countries and in all leagues.
'Clearly, this is easier said than done, but we need to do it and we need to support it through education.'
Former Manchester United defender, Rio Ferdinand, also took to Instagram to criticise LaLiga authorities for failing to protect the young winger. 
He wrote on his story: 'Bro you need protecting… Who is protecting Vinicius Jr in Spain? He receives a red card after bein choked and receiving racial abuse during the game…wtf.
Rio Ferdinand criticised the LaLiga authorities for failing to protect Vinicius Jr on his Instagram
'How many times do we need to see this young man subjected to this s***? I see pain, I see disgust, I see him needing help… and the authorities don't do shit to help him. 
'People need to stand together and demand more from the authorities that run our game. No one deserves this, yet you are allowing it. 
'There needs to be a unified approach to this otherwise it will be swept under the carpet AGAIN.'
Ferdinand then tagged several big players in the story, including Cristiano Ronaldo, Kylian Mbappe, Paul Pogba, Marcus Rashford and Jude Bellingham, before saying, 'Everyone… stand together loud and proud.' 
LaLiga had filed a complaint in court back in February after Vinicius was racially abused during Real Madrid's 1-0 win against Mallorca. 
More recently, spectators during Real Madrid's 2-1 loss to Barcelona at the Nou Camp directed abuse towards the forward, and that prompted LaLiga to file their eighth complaint to the authorities while setting up a dedicated complaints channel that fans can use to identify abusers.




Post source: Daily mail