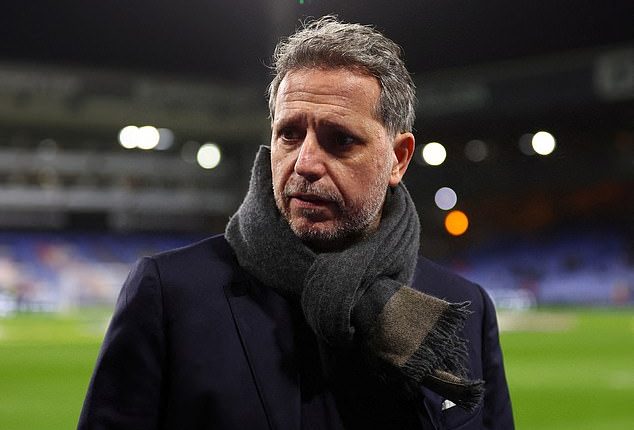 BREAKING NEWS: Tottenham's managing director Fabio Paratici has his 30-month ban from football – originally handed out by the Italian FA – extended WORLDWIDE by FIFA… meaning he'll have to QUIT if his appeal fails
Fabio Paratici was one of 12 people sanctioned after the 'Prisma investigation' 
He was banned for 30-months, but this originally only applied to Italian football 
FIFA have now since confirmed the suspension has been extended worldwide 
Tottenham's Fabio Paratici will likely have to step away from his role as managing director of the club after FIFA extended worldwide a ban imposed on him by the Italian FA.
When Juventus were docked 15 points in January following the 'Prisma' investigation after they were found guilty of false accounting in relation to transfer dealings, several current and former executives of the club received bans.
Paratici's 30-month ban – which was the longest suspension handed to the 12 individuals sanctioned – applied only to Italian football but the world governing body have now confirmed this will be extended across the world.
In a statement they said: 'FIFA can confirm that following a request by the Italian FA (FIGC), the chairperson of FIFA disciplinary committee has decided to extend the sanctions imposed by FIGC on several football officials to have worldwide effect.' 
Paratici and Juventus have appealed the decision, along with the 15-point deduction.
Tottenham's director of football Fabio Paratici has had his 30-month ban from football – originally handed out by the Italian FA – extended worldwide by FIFA
Juventus, who are accused of false corporate communications, false communications to the stock market and obstruction of a supervisory authority, have denied wrongdoing and said their accounting is in line with industry standards. 
The news regarding Paratici comes as a huge blow to Spurs, with the Italian set to head up their search for a new manager after Antonio Conte left the club by mutual consent on Sunday evening.
Only on Tuesday had an interview with Paratici on the club's official website been published, where he covered a number of topics including the dismissal of Conte and the search for his replacement.
The 50-year-old spent 11 years with Juventus including three as sporting director between 2018-2021 before joining Spurs that summer. 
Following the Prisma investigation, the other executives banned included former president Andrea Agnelli and CEO Maurizio Arrivabene who were banned for two years.
Elsewhere, vice-president and former player Pavel Nedved received an eight-month suspension.
An appeal against the sanctions implemented by the Italian Football Federation is set to be heard by the Italian Olympic Committee on April 19. 
Spurs have not commented on the ban to Paratici since it was handed out in January, while all other individuals sanctioned have had their suspensions extended worldwide by FIFA.
It remains to be seen what impact this will have on his role at Tottenham, but it is likely to bring his role under serious scrutiny.
MORE TO FOLLOW 


Post source: Daily mail