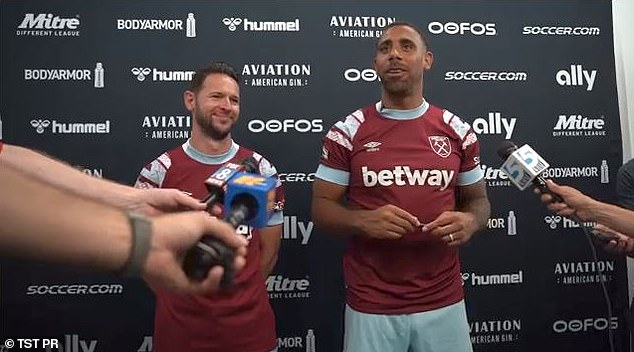 Anton Ferdinand has opened up on an incident of racial abuse that took place during a 7v7 match involving West Ham United in the US, praising the efforts of tournament organizers, TST, in the aftermath. 
Speaking to reporters after the Hammers' 4-3 win over Culture By Mo Ali FC in Carry, North Carolina, on Friday, the former Premier League defender, who was the subject of racist abuse during his playing days, said: 'I need to go on record and say that the topic of conversation that was laid bare yesterday is bigger than football.' 
'And the way that TST's dealt with it, so swiftly – the no-nonsense action. A lot of people around the world, organizations around the world can take them.
'The support that they've given us as a team and as a squad, not just to us but for the staff right here with us has been second to none. We have to remember that this ain't just a football issue. It's a societal issue that needs addressing and if more people were dressing the way TST addressed it, the world would be a better place.'
On Thursday, TST officials communicated that a Dallas United player used a racial slur toward a West Ham player. Tournament organizers initially believed that the insult was directed at Ferdinand, but later clarified the player to be Frank Nouble.
Anton Ferdinand said an incident of racial abuse in a match Thursday was 'bigger than football'
Players on West Ham's 7v7 side at The Soccer Tournament (TST) took a knee on Friday
On Thursday, a Dallas United player allegedly made a racial slur to West Ham's Franke Nouble
Dallas withdrew from the tournament on Friday, insisting that the decision was of their own choosing, despite reports elsewhere claiming that they had been disqualified.
In the wake of the shocking incident, tournament organizers said: 'After conducting an investigation into the final moments of the match between West Ham United and Dallas United, we have concluded that Dallas United violated TST's code of conduct.
'We have been in dialogue with leadership from both clubs and we are all aligned that the best path forward is Dallas United withdrawing from competition.'
Nouble got heated with the accused Dallas United player and, after the altercation, he and teammates, including Ferdinand, held discussions on the team's bench along with officials before deciding to walk off the field. 
Asked if West Ham players were considering to no longer play after the incident, Ferdinand said: 'That was definitely a possibility.'
'As I said earlier, the topic of conversation was bigger than football. It's not just people of ethnicity who deal with this issue. Every every race, color creed has to deal with the issue the same way that ethnic minorities do. 
'Making a stand is hard because when I was on the other side as a player, and playing competitively for a living, if someone said to me "walk off the pitch," the competitor in me would fight in my mind. But I'm no longer that. And I have got a duty, in what I believe in myself, to make sure that if I'm in these situations, I do use my voice in the best way possible. 
'And not just me but as a team as a whole. The whole club as a whole have done that and that's why I'm standing proud, with my chest out and with this badge on me.'
West Ham players left the pitch after the incident. Tournament organizers expelled Dallas Utd
Asked if any Dallas United players got in touch with their West Ham counterparts, after Thursday's incident, Ferdinand said: 'I think they wanted to have a conversation.
'But I think it was only right that the powers that be, which was TST, deal with it and that it gets dealt with in the right way. To counteract something there has to be deterrence. 
'And TST has sent out a strong message that any form of discrimination, racism and other forms of discrimination is not tolerated at a tournament like this. Because of the repercussions and what's happened to Dallas, I hope people understand and realize the repercussions of saying such things. I hope it hits home.'
On that note, the former West Ham, Sunderland, QPR and Reading center back said that 'we're so far away' from completely stamping out racism from a sport that many describe as the 'beautiful game'. 
'But we won't stop fighting,' added the 38-year-old. 'The most important thing, the message is that this isn't just an ethnic minority's fight. It's everybody's fight. You need to speak and fight the same way I speak about it. The same way my teammates speak about it. That's one thing we had yesterday, it wasn't just black players talking about it.
Anton Ferdinand, 38, once accused Chelsea captain John Terry of alleged racial abuse in 2011 
'It was players who were white like Matt Jarvis, or Jimmy Walker coming forward and speaking before me. Before Carlton Cole. That's very important. When somebody of white heritage hears somebody of my heritage speak of it, it's almost like a broken record, you've heard it before. But when you hear it from somebody that looks like you it makes you take note. Everybody needs to come together and fight it. 
'It's hard, but football could be the catalyst of change in society.'
West Ham's celebrity manager Thomas Skinner also spoke of the abuse, describing his pride at his players for walking off the pitch. 
'I am so proud of Anton for taking a stand and walking the team off the pitch,' he said. 'Racism has no place in Football and Dallas United getting disqualified was the right decision.' 


Post source: Daily mail