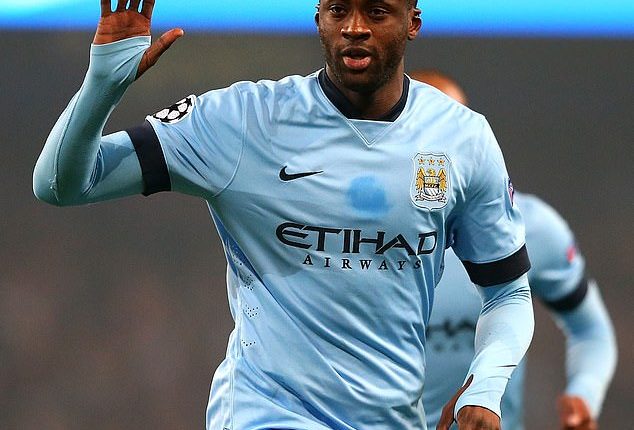 'There was NOTHING on the back side': Yaya Toure's former agent DENIES taking secret payments from Man City to top up his £1m-a-month wages, after deal was 'included in Premier League charges'
Man City are charged with breaking Premier League rules over 100 times

Player remuneration has been included among the charges levelled against City

Yaya Toure's former agent denies that secret payments were made by the club 
Yaya Toure's former agent Dimitri Seluk has denied receiving secret payments from Manchester City during the midfielder's time at the club amid a series of charges levelled against the reigning Premier League champions.
Manchester City on Monday were charged by the Premier League with 115 breaches of financial rules following a four-year investigation.
Allegations Seluk received secret payments from Sheikh Mansour's Abu Dhabi United Group are reportedly among the charges faced by the reigning Premier League champions.
Seluk has denied receiving payments, telling The Guardian that everything was 'transparent'.
'No, everything was transparent, there was nothing on the back side,' Seluk said. 
Yaya Toure had been a key part of Manchester City's success between 2010 and 2018
Toure's former agent Dimitri Seluk denies allegations Man City had made secret payments
'I am interested to see what happens as this was a surprise. 
'Yaya, of course, paid everything – tax and everything. It was all transparent.'
Toure's former agent added he would be willing to speak to the independent commission, who will be responsible for overseeing the case.
The allegation had initially been made by German website Der Spiegel, which published documents from the Football Leaks cache that originated with Portuguese computer hacker Rui Pinto.
They alleged that City had overstated sponsorship income, with money being paid by the club's Abu Dhabi owners rather than sponsors linked to the Gulf state.
These related to sponsorship deals with the Etihad airline, who still sponsor City's stadium and shirts, and telecoms company Etisalat.
It was alleged the money had actually come from Sheikh Mansour's Abu Dhabi United Group.
The German website also alleged the Abu Dhabi United Group had paid around £3.5 million to Seluk between 2010 and 2015, when Toure was a Manchester City player.
Der Spiegel had alleged Sheikh Mansour's Abu Dhabi United Group made payments to Seluk
The payments were alleged to have been approved by Man City's chief executive Ferran Soriano and chairman Khaldoon Al Mubarak.
Toure, who split from his long-time agent Seluk in 2019, had joined City from Barcelona on a £250,000-a-week contract back in 2010.
The midfielder was a key player during his eight-year spell at City, scoring 79 goals in 316 games for the club.
Toure, who is now an academy coach at Tottenham, won three Premier League titles, an FA Cup and two League Cups at City.
Der Spiegel had also alleged Italian coach Mancini had received secret payments to boost his wages via a shadow contract that was a consultancy arrangement with Abu Dhabi-based club Al Jazira.
Mancini has previously refused to comment when asked about the arrangement.
The charges announced by the Premier League on Monday relate to financial information regarding revenue, details of manager and player remuneration, UEFA regulations, profitability and sustainability and co-operation with Premier League investigations. 
A statement from the league said alleged financial rule breaches were committed from September 2009 to the 2017-18 season and will be referred to an independent commission. City are also facing charges for failing to cooperate with the Premier League's investigation, which began in 2018.
It adds that the club is alleged to have breached league rules requiring provision 'in utmost good faith' of 'accurate financial information that gives a true and fair view of the club's financial position'.
Toure helped Man City win three Premier League titles during his eight years at the club
THE FALLOUT OF MAN CITY'S 'FINANCIAL RULES BREACHES'
City responded to the charges by declaring they had 'irrefutable evidence' they had done nothing wrong and that they looked forward to the matter 'being put to rest once and for all'.
An independent commission, made up of a panel of three, will rule on the charges in a private hearing.
The commission would have the power to strip titles, deduct points, issue fines and potentially expel City from the Premier League should the club be found guilty.
No timeframe has been set for a decision to be reached by the commission.


Post source: Daily mail