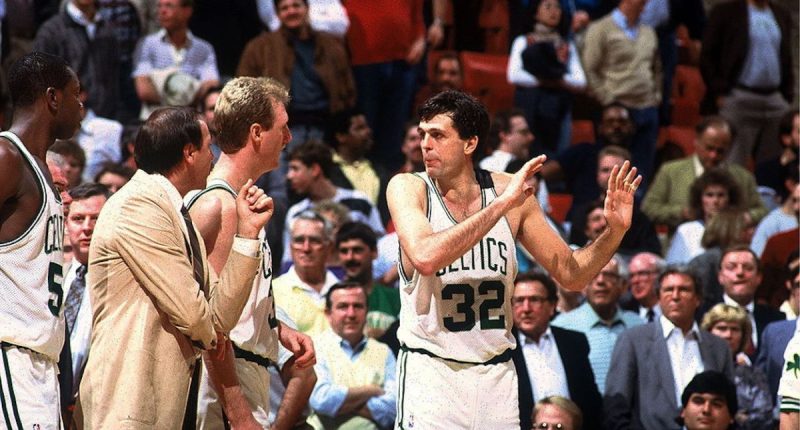 While Kevin McHale might not be remembered as glowingly as someone like Michael Jordan, the Boston Celtics big man still had quite the career. He earned three championship rings, two Sixth Man of the Year crowns, and plenty of defensive honors, all of which combined to secure the power forward's place in the Basketball Hall of Fame. But did you know that he was also responsible for a different sort of history?
In 2015, Larry Bird sat down for an interview with ESPN's Mike Mazzeo. While the sharpshooter had spent plenty of time around the game of basketball, he still remembered how one of McHale's actions was the worst thing he ever saw on the court.
So what did the power forward do? Let's take a walk down memory lane.
Kevin McHale told a friend to take a shot, only to swat it into the stands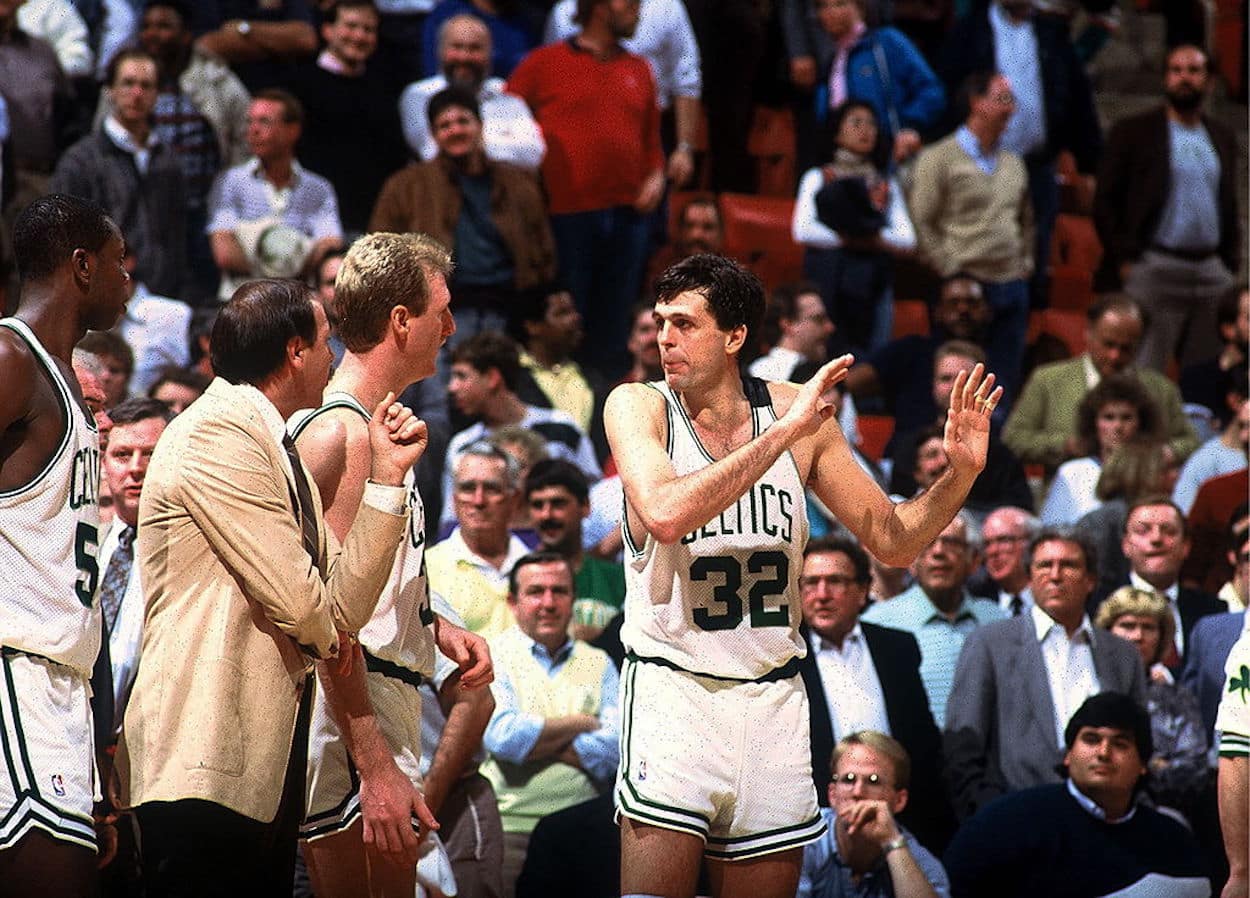 During his time on the hardwood, Larry Bird was involved in plenty of iconic moments. From lifting the Larry O'Brien Trophy to dropping 60 points and earning praise from the opposition, he had largely seen it all. One Kevin McHale series, however, still managed to stand out.
In a 2015 ESPN interview, Larry Legend was asked to share the best McHale trash talk he had ever heard. Despite that question suggesting a positive moment, he shared a less-than-ideal memory.
"Kevin McHale, one time, did one of the dirtiest things anybody can do to an opposing player," Bird recounted. "He told his buddy, a college friend, a teammate [at one point] at the end of the game in Golden State we were up pretty big — and we were just getting ready to go out of the game — and Kevin told him when he came in, he said, 'When you get the ball in the low post, you just turn and shoot it over me, and I'll just act like I'm defending you.'"
When play restarted, things went according to plan. The Warriors threw the ball into the post, and McHale's friend got ready for an easy basket. The power forward, however, had another idea.
Sure enough, they threw it in there, he turned and Kevin batted the shot about six rows up into the stands.

Larry Bird
And while Bird was usually pretty unflappable, this situation was different. If we take him at his word, he was pretty fired up after seeing what his teammate had done.
"… I mean I felt so bad for the guy, and the guy was pissed," he continued. "And I went over to [Celtics coach] K.C. Jones and I said, 'Get me out of here. This kid's out of control, this kid's out of control.' It was the worst thing I'd ever seen on the basketball court, but that's why I remember it to this day. You don't do that to your friend [laughs]."
With that being said, though, Larry Bird still knew how to talk trash
If you took Bird's quotes in isolation, you might think he was some sort of saint on the basketball court. Larry Legend might have kept things largely above board — he wasn't as vicious as a Michael Jordan or a Gary Payton — but he still knew how to talk a bit of trash.
Over the years, plenty of tales about Larry Legend's verbal exploits have piled up. While his signature move consisted of telling the opposition exactly how he planned to score, then doing just that, he had quite the arsenal. On one occasion, for example, he saw Brian Shaw carrying an overnight bag and asked if he was heading back to Italy. On another, Bird approached Pat Riley and warned the Lakers coach that Kurt Rambis couldn't stop him.
Allow Payton, one of the best trash-talkers in modern basketball, to provide some further testimony.
"He was the coldest dude I've ever seen with that s***, man," the Glove explained on the Uninterrupted's Showing Up and Throwing Down. "He give it to you any way he wanted to. Larry Bird was cold. Cold dude, man, real cold."
So, what's the difference between Bird's behavior and what McHale did? At the risk of trying to get inside of Larry Legend's head, his trash talk was based on his own confidence, whereas his teammate misled his friend. The Hick From French Lick was happy to needle the opposition, but it usually came from a place of knowing how good he was. You don't tell the defender how you're going to score, after all, if you doubt your own abilities.
And, to be clear, Bird and McHale had plenty of good times on the hardwood. That one evening in California, however, clearly made an impact.