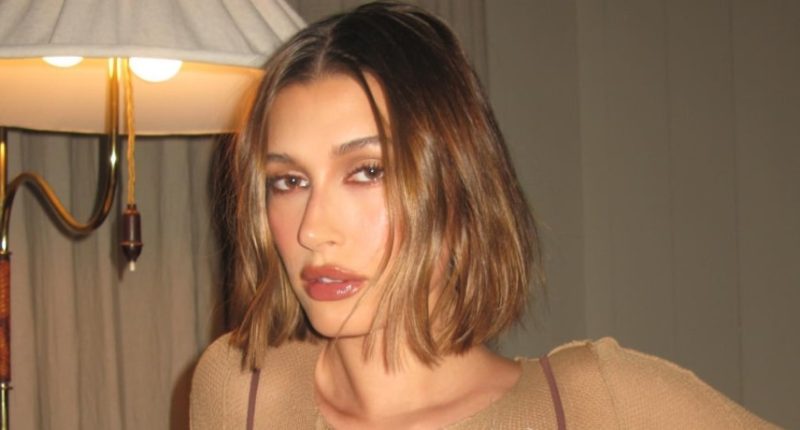 Latest posts by Kelly Summers
(see all)
Hailey Bieber is seemingly listening as she posts a series of photos to Instagram amid her alleged feud with singer Selena Gomez.
The supermodel, 26, was accused of bullying 2018-married husband Justin Bieber's ex last month. The February 22-commenced drama has since intensified. While Gomez has made headlines for gaining over 20 million Instagram followers to become the most-followed woman on the platform, Hailey has lost over 1 million fans. In her latest share, she only dropped an ear emoji in her caption, with fans quickly interpreting her to be trolling back.
She's Listening, Folks!
Hailey opened her gallery with a giant reminder of her model figure. The YSL ambassador opened snapping a selfie while in a striped and tight top with a slight crop. She added in a tiny denim miniskirt while sending out direct eye contact. Hailey looked glamorous in gold earrings as she also rocked a full face of makeup, and there was more to come.
hailey bieber confirms that she looks like an ear through Instagram caption👂 pic.twitter.com/YT85PFWLDS

— sel ✪ fan account (@selskarmaa) March 18, 2023
Hailey peeped her bikini body in one image, snapping a sunbathing selfie while outdoors. Here, the Rhode skincare founder went natural with her vibe, even sending out a slight smile while under a baseball cap. She closed her gallery with a messy-haired car selfie, here showing her tiny finger tattoos as she rocked a ribbed gray top and open black hoodie.
Fans are 100% about the caption, though. Hailey appears to be listening!
I wonder how the other side of her face looks like fr, she stay serving ear too like damn #haileybieber pic.twitter.com/0H9eiNvCPM

— 0maybe2 (@dontknow0maybe2) March 18, 2023
Fans Smelling Major Shade!
Comments came in fast. "AHHHH she's finally trollin back lol," one user wrote, with others agreeing. "I'm glad you're trolling back!" another said.
Hailey was, last month, alleged to have mocked Selena's laminated eyebrow post. The drama also brought in mogul Kylie Jenner, who appeared to also take a swipe at Gomez. However, 30-year-old Selena has shut down suggestions that she took offense. In fact, she said that she's a "fan" of Kylie.
Selena last month announced a break from TikTok amid the buzz. The Only Murders in the Building star has since written:
"Thank you and love you all so much. I'm deeply grateful for each and every one of you humans. You make me unbelievably happy," also writing: "Please, please be kinder and consider others mental health. My heart has been heavy, and I only want good for everyone. All my love."
Hailey has made no statements regarding the drama, but she is busy on Instagram. She's welcomed bikini season while stunning in a lime-green swim look from a kayak! She's also posed bikini-clad while snuggling up to her husband Justin. "LUV U BABY," the Canadian singer wrote on his Instagram while sharing romantic vacation photos this month.
A source tells ET: "Hailey and Justin are doing fine. They don't want to continually deal with this repetitive, ongoing former relationship drama." Clearly, though, Hailey is all ears!