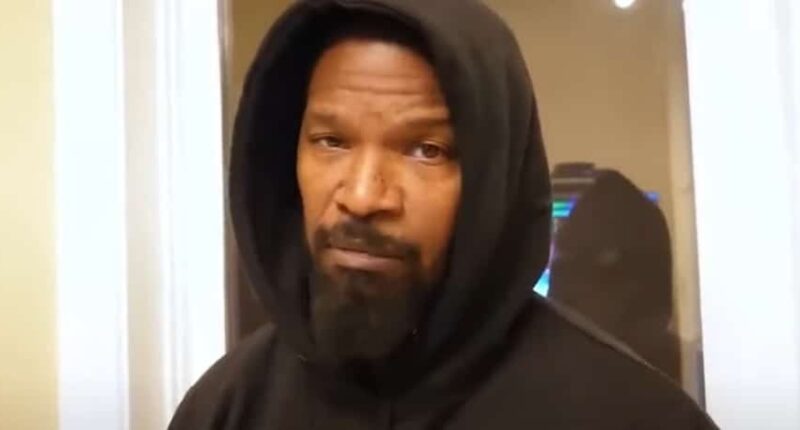 The question of whether Jamie Foxx is dead or alive is one that has plagued the actor's fans since news of his hospitalization first broke back in April of this year. At the time, it was reported that Jamie Foxx was hospitalized after he suffered "medical complications." Exactly what happened to the 55-year-old actor or how he was doing was heavily shrouded with mystery.
Jamie Foxx dead or in special medical facility?
Left with next to no information about what happened to Jamie Foxx or how he was doing, a rumor quickly spread that he was at some sort of special medical facility receiving treatment and he wasn't doing well. There was also a lot of speculation that Jamie Foxx was dead or nearly dead.
On May 12th, his daughter Corrine attempted to take control of the wild rumors. She claimed it was "sad" that so many media outlets were running with stories that her dad was at a special medical facility or on his deathbed. She proceeded to reveal that Jamie Foxx had been out of the hospital for several weeks and was "recuperating" with his family. His daughter painted a picture of his well-being by adding that he even enjoyed a game of pickleball a day prior to her breaking her silence on the situation.
Jamie Foxx's daughter concluded her statement by telling the world that he had an "exciting work announcement" he would be making in just a few weeks. Whatever that "exciting work announcement" was, it has been three weeks since it was promised and his fans are still waiting.
Reportedly injured by COVID-19 vaccine: Brain clot cover up?
Contradicting the statement Jamie Foxx's daughter made, a Hollywood journalist named A.J. Benza claims to have insider information after speaking to someone who was close enough to the A-lister to be in the hospital room with the actor. This insider allegedly told Benza that Jamie Foxx was left blind and partially paralyzed after a series of medical complications followed receiving the COVID-19 vaccine.
"Jamie had a blood clot in his brain after he got the shot. He did not want the shot, but the movie he was on, he was pressured to get it." Benza revealed while appearing on Dr. Drew Pinsky's Ask Dr. Drew.
Jamie Foxx isn't the first to be vaccine injured. So many are dead and dying from the poison pistols. This has to stop, we have to stop it. We have to make sure these predators don't do it again.

— Michael Ferguson (@CobberYog) June 1, 2023
He continued to reveal: "The blood clot in the brain caused him at that point to be partially paralyzed and blind."
As fans of Jamie Foxx know, the actor was actively filming a movie called Back in Action alongside Cameron Diaz. Filming of the movie has continued to move forward with the use of a body double in Jamie Foxx's absence.
Jamie Foxx will soon be dead unfortunately pic.twitter.com/Fx1MMpdBxj

— Steve Burkhart (@SteveBurkhart12) June 1, 2023
Regarding Jamie Foxx's family, Benza admits he believes the family is lying about the condition of the actor. He clarifies: "If you read into what they were saying early on, 'He is communicating with us.' That doesn't mean talking. That could be anything. Writing. Sign language. I know those little code words."
He concluded: "There is a great shroud of secrecy around Jamie Foxx."
Watch the video where A.J. Benza makes these shocking claims down below:
Social Media Lights Up With Outrage
Now, this information comes from a man claiming to have spoken to an anonymous inside source. So, there is always a chance it isn't true. Despite that, fans of Jamie Foxx agree there are a lot of holes in the claims the actor's family is making. For example, if Jamie Foxx has been home for weeks and is well enough to play pickleball, why can't he make a public appearance and issue a statement?
Moreover, if Jamie Foxx is doing well, why is a body double being used in his place on set of a film he is starring in?
Unfortunately, the mystery surrounding Jamie Foxx continues as there seem to be a lot more questions than answers.
Jamie foxx should sue big pharma.

— James?? (@FadingxGhost) June 2, 2023
A.J. Benza's claims about Jamie Foxx, however, mean the dead rumors circulating were not unfounded and there appears to be some sort of cover up going on.
So they lied that Jamie Foxx was doing good

— Kenny (@youngnwitdalocs) June 2, 2023
What do you think about all of this information? Let us know in the comments down below. And, keep coming back for more celebrity news.
Latest posts by Trisha Faulkner
(see all)